How Her Time On That '70s Show Helped Debra Jo Rupp Land Her WandaVision Role - Exclusive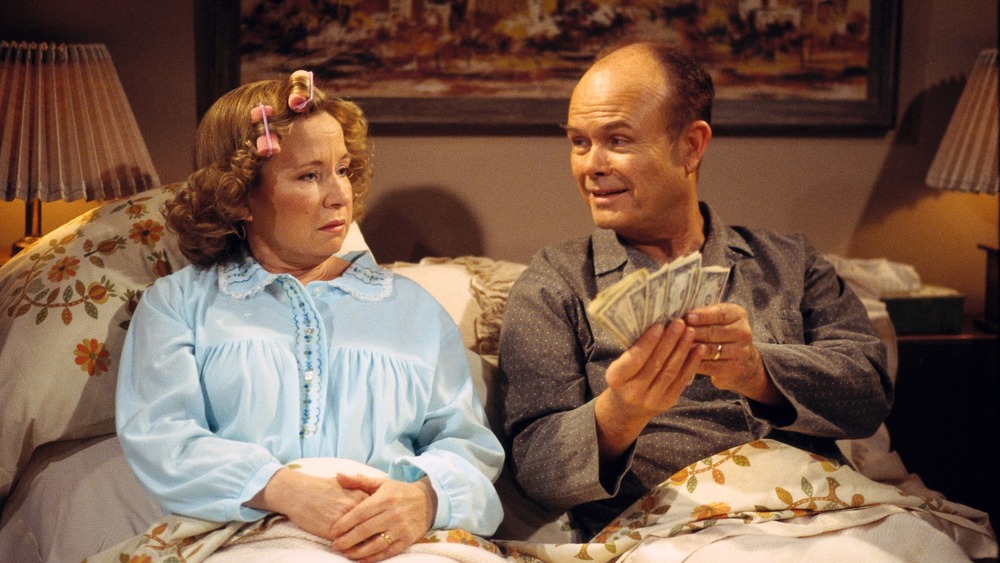 Fox
When it came to recreating the classic television sitcom world of the 1950s, '60s, and '70s for the new Marvel Studios' series WandaVision, director Matt Shakman heavily relied on the expertise of Debra Jo Rupp, an actor well-schooled in recreating the tone of a bygone era.
From 1998 to 2006, Rupp played the lovable Kitty Forman opposite Kurtwood Smith's Red Forman for 200 episodes of the hit sitcom That '70s Show. The actress recently told Looper in an exclusive interview that the series — as well as her experience of working in theater — were big factors in Marvel Studios selecting her for the role of Mrs. Hart in WandaVision.
Rupp first appears in the pilot episode of WandaVision, where Wanda Maximoff (Elizabeth Olsen) and Vision (Paul Bettany) mysteriously find themselves in 1950s-style, Dick Van Dyke Show-type of setting. And like the television sitcoms of days gone by, as well as That '70s Show, the episode was filmed in front of a live studio audience.
"I got a call from the director, Matt Shakman, and he knew me because I've been doing a lot of theater. It's the thing that I most love. I love an audience, and I like the energy from the audience. So, I had just done a big show at his theater [where he's the artistic director], at the Geffen [Playhouse] in L.A.," Rupp recalled when chatting with Looper. "He knew me and then they wanted someone who knew sitcoms, because the others didn't know that medium as well."
Lucky for Shakman and company, Rupp hadn't just carved out massive success as a comedy actor with roles on series including That '70s Show, Friends, and The Ranch — she also did some serious work on drama series like Law & Order and This Is Us. That experience came in handy during a tense scene in the WandaVision pilot, wherein one of the characters has a medical emergency.
"They wanted [sitcom experience] and then they wanted someone who could be a little dramatic. That's how it was presented ... but yes, I think my experience in a sitcom helped me land the job," Rupp said.
Another trip back to the '50s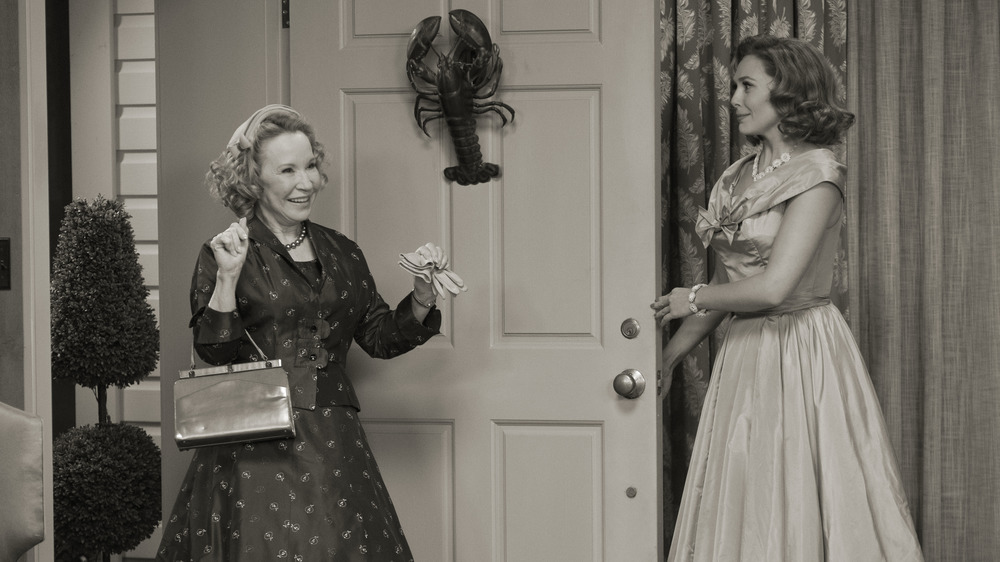 Marvel Studios/Disney+
The big benefit for Rupp was that while she afforded the unique opportunity to go back in time to recreate the tone of a '70s sitcom with That '70s Show, she was even more thrilled that WandaVision allowed her a chance to visit the good old days when sitcoms like The Dick Van Dyke Show and I Love Lucy ruled over the cultural landscape.
"I did a little thing — an I Love Lucy thing — on That '70s Show. So, I had done that period before," Rupp shared with Looper. "But because I am as old as I am, it just was really nice to look around and go, 'Oh, I remember a TV like that. Oh, I remember that rug.' Those things are fascinating to me, especially when they're well-done. The production values in [WandaVision] were great. And you did feel like you were in that world. It was easy. Everybody made it easy for you."
With WandaVision officially making Rupp a member of the MCU, she joins a familiar face: her That '70s Show co-star Kurtwood Smith, who entered the Marvel Universe with his role of Council of Nine member Vernon Masters on the ABC series Agent Carter.
With that, perhaps a reunion of the actors who made Kitty and Red Forman sitcom favorites is in order? "I will totally lobby for that," Rupp said, laughing. "Totally lobby."
Until then, you can see Debra Jo Rupp in WandaVision, playing now on Disney+. New episodes premiere on Fridays at midnight PT (3 AM ET).