How Accurate Is Penguin Bloom To The True Story It's Based On?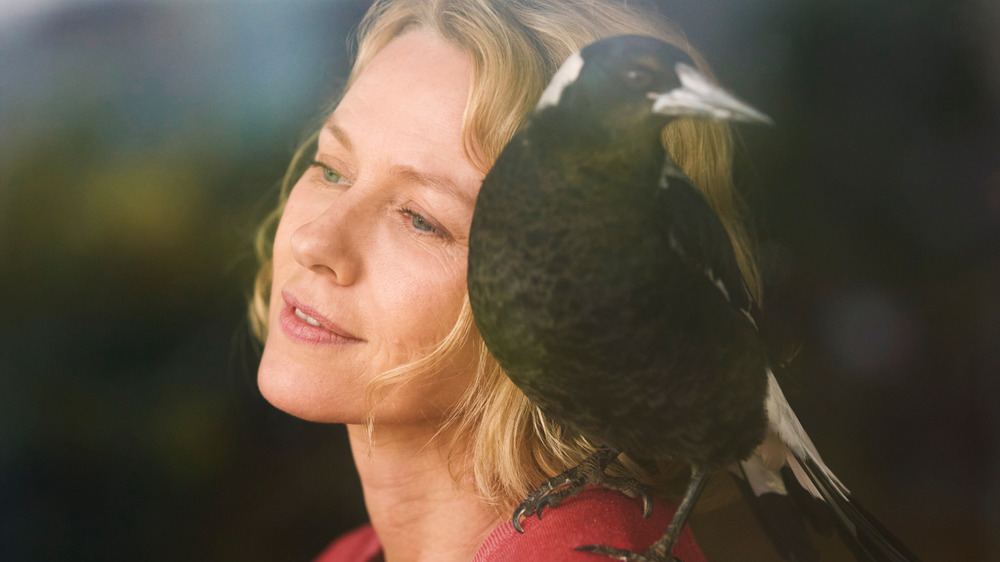 Netflix
Naomi Watts loves to tell a tragic true story. Consider Exhibit A: Watts' lead role as Diana, Princess of Wales in the 2013 biopic Diana. Exhibit B: Her turn in The Impossible, portraying a mother trying to reunite her family in the aftermath of the 2004 Indian Ocean tsunami. And, of course, Exhibit C: King Kong – okay, wait, not that one.
The real Exhibit C is Penguin Bloom – the drama film available on Netflix today, January 27, 2021, in which Watts plays Sam Bloom, an Australian woman who becomes paralyzed from the chest down after falling 20 feet while on vacation in Thailand. Struggling to adapt to her new situation, Sam becomes deeply depressed and disconnected from her husband and three young sons. But when one of her sons finds an injured magpie, the family takes the bird in, names her Penguin, and bond with one another over nursing her back to health.
The movie is based on a book by Sam's husband, Cameron Bloom, and author Bradley Trevor Greive. The Blooms were very involved in production of Penguin Bloom: Sam and Cameron are executive producers, and Sam worked with Watts on how to portray her experience of paralysis and depression as accurately as possible. "She was good at being angry and crying a lot. I was like, 'Yes, actually that's right!'" Sam said of Watts in an interview with RedBull.com. 
So, how close does Penguin Bloom get to telling the true story? Let's take a look.
The real Sam Bloom became a world-champion para surfer
As the movie shows, Sam Bloom really was a keen surfer before her accident (and after, but more on that in a second). On a family vacation in Thailand in 2013, she leaned against a rotten railing and fell about 20 feet onto concrete. The main injury mentioned in the movie — and the one that had the most obvious long-term repercussions — was that her spine shattered from just below her shoulder blades, leaving her paralyzed from the chest down. However, she also experienced ruptures in both lungs, a collapsed lung, internal injuries, multiple skull fractures, and bleeding in her brain (via The Guardian). 
Initially Sam believed that her paralysis was temporary. As she told The Sydney Morning Herald, while she was at the hospital in Thailand, staff "allowed her to hope" that what she was experiencing was an effect of "spinal shock," and that she would regain normal function of her nerves when her swelling subsided. She also shared with SBS News that the staff estimated a six-week recovery time. But it was only after she'd been moved back home to Australia and had an MRI scan that Sam was told "so bluntly" she would never walk again. "I think I spent the first month crying," she said. That's when her depression hit, and she pulled away from her family.
Just like in Penguin Bloom, in real life, Sam returned to some of the activities she'd loved before her accident. It took her a while to accept that being out on the surf would be a different experience, but it's safe to say that she did it in style. Not only did Sam eventually take up para canoeing and para surfing, but she also represented Australia at the respective world championships for both sports — winning gold in 2018 and 2020 at the World Para Surfing Championships.
Penguin eventually left the nest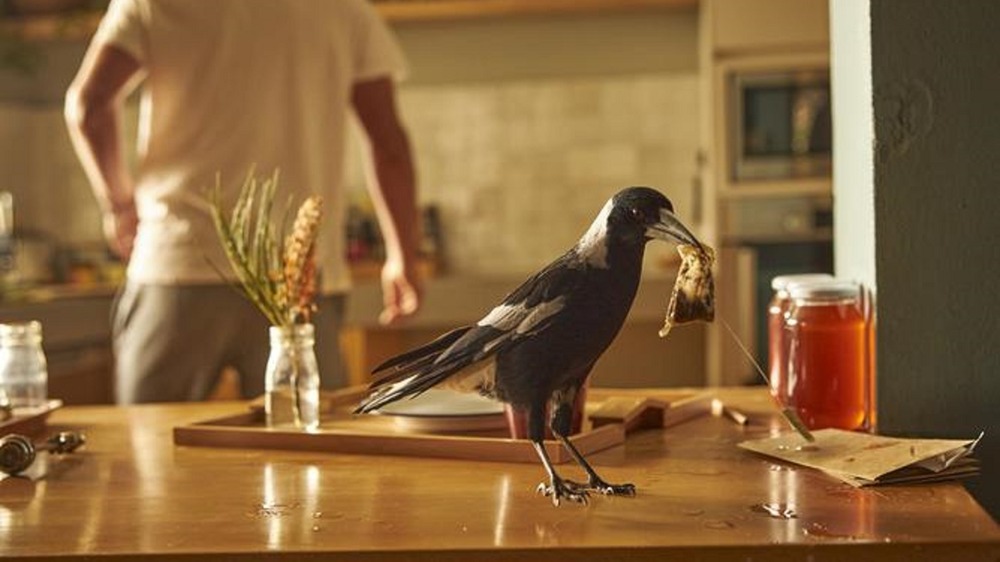 Netflix
In Penguin Bloom, Noah (Griffin Murray-Johnston) finds Penguin the magpie chick on the beach. In reality, poor little Penguin fell about 66 feet from a huge pine tree onto the hard ground of a car park near the family's home, according to The Guardian.
The movie also shows Sam as initially wary about taking on the responsibility of caring for Penguin. But according to Cameron Bloom and his co-author Bradley Trevor Greive, Cameron and Sam went to extremes to save her from the start (via The Guardian). They tried to find an animal sanctuary, which would be better equipped to care for an injured wild bird, but couldn't. So, they got advice from vets about her care, which involved feeding the baby bird every two hours 'round the clock. She often refused to eat, and the Blooms worried that she would die overnight.
However, Penguin did get stronger, and she grew especially attached to Sam, since they were each other's constant companions. As Sam explained to RedBull.com, "Before that, I thought I was the worst mom, the worst wife, the worst friend — everything. When we found Penguin, I realized that I actually could look after something, and I wasn't as useless as thought I was. She did give me hope in that way — as odd as it is. Penguin's recovery gave me a sense of purpose." And yes, the real Penguin did like to snuggle up with her human family.
In real life, as Penguin grew bigger, the Blooms realized they had to encourage her to act more like the wild animal she was meant to be. They moved her makeshift nest to their backyard, and eventually Penguin started flying away, returning days or even weeks later. They last saw her in 2015.
All in all, as Sam told The Sydney Morning Herald, the Penguin Bloom team "kept it real." "I didn't want them to 'Hollywood' it, and they haven't," she said. Her husband feels the same way about the Netflix film, saying, "It's really close to everything that happened."