Why Sam From Penguin Bloom Looks So Familiar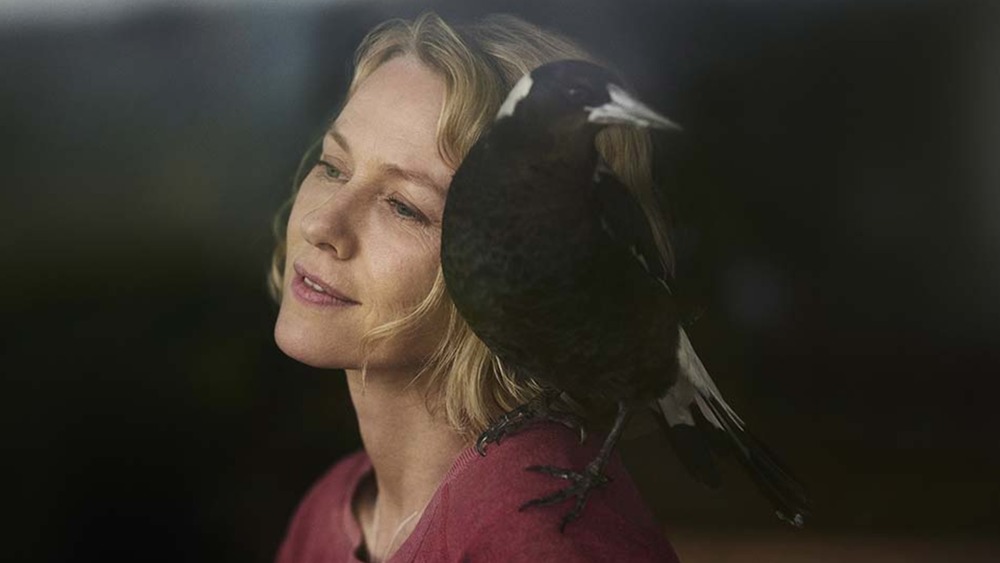 Netflix
A new addition to Netflix's expanding list of original movies in 2021, Penguin Bloom is a heartwarming film based on the true story of an Australian woman named Sam Bloom and her family. In 2013, Sam, her husband Cameron, and their three sons were vacationing in Thailand when an unfortunate accident led to Sam being paralyzed from the waist down. The recovery for Sam was both mental and physical, and the experience also took a toll on the people around her. But a saving grace came right when the family needed it most, in the form of an injured magpie whom her sons named Penguin. Taking care of Penguin gave Sam a much-needed sense of purpose, and showed her how she could rebuild her own life and find a new passion.
Penguin Bloom focuses on Penguin's role in Sam's recovery after the accident, and critics are praising the movie for its portrayal of acquired disability. The real Sam wanted her experience to be shown as truthfully as possible, "raw and authentic, no sugar-coating," as she told SBS News. Sam even let the Penguin Bloom team have access to a very personal journal, which she'd previously shown to no one else. As for the actors' portrayal of the Bloom family, Naomi Watts — who plays Sam — is getting lots of positive attention for her performance. Time Out called her "magnetic," and said that "it's a credit to Watts's performance and Ivin's understated direction that this woozy vision of emotional and physical healing sings."
For viewers who saw Watts and thought that her face looked familiar, you're not alone. Watts has an extensive career of iconic roles, so there are quite a few places you could've seen her before. Still can't remember? Here are the biggest roles of her career so far.
Naomi Watts got her big break as Betty in Mulholland Drive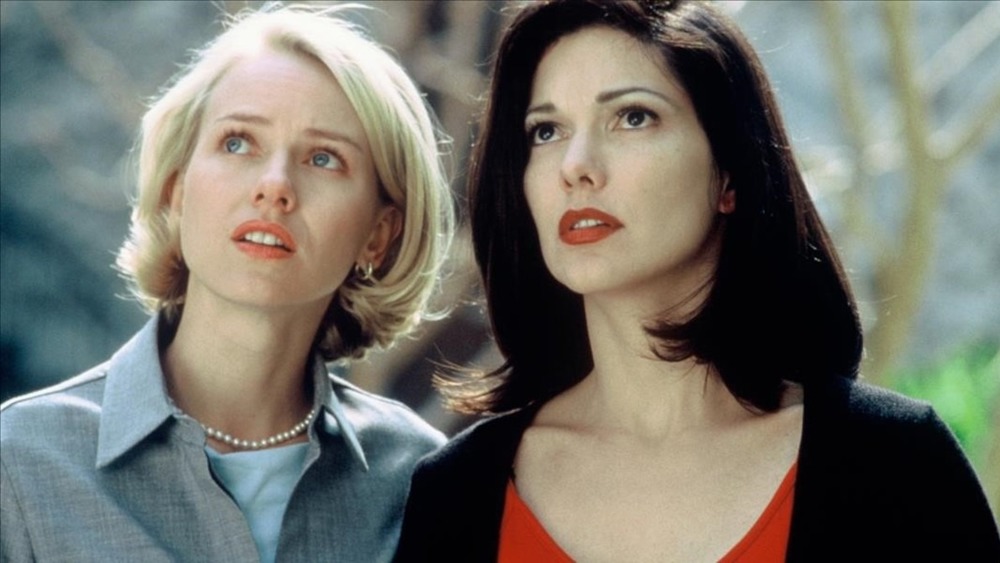 Universal Pictures
Watts was born and raised in the United Kingdom, spending the first decade or so of her life there before moving to Australia at the age of 14. Finding her passion for acting soon after, Watts quickly started booking roles there, before daring to make the jump to America in the early 1990s. After a tough start in the US, Watts finally got her breakout role in 2001 with David Lynch's Mulholland Drive. 
Watts stars in the movie as an aspiring actress named Betty, who encounters a strange woman in her Los Angeles apartment who claims her name is Rita, played by Laura Harring. Rita is the only survivor of a car crash on Mulholland Drive and has no memories of who she is or what she was doing. Betty attempts to help the amnesic Rita figure out the truth about her identity, so the two venture across Hollywood, following stranger and stranger clues through a world that feels increasingly separate from reality.
Since its release, Mulholland Drive has become a true cult classic, topping many best films lists over the years. The role of Betty jumpstarted Watts career in Hollywood, gaining her the recognition needed to book big parts later on. Over 15 years after Mulholland Drive's release, Watts would re-team with Lynch for Twin Peaks: The Return in 2017, playing Janey-E Jones.
Watts starred in The Ring, the American adaptation of a hit Japanese horror movie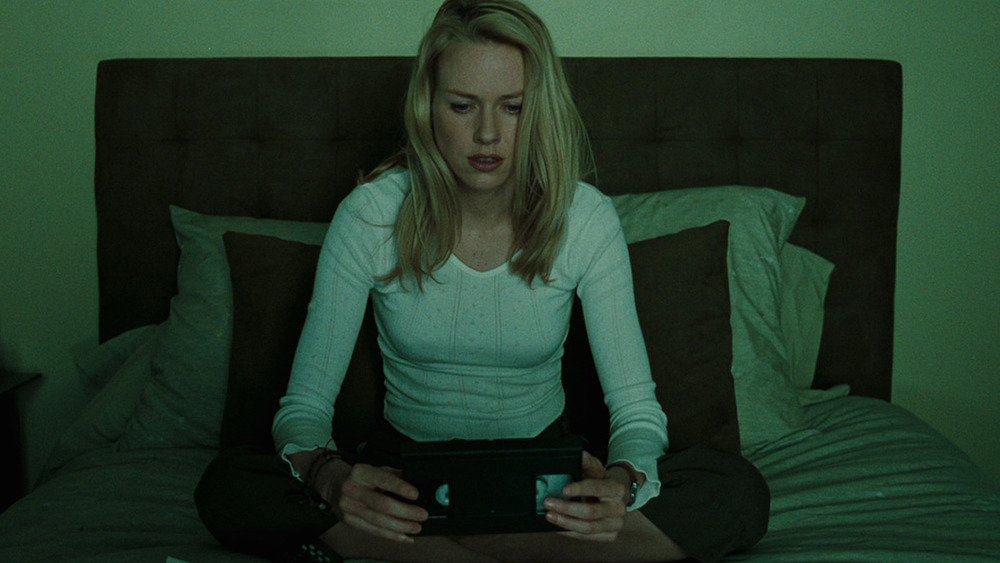 Dreamworks Pictures
The next year, Watts starred in the American horror film The Ring, an adaptation of the Japanese hit movie Ringu. Watts plays a reporter named Rachel, whose niece dies in a strange, unexplainable incident on the same day as a few of her friends. She discovers that a week before their death, all of the girls watched the same creepy videotape, rumored to be cursed.
To further investigate the deaths, Rachel takes the tape, traveling to the inn where her niece and her friends stayed, and watches it. The video has disturbing and dark imagery, and once it's finished, Rachel gets a phone call, and a voice whispers, "seven days." Over the course of the following week, Rachel begins to experience hauntings of a soaked girl with long, dark hair, as she traces the VHS's legend back to a young, psychic girl named Samara.
The Ring was Watts' first major horror film, but she would return to the genre many times after, most notably for The Ring 2 and 2007's Funny Games. Although it is also a remake, Funny Games is an American retelling of the original Austrian version from 1997, both made by the same director, Michael Haneke.
Watts earned her first Oscar nomination playing Christina in 21 Grams
Focus Features
In 2003, Watts got the starring role in director Alejandro G. Iñárritu's crime drama 21 Grams. Iñárritu should be a recognizable name for film buffs, as he would go on to win four Academy Awards for later films like Birdman and The Revenant. Also starring Sean Penn and Benicio del Toro, 21 Grams is about a tragic car accident and how the three main characters' stories weave together in the aftermath.
Watts' character is named Christina, a grieving widow whose husband and children are killed in the automobile accident. Depressed and angry, Christina returns to her old vices of drugs and alcohol and pursues revenge against Jack (del Toro), the driver she views as responsible for the accident. Penn's character, Paul, is a math professor with a fatal heart condition. After the accident, he receives Christina's husband's heart, saving his life. Learning of his connection to Christina, Paul follows her around until they finally meet. They develop a relationship, and soon Christina reveals her plan for Jack and convinces Paul to murder him for her.
The story is told in a non-linear narrative and features a gritty filmmaking style, with hand-held shots and unique angles. Watts earned her first Oscar nomination for her portrayal of Christina and would later reunite with Iñárritu for the 2014 film Birdman (or The Unexpected Virtue of Ignorance), which won the Academy Award for Best Director and Best Picture, among others.
2005's King Kong stars Watts as 1930s actress Ann Darrow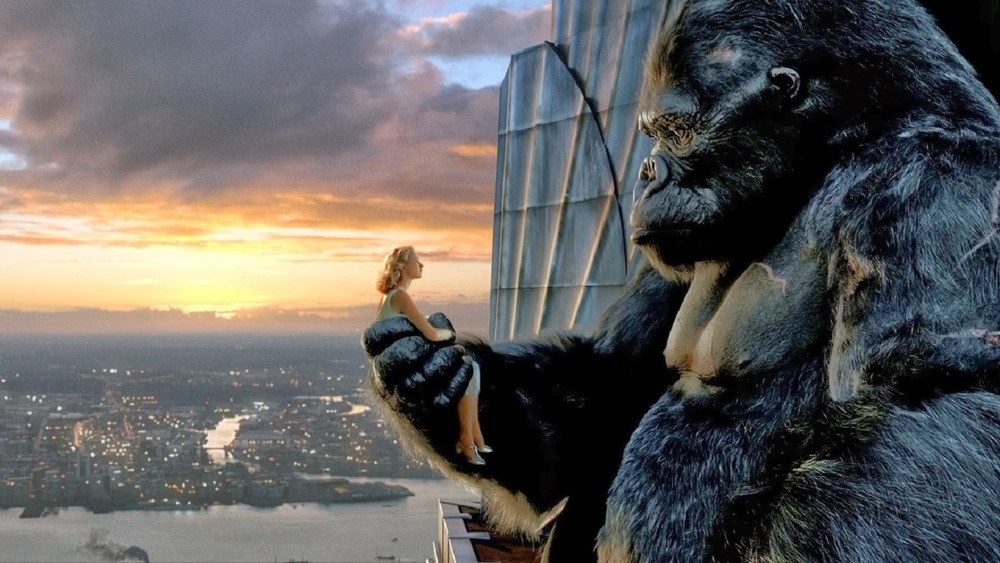 Universal Pictures
Continuing her growing career, Watts nabbed the lead role of Ann Darrow in 2005's King Kong, directed by The Lord of the Rings' Peter Jackson. Based on the classic 1933 film, Jackson's film is the second remake of King Kong, and it features Andy Serkis — who played Gollum in the Lord of the Rings films — as the title creature.
Set in the year 1933, the story follows Watts' Ann, a young starlet hired for an adventure film set aboard a ship. Ann, along with the rest of the crew, is tricked by the director, Carl Denham (Jack Black), into traveling to the mysterious Skull Island. Once ashore, the film crew faces increasingly dangerous situations and fantastical creatures, while the native population kidnaps Ann and takes her to a 25-ft tall prehistoric ape that rules the island, Kong. 
However, Ann manages to charm the intelligent creature, and they quickly form a strong bond with each other. But after the manipulative film director sees Kong, he decides that he must capture him, while Ann's romantic interest, Jack (Adrien Brody), just wants to rescue the actress and return home. Unfortunately, Carl succeeds in his plan and returns to NYC with the misunderstood Kong, as Ann tries desperately to save him from the increasingly scared citizens.
Watts' got her second Oscar nomination for her role as Maria in The Impossible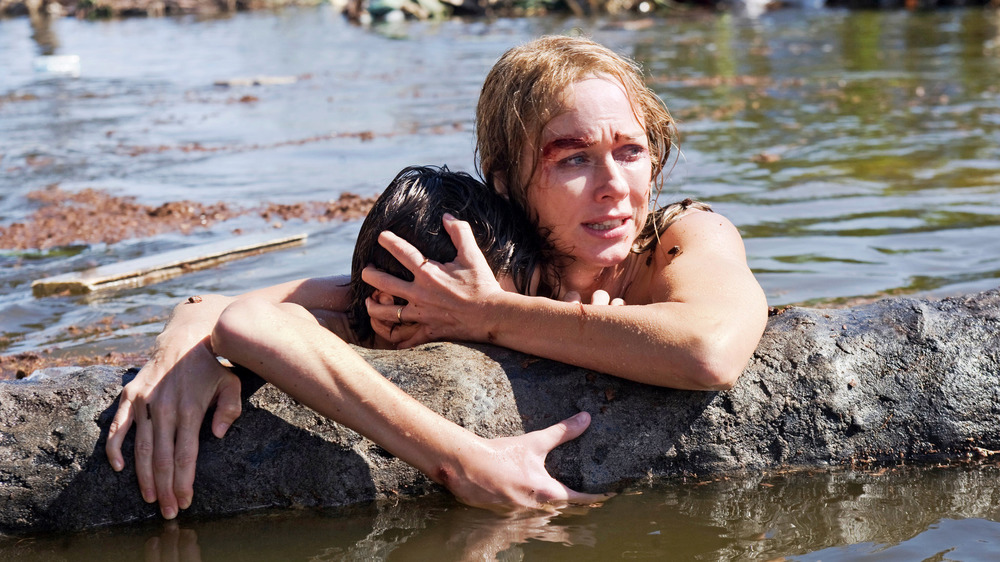 Summit Entertainment
Similar to her role in Penguin Bloom, Watts took on the task of bringing another real-life story to the screen in 2012's The Impossible. Also starring Ewan McGregor and Tom Holland, the film recounts the tale of a family's harrowing experience surviving the 2004 Indian Ocean tsunami, which created huge devastation for Thailand and surrounding nations.
Watts' character Maria is based on María Belón, a Spanish physician who was caught in the tsunami and separated from her husband and three sons. Thankfully, they all managed to survive. After the life-altering event, Belón went on to do motivational speaking and advocating for other survivors. She was involved with every aspect of filmmaking for The Impossible and praised the movie for its accurate depiction of her family's experience (via BBC). Watts' emotional performance led to her second Oscar nomination and her first Golden Globe nomination. 
Along with The Impossible and her latest role, Watts has a long history of playing real-life figures on-screen, portraying Princess Diana in 2013's Diana, and broadcaster Gretchen Carlson in 2019's Showtime miniseries The Loudest Voice, but she has also continued to take on interesting and challenging fictional roles in projects like 2018's Ophelia, and the unfortunately canceled Game of Thrones spinoff. But if Penguin Bloom is any indication, Watts has a lot more to show audiences, and she has no intention of slowing down anytime soon.