The Fantasy Anime Hidden Gem You Can Stream On HBO Max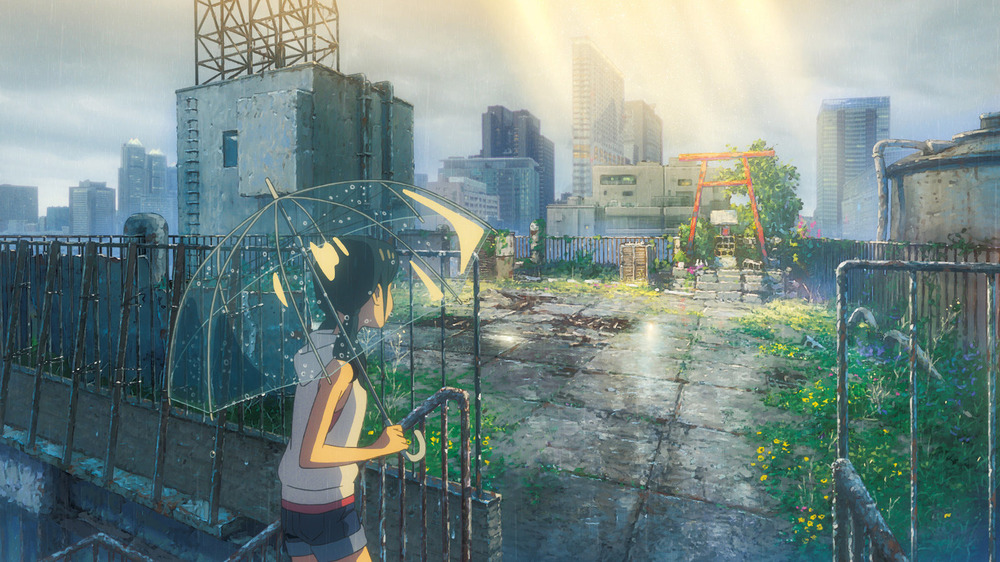 Toho
Makoto Shinkai's films are the kind that anime fans will happily introduce to people who haven't watched a second of anime in their lives — the kind that help solidify anime not as a "genre," as it's often wrongfully called, but a method of storytelling all its own. Shinkai's no stranger to including fantasy and sci-fi elements in his stories, but those elements never override the central human conflicts beneath the beautifully animated veneers.
Your Name is the perfect example: a must-watch body-swap story highlighted by a supernatural mystery and tinged with a believable romance. The film took the anime world by storm when it released in 2016, quickly becoming one of the highest grossing anime films of all time and earning international acclaim for its soundtrack, animation, voice acting, and of course, Shinkai's direction.
Oftentimes, Shinkai is more than just a director. Such is the case in Weathering with You, his most recent film as of January 2021, which he directed, wrote, edited, and designed. He probably even provided the craft services in production. (That's not to say he's a one-man filmmaking army, but it's impressive nonetheless.) Like his other work, it's a great watch even if anime isn't usually your jam, and it's available now on HBO Max.
What is Weathering with You about?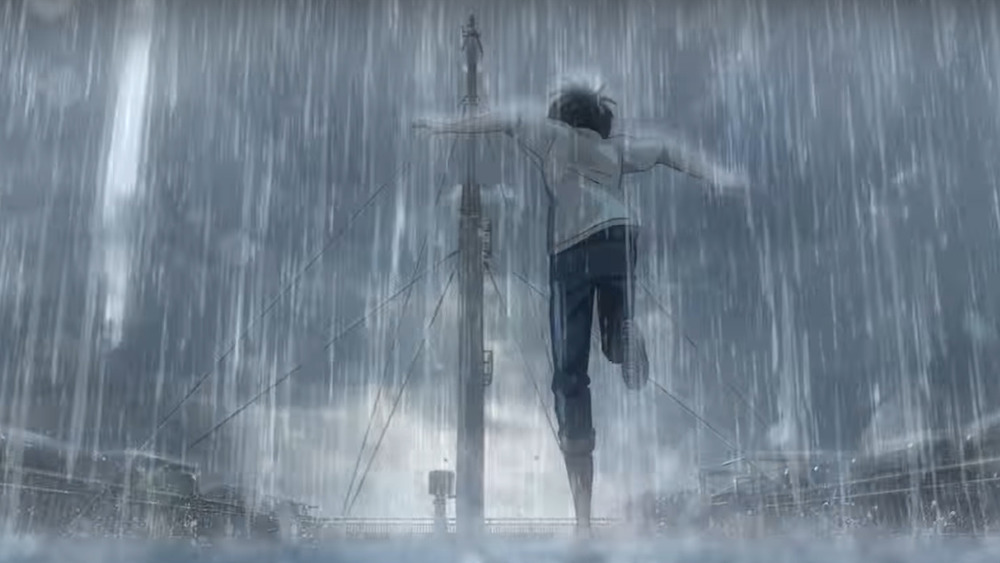 Toho
Sick of his home life, high schooler Hodaka Morishima (Kotaro Daigo and Brandon Engman) runs away to Tokyo, expecting to start over and start better in the big city. It's a brave choice for someone barely into his teens, and he quickly finds that it may have been a stupid choice, as well. Either way, Hodaka is committed to staying in Tokyo no matter what — even with the freak weather the city's been experiencing since his arrival. It's probably just a coincidence, right?
Coincidence or not, a particularly bad storm drives Hodaka to meet Keisuke Suga (Shun Oguri and Lee Pace), a middle-aged man who shelters him as the rain intensifies. Coincidence or not, he soon meets a girl his age named Hina Amano (Nana Mori and Ashley Boettcher), a McDonald's employee who shows a down-on-his-luck Hodaka kindness. Further stumbling through Tokyo's streets lands him back at Keisuke's, where Hodaka comes to investigate the urban legend of the enigmatic, weather-manipulating "sunshine girl" alongside Keisuke and his niece Natsumi (Tsubasa Honda and Alison Brie).
Without spoiling anything beyond that set-up (all of which happens in the first twenty minutes, give or take), Hodaka's Tokyo odyssey begins taking turns for the unexpected. All he wants is to get away from home, but he gets much, much more than he bargained for — some for the better, some for the worse.
Should you watch Weathering with You on HBO Max?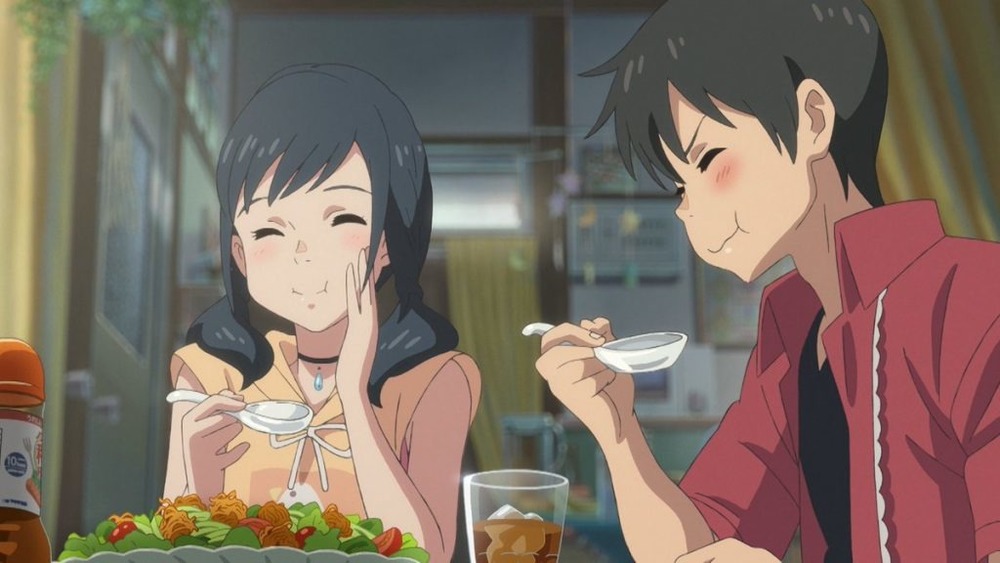 Toho
For Shinkai fans, watching Weathering with You is a no-brainer — both because of the movie itself and because it must inevitably be weighed against his previous work. But for others? Well, if Rotten Tomatoes means anything to you, then it's an easy yes, but beyond that?
As noted above, Shinkai's work never lets the veil of genre tropes drape over the whole production, and Weathering with You is no exception. If you find you're not a fantasy or sci-fi fan at all, then fear not: The film undoubtedly features supernatural forces, but nothing so blatant as the things you may associate with genre fiction — no elves, no aliens, no magical schoolboys with distinctive glasses. Indeed, the cast is as human as the central conflict.
The conflict is yet another reason to watch Weathering with You. It poses honest questions through genuine character moments: What is the value of the self? What does it mean to be a family? How do you use the past to inform the present and move toward the future? The voice actors really help sell the conflict, too, whether you prefer the Japanese sub or the English dub.
Weathering with You is also just a stunning film to look at and listen to. Animation can do a lot of things that live-action can't, and Shinkai is always pushing the boundaries of the medium. With all of this film's weather-related sequences, you can bet your bottom dollar that the lighting and cinematography are top notch.
Convinced? Hop on over to HBO Max to stream the film any time you'd like. Oh, and bring an umbrella along. The title isn't just for show.