Raya And The Last Dragon's Creators Compare Awkwafina's Sisu To This Iconic Disney Performance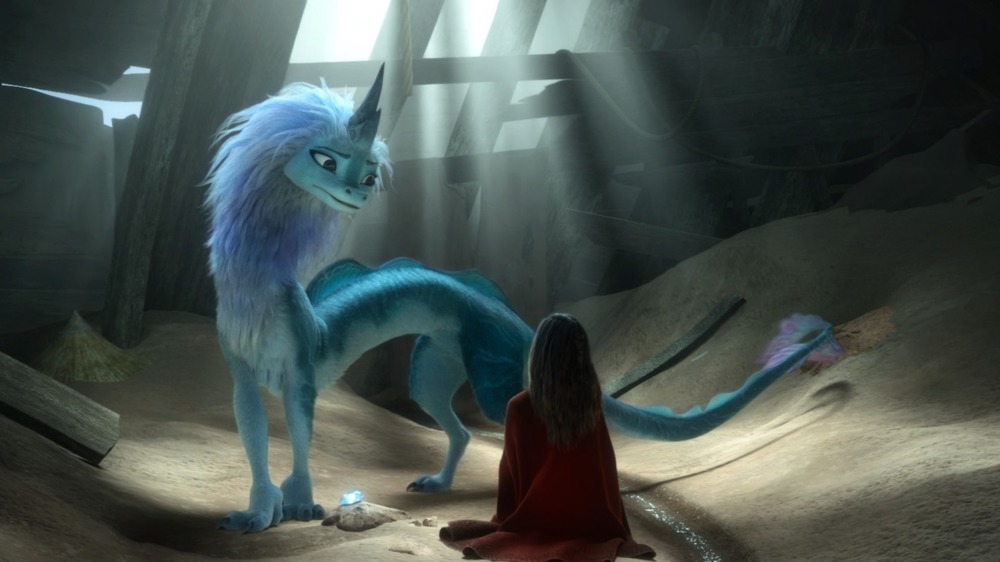 Walt Disney Animation Studios
After breaking into acting with the game-changing Crazy Rich Asians, the beloved comedian Awkwafina is starring in two Disney films this year: Marvel's Shang-Chi and the Legend of the Ten Rings, and the animated Raya and the Last Dragon. In Raya, she's Sisu, the shapeshifting dragon, who the warrior Raya (Kelly Marie Tran) is seeking in order to unite the people of the fantasy world Kumandra. As the studio's first film inspired by Southeast Asia, it's an exciting new story that is already impressing fans with its trailer, though we have yet to see much of Sisu herself.
Just as the adorable animal companion is a staple for Disney princesses, so is the comedic creature sidekick a beloved Disney adventure trope. Famous examples include Mulan's red dragon Mushu (Eddie Murphy), Hercules' satyr Philoctetes (Danny DeVito), Jiminy Cricket (Cliff Edwards), and of course, Aladdin's fast-talking, amorphous Genie, played by Robin Williams. 
Now, the rapper-turned-actress Awkwafina is taking on the role of her own hilarious and fantastical friend, with an improvisational talent that may be comparable to Williams himself.
Sisu was written with Awkwafina in mind, much like the Genie was for Robin Williams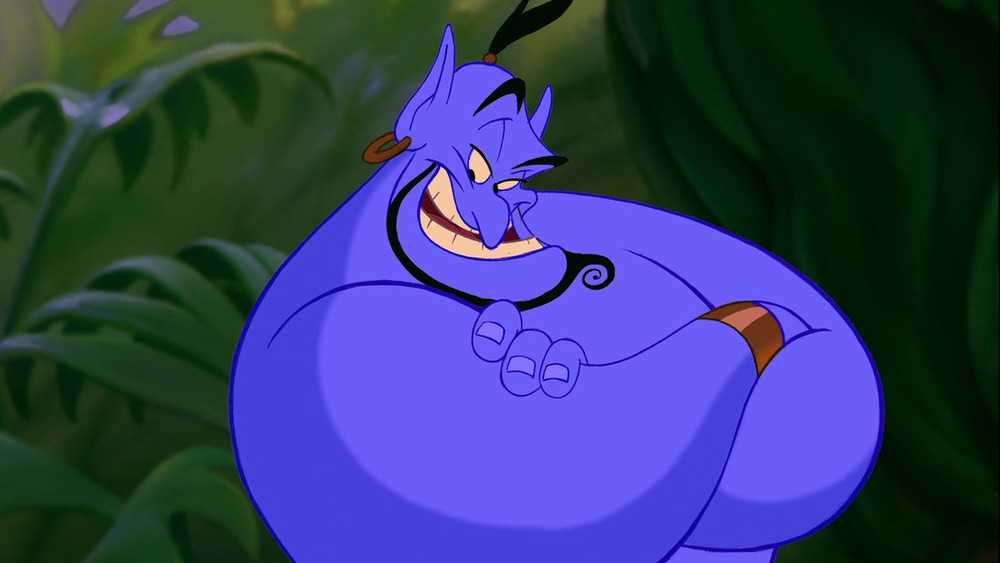 Walt Disney Animation Studios
This comparison was discussed by Raya's creative team at a virtual press junket, which Looper attended. 
As it happens, the part of Genie was written with Williams in mind, back in the early nineties. He fit into the character with ease, and brought his improv background to the recording booth, as he ad-libbed many of the Genie's jokes, turning the character into a classic Disney icon. Raya director Don Hall said, at the aforementioned event, that Sisu was also written with Awkwafina in mind. He can't picture her any other way, just as he can't picture the original animated Genie as anyone but Williams. As he put it, "Sisu was written with Awkwafina in mind, and I can't imagine somebody else as Sisu. Awkwafina is Sisu. Sisu is Awkwafina."
Imperative to Williams' performance as Genie was how he improvised many of his lines, which director Carlos Lopez Estrada said Awkwafina did, as well, infusing the jokes with her own spin. He commended her improvisational skills and emotional range, saying, "Sisu really gives Awkwafina such a good chance to explore the wackiest of her comedy, and also just the most earnest, beautiful, honest acting that had us all in tears."
On casting Sisu, producer Osnat Shurer said, "Awkwafina fit the dragon that we were looking for — some combination of wisdom and emotion and humor. She brings all those three things together in some magical potion." After all, while she's known for her comedic roles, she has also impressed critics with her acting in the dramatic film The Farewell.
Precious little of Sisu has actually been shown publicly so far, but luckily, it's a short wait before Raya and the Last Dragon's March 5 release date, in theaters and on Disney+.