The Upcoming Episodes Of WandaVision Will Impress You In An Expected Way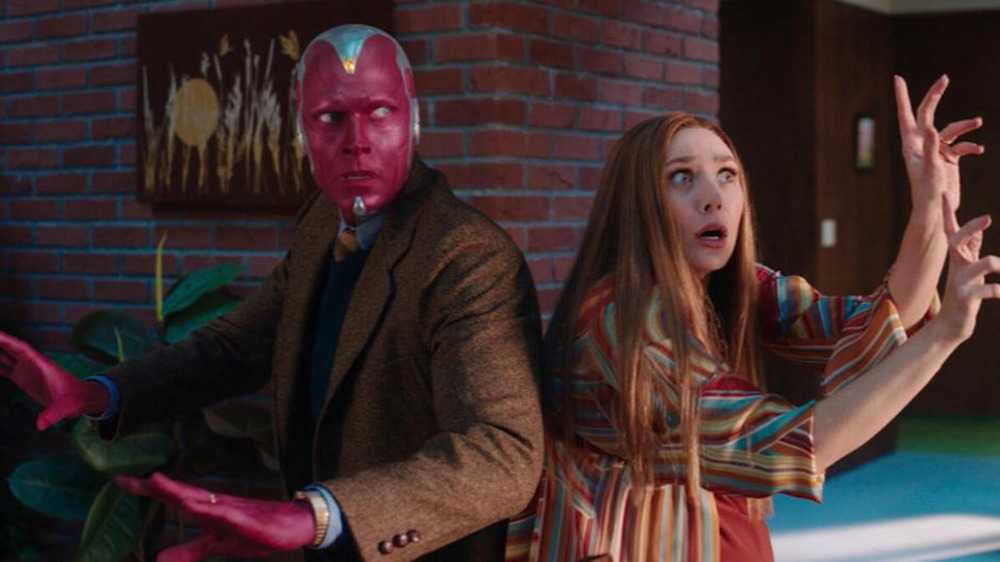 Marvel/Disney+
Get ready to be blown away by future episodes of Disney+ and Marvel's new show WandaVision — especially when it comes to the music. Spoilers for WandaVision ahead!
Since every single episode has a distinct theme song, Disney and Marvel made the brilliant decision to hire Academy Award winning husband and wife duo Robert Lopez (one of the only people in history to win an EGOT) and Kristen Anderson-Lopez, the minds behind huge hits — and Oscar winners — "Let it Go" and "Remember Me," from Frozen and Coco, respectively. Through their songs, audiences get a new introduction to Wanda (Elizabeth Olsen) and Vision (Paul Bettany) throughout the decades as they continue to try and hide their true powers and real identities in the sleepy suburban town of Westview.
In an interview with Entertainment Weekly about the show's first three episodes, which are available to stream now, Lopez and Anderson-Lopez opened up about the process of writing different theme songs, what they hid in each ditty, and what viewers can expect going forward. Here's what viewers can expect from the rest of WandaVision's first season from a musical perspective, from unexpected special guests to future decades.
A special guest will join for one of WandaVision's upcoming theme songs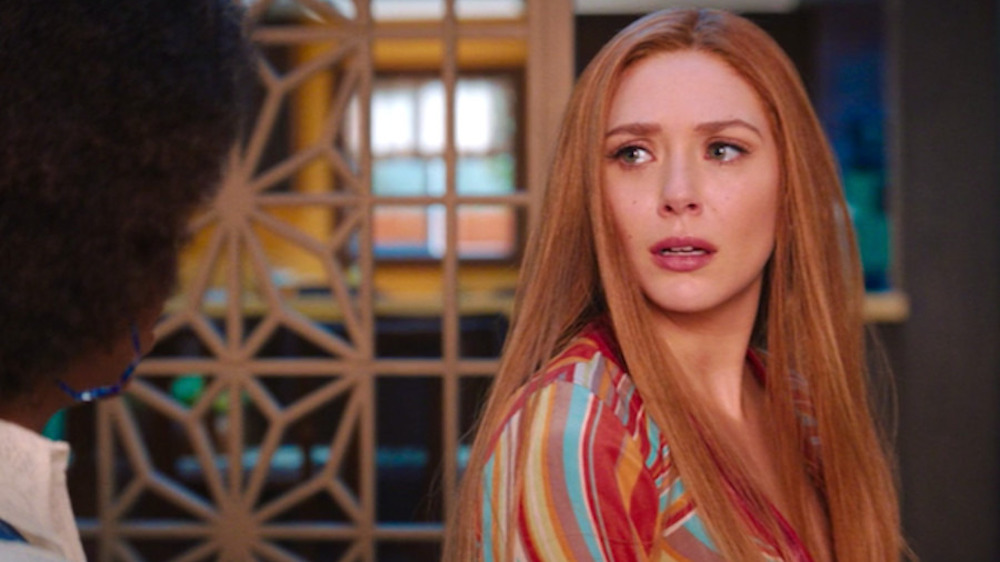 Marvel/Disney+
When asked what they're excited about as WandaVision jumps through decades — episode three was set in the 1970s, with the 1980s and more to follow — the duo teased some pretty cool surprises ahead. "I think we can say — maybe because we're '80s kids — that the '80s was our favorite decade to take on," Lopez said. "The craft of theme songwriting peaked in the '80s because, after the '80s, you see fewer and fewer songs at the beginning of sitcoms and TV shows. It was their heyday. It was the brilliant starburst before the death of the sun. They're longer. They're touchy-feely ballads. And it was fun to really put some emotion into the one we did."
"The fun thing is that our voices are on a lot of it," Anderson-Lopez revealed. "Because of the [ongoing COVID-19 pandemic], we couldn't do a lot of recording live. It's mostly us singing the solos with a wonderful group of backup singers, so that's a fun thing to look for. I can't spoil it, but there is a guest star on a decade that really brought a lot of authenticity." Who that special guest star is clearly remains to be seen, but there's no doubt that the show has something pretty cool up its musical sleeve.
There's a hidden Easter egg in all of the WandaVision theme songs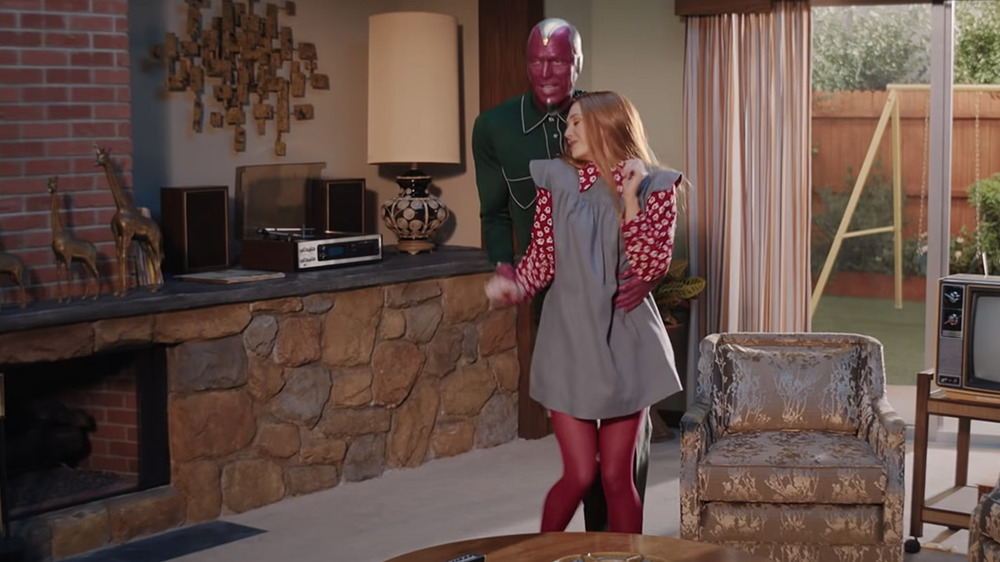 Marvel/Disney+
On top of that, Lopez and Anderson-Lopez hid a secret theme throughout all of their WandaVision songs: specifically, the three-note "WandaVision!" jingle that was featured in the opening of episode two.
"The main challenge was that this was to be a TV show with many theme songs — which would seem to defeat the purpose of having a theme song," Lopez admitted. "[We needed] stylistic unity and having one tune that you associate with the show. We decided that there would be one piece of musical continuity that would be in every song. So we wrote the WandaVision motif, which goes, [sings four notes] 'WandaVision!' It's in every song, and it's in a different place and hidden in different ways. It became a kind of game and a way to organize the writing."
"It's a musical Where's Waldo for musical people," Anderson-Lopez continued. "They can be like, 'Oh, it's in the arrangement here! Oh, the background singers are singing it here!' Then the next big challenge was making sure we weren't parodying any one show, that the songs we were writing would evoke all of the iconic songs from an entire decade and be their own thing. That was a challenge too, but also a fun one. For us, it's really important that it feels like it came from us and is something new."
Naturally, the motif is featured in episode three's opening as well, which Anderson-Lopez revealed: "And again, you can play the game of: Where is that motif, that tri-tone? The tri-tone, they call it 'The Devil's Interval,' and it gives you that feeling of, like, something's not right here. Something's a little creepy. People have been trying to figure out, why do these songs sound creepy? And I think it is because of that."
All three episodes of WandaVision, including all of the opening songs, are available on Disney+ now, and new episodes drop every Friday at midnight PST.