The Lyric WandaVision's Songwriters Weren't Allowed To Include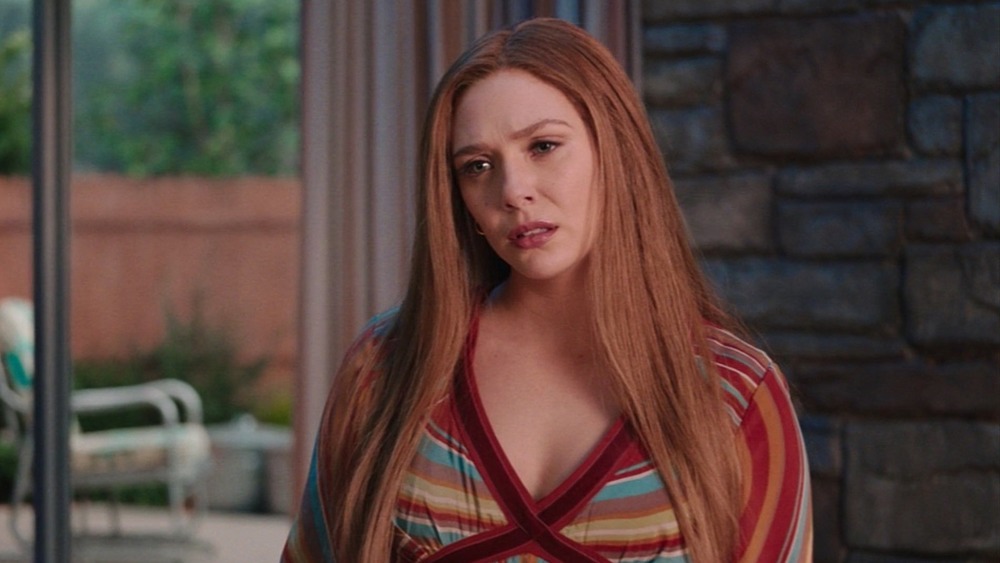 Marvel/Disney+
The songwriters for WandaVision's various theme songs very nearly gave the game away in the opening for the third episode. Spoilers for WandaVision ahead!
Throughout the first three episodes of WandaVision, the opening theme song changes for each installment, mimicking classic sitcom jingles from shows like The Dick Van Dyke Show to Bewitched to The Brady Bunch. Naturally, Disney and Marvel hired some of the best songwriters in the business to tackle this fascinating challenge — most television shows don't switch up their theme song from episode to episode, after all — and brought Robert Lopez and Kristen Anderson-Lopez on board.
The husband and wife writing duo have made a name for themselves throughout the years; not only have they won two Academy Awards for Best Original Song — for Frozen's "Let it Go" and Coco's "Remember Me" — but Lopez has worked on a number of beloved musicals, including Book of Mormon and Avenue Q. In fact, Lopez is one of a small handful of people to win an EGOT, becoming the youngest winner in history and earning an elusive "double EGOT," meaning he has at least two Emmys, Grammys, Oscars, and Tonys.
In an interview with Entertainment Weekly, the talented couple revealed some tidbits about the first three WandaVision theme songs, including a lyric that almost got them in hot water. Here's the line that WandaVision's somewriters were urged not to include in the opening of episode three, "Now In Color."
The Lopez songwriting team almost spoiled a huge plot point with their opening song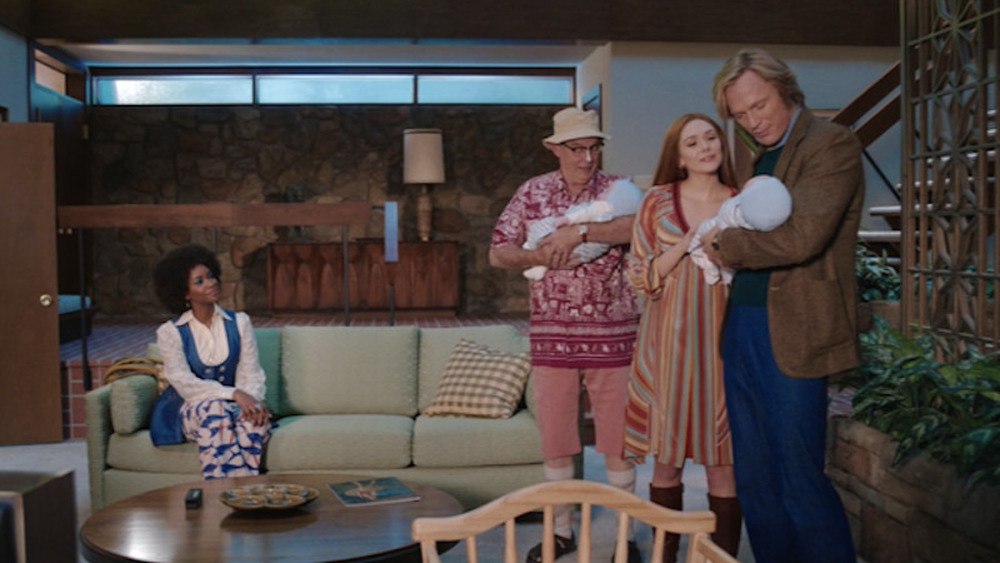 Marvel/Disney+
As the duo told Entertainment Weekly, one of their original lyrics for "Now In Color" nearly gave away a huge spoiler: namely, the birth of Wanda (Elizabeth Olsen) and Vision's (Paul Bettany) twin baby boys, which takes place at the end of the episode after Wanda became suddenly — and hugely — pregnant as the previous episode closed.
When EW asked if there was a lyric that made the Lopez team particularly proud, Lopez responded, "There was one lyric [in the third episode]. The first time the song ends, it goes, 'One plus one is more than two.' The second time it ends, it goes, 'One plus one is family.' [Laughs] I just think that's the dumbest and funniest and most TV-like lyric we've ever written."
Anderson-Lopez then admitted that this attempt was actually their second draft. "That was actually a rewrite because it ended with, "'One plus one is more than three,' Anderson-Lopez said. "They were afraid that was possibly a spoiler. So we turned it into, 'One plus one...'" Together, the duo sang, "Is family!"
"Which is like the most '70s thing," Anderson-Lopez continued. Lopez couldn't help but agree, saying, "It's the most idiotic lyric I've ever heard."
You can hear this lyric in the opening of the third episode of WandaVision, which is available to stream on Disney+ now. New episodes arrive on the service every Friday at midnight PST.