WandaVision: Why Geraldine's Necklace Is So Familiar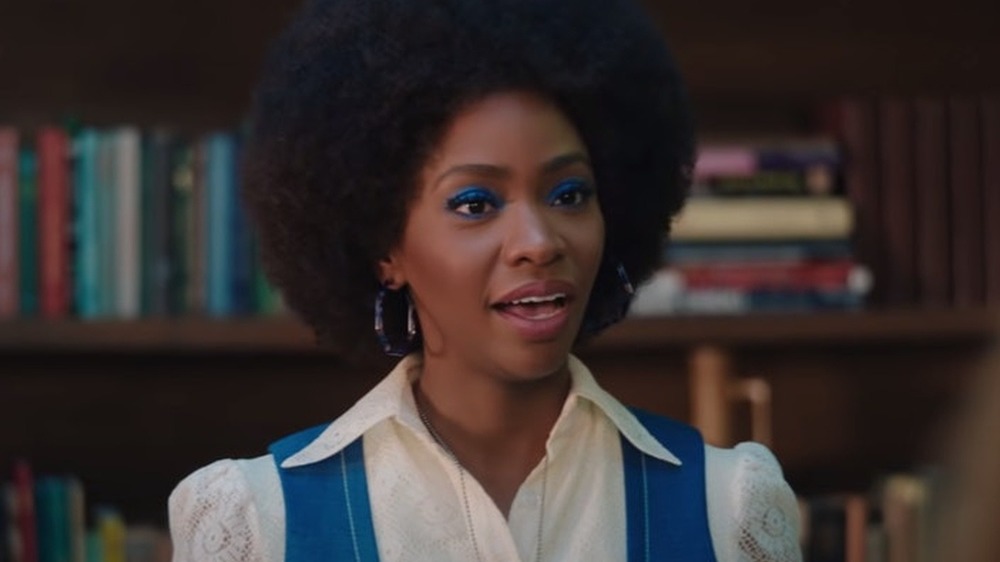 Marvel Studios/Disney+
Contains spoilers for WandaVision
With three episodes in the books, the Disney+ original WandaVision is taking the Marvel Cinematic Universe in a brand-new direction. Centering on Wanda Maximoff, also known as the Scarlet Witch (Elizabeth Olsen), and Vision (Paul Bettany), the program is finally fleshing out two of its longest-tenured characters. Although, it's fair to say it's not happening in the way many were expecting, as the show takes the couple across various sitcom-inspired eras for all kinds of foreboding shenanigans. Along the way, they've encountered a handful of fresh faces who take a different role in their lives, for better and worse.
WandaVision's premiere, "Filmed Before a Live Studio Audience," introduces audiences to Vision's boss, Mr. Hart (Fred Melamed), and his wife (Debra Jo Rupp) in a hijinks-filled dinner party. Additionally, we also meet their neighbor Agnes (Katheryn Hahn). And in the follow-up episode, "Don't Touch That Dial," uptight neighborhood planner Dottie (Emma Caulfield) makes her debut. Simultaneously, Teyonah Parris' Geraldine arrives in the same installment, becoming especially close to Wanda in the latest, 1970s-themed episode.
Much like her fellow Westview residents, Geraldine comes across as kind and friendly on the surface, but it's obvious she has ulterior motives. The necklace she wears in her most recent WandaVision appearance goes a long way in revealing who she really is and what she wants. Here's why it may ring some bells.
Geraldine's jewelry points to her association with S.W.O.R.D.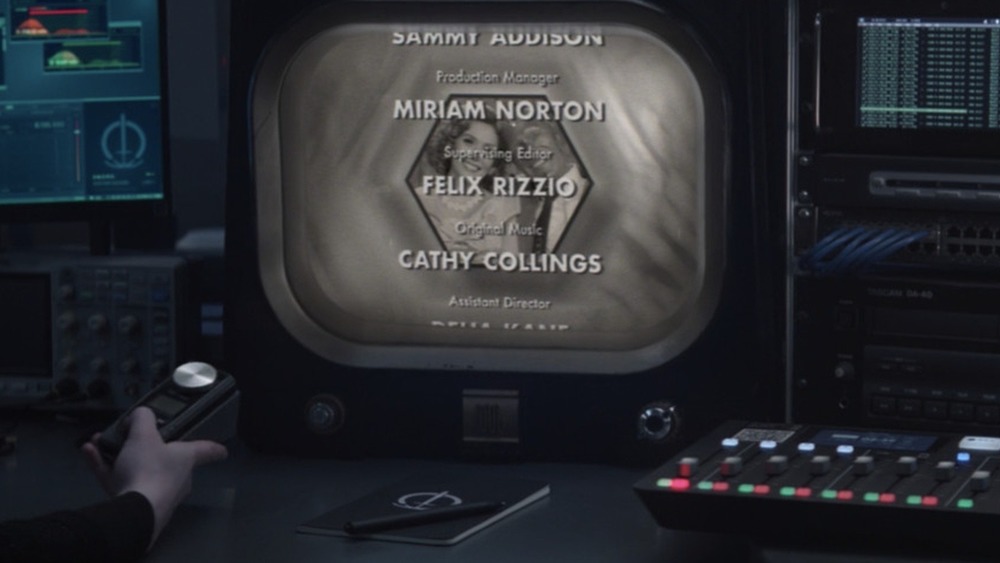 Marvel Studios/Disney+
WandaVision's third episode puts the spotlight on Wanda and her rapidly accelerating pregnancy. She manages to welcome her and Vision's baby boys — Billy and Tommy — into the world, with only Geraldine at her side. With the newborns in their crib, Wanda mentions that she was a twin — alluding to her late brother, Pietro, portrayed by Aaron Taylor-Johnson in Avengers: Age of Ultron. Geraldine replies with a mention of Pietro's demise at the hands of Ultron (James Spader). Upset, Wanda begins to interrogate her supposed friend, pointing out the sword-shaped silver emblem on her necklace.
If you've been keeping track of the MCU as of late and monitoring the minutiae of WandaVision, you'll likely recognize this symbol as that of the Sentient Weapon Observation Response Division — aka S.W.O.R.D. First teased in the post-credits scene of 2019's Spider-Man: Far From Home, this secret organization is acting as the replacement for the now-defunct S.H.I.E.L.D. It appears that they were the ones responsible for sending Geraldine into this pocket reality and likely recovering her when Wanda forcibly ejected her — for reasons that are still a bit murky.
Additionally, Geraldine isn't her real name at all. Casting announcements have confirmed that in WandaVision, Teyonah Parris portrays Monica Rambeau — a character who first appeared courtesy of Akira Akbar in 2019's Captain Marvel, which featured Monica as a child in the early 1990s. What she's doing as a member of S.W.O.R.D., when she joined the faction, and what she hopes to gain from interrupting Wanda's illusory world remains unknown. Surely this mystery will continue to unravel as WandaVision's next six episodes hit streaming in the coming weeks.