The Disturbing Psychological Thriller Taking Off On Netflix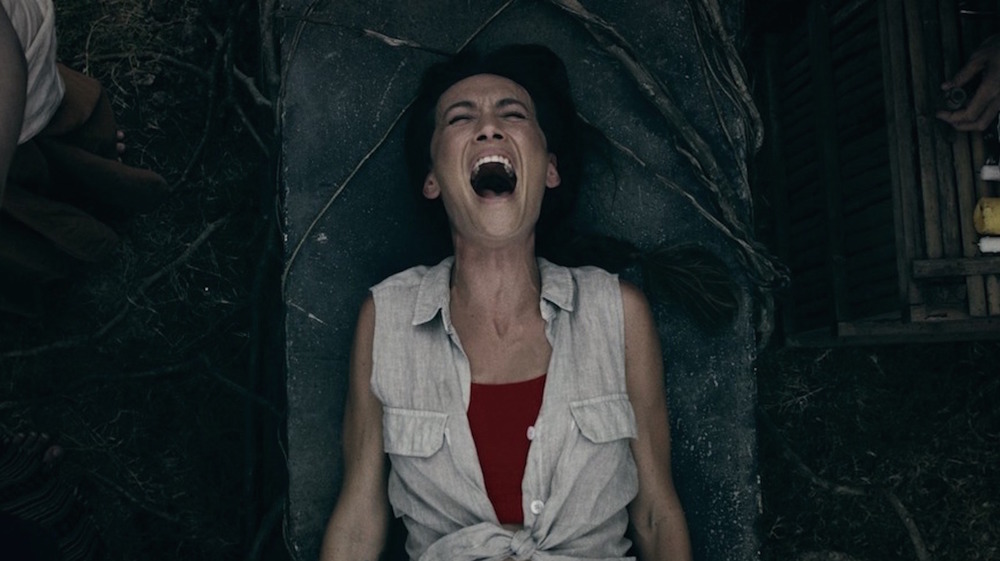 Saban Films
Not every vacation ends up being a good time. Sometimes, the gorgeous locales and sunny weather gets overshadowed by a taxi ride from hell, an AirBnB that looks nothing like the pictures, a nasty stomach bug, or — in the case of the protagonists of Death of Me – a nightmare journey into the deepest pits of surrealist horror.
Death of Me is an unnerving vacation thriller from frequent Saw franchise director Darren Lynn Bousman, whose 2020 release you may have missed. It didn't make too much of a splash when it first came out, but it's yet another movie that proves what a great equalizer Netflix can be, helping former flops defy odds and dominate the viewership rankings. At the time of writing, the film is currently on the list of the Top 10 most watched movies on the streamer. It's tone is not dissimilar from some of these terrifying horror movies about cults; with its twisted plot, and stunning setting on a bucolic island in Thailand, it's no wonder Netflix viewers are mentally jetting away for a bit of tropical horror.
Here's what you need to know about the latest mind bending thriller that's blowing up on Netflix.
What is Death of Me about?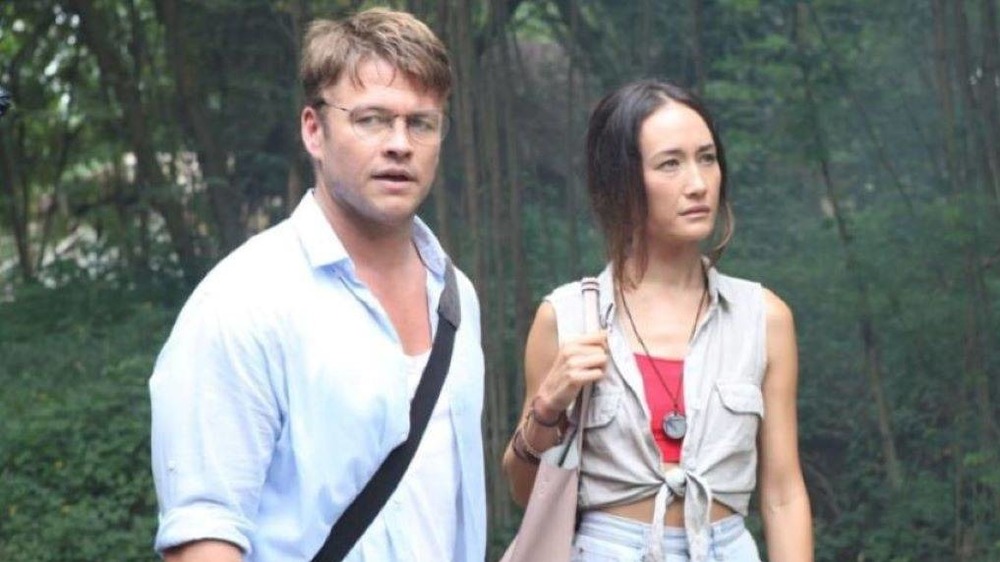 Saban Films
Vacationing couple Christine (Maggie Q) and Neil (Luke Hemsworth) have been enjoying a stay on a picturesque island off the coast of Thailand. That is, until they wake up one morning ravaged by a hangover and with no memory of the night before. Neither remember drinking to the point of blacking out, nor do they recall the events of a disturbing video they find on Neil's camera. In a bit of vacation documentation they're unlikely to post on Instagram, the couple watches in horror as Neil strangles Christine to death on the lawn of their rental house before digging a shallow grave and dumping her body in it.
But Christine is still alive, and Neil can't fathom why he would have murdered her, even if he was under the influence of the strange-looking cocktails the couple filmed themselves drinking before the strangling. As though the strange video weren't bad enough, Christine and Neil are stuck on the island, having missed the last ferry for the day, and it seems less and less likely that they will make it off before a forecasted typhoon hits the island. As the couple struggles to unravel their vacation gone to hell, they realize that their troubles go far beyond their supernatural hangover. There's something sinister at work on the island, and it has its sights set on Christine and Neil.
Making Death of Me was a nightmare for its director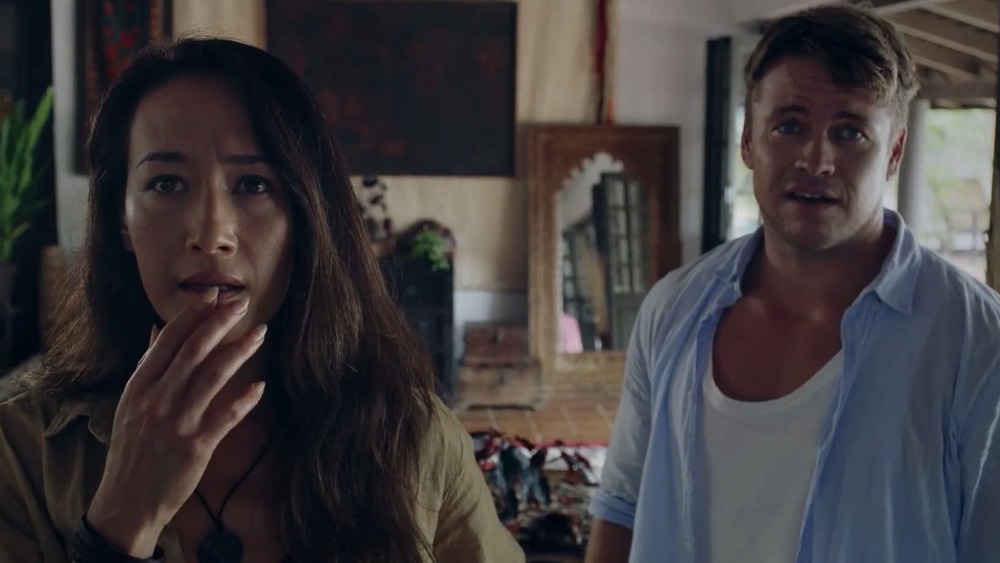 Saban Films
In Death of Me, Christine and Neil are on a lovely vacation that ends on a real sour note. Unfortunately for director Bousman, his experience filming in Thailand was a rocky example of life imitating art.
During an interview with horror fansite Nightmarish Conjurings, Bousman was asked about his experience shooting on location, to which he responded, "Honestly, I want to say it was awesome but it actually was not awesome." After clarifying that Thailand itself wasn't the problem, he explained that an infected root canal started him off on the wrong foot, and then a parasite made matters even worse.
Bousman explained, "I didn't know it was a parasite so I thought I was dying. I ended up starting to get sick and I started throwing up. I ended up losing 18 pounds in about 2-1/2 – 3 weeks."
Of course, it's never fun being sick, especially when you have to work. It's even more grueling when you have to do that work in a challenging environment. Although Bousman said he thought Thailand was "awesome," shooting the movie there did present some difficulties that he admits as a "stupid Westerner" he wasn't prepared for. After arriving on set for the first time, Bousman said he was "literally punching what looks like bats in the face but they're just mosquitos but they are so huge."
All in all, Bousman summed up his experience by saying, "I'm lucky to be alive to tell you the truth. Besides that, it was fantastic!"
Critics and co-stars agree: Maggie Q is the reason to see the movie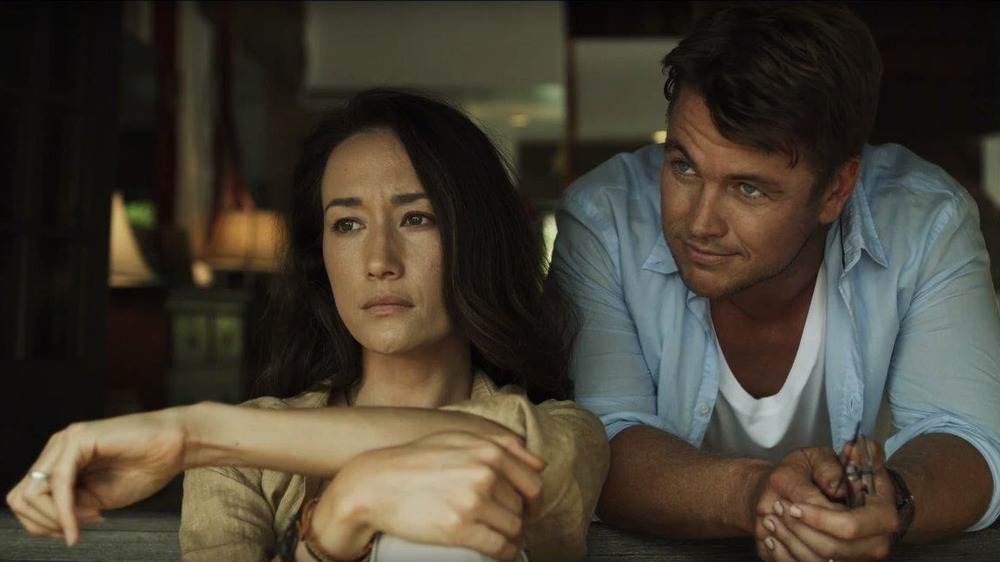 Saban Films
Netflix viewers may be lining up to reserve their spot on the Death of Me experience, but many critics were left wanting a refund after they saw the film. There were some who enjoyed the movie's unnerving thrills, but most didn't think it did enough to distinguish itself from other similar movies, including some of the best cult classic films you can watch on Netflix right now, and there were issues with the way it depicted the people of Thailand. One thing that critics across the spectrum mostly agreed on, though, is that the committed performance of Maggie Q elevated the proceedings.
In their review in Variety, Guy Lodge wrote that Q's "nervy, physically intrepid presence is at points the one thing standing between the film and outright risibility," while Abbie Bernstein of Assignment X called her "a forceful and riveting performer" and called her the film's "strong focal point."
Another person who was quick to praise Q was her on screen husband, Hemsworth. During an interview with Screen Rant, he said, "She's amazing. I had such a good time working with Maggie ... she's opinionated, she's driven, she's a worker, she's fantastically talented ... I called her the force of nature."
Whether your interest was piqued by the unique setting, the supernatural horror, or the chance to see Q shine on screen, you can check out Death of Me on Netflix.