Terrifying Horror Movies About Cults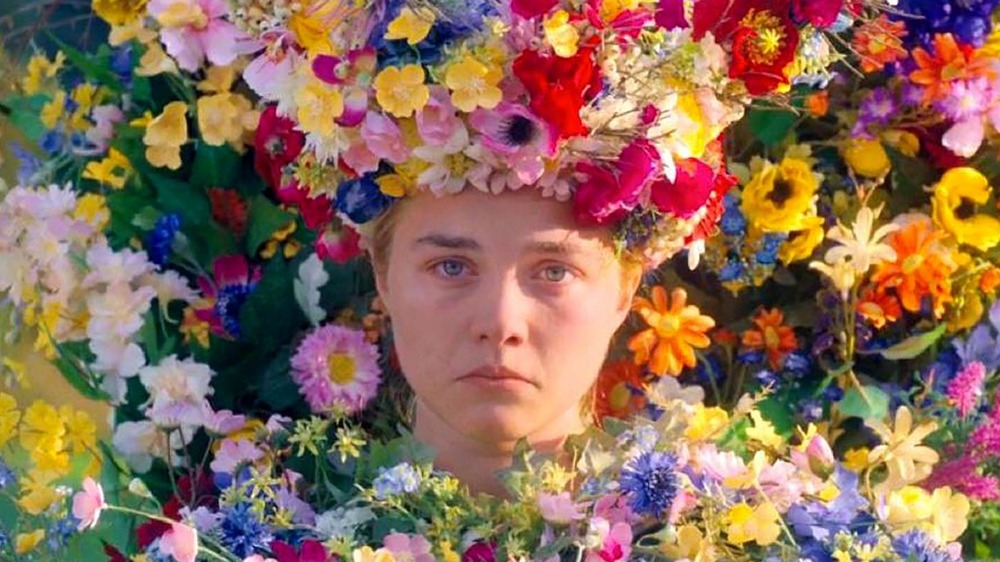 Why are cults such a popular subject for horror movies? Well, there's so much about cults that frighten people, such as the depersonalization and unwavering worship of their followers, the secrecy of their rituals, and the messianic tendencies of their leaders. And, of course, there are the many examples of real-life of cults that turned dangerous and even destructive — the Manson Family, the People's Temple, Aum Shinrikyo, the Branch Davidians, and NXIVM, to name just a few. Cults are front-loaded with so much public dread and paranoia that much of the work in scaring an audience is already done for the filmmaker. Only the names and practices need changing.
Mention "horror movies about cults," and fans can list titles both new and old, but some are far scarier than others. So, we've compiled a list of truly terrifying films about creepy cults that you should definitely add to your must-watch list. And for the purposes of this list, a "cult" is defined as a group or movement that adheres to the absolute belief in the word of a charismatic leader. For that reason, some truly amazing horror movies aren't included here, including Rosemary's Baby (the senior Satanists in that film are more of a coven), Curse of the Demon (plenty of black magic but no cult), or City of the Dead (again, coven, not cult). Oh, and spoilers are likely to follow.
Boris, Bela, and a crazy cult in The Black Cat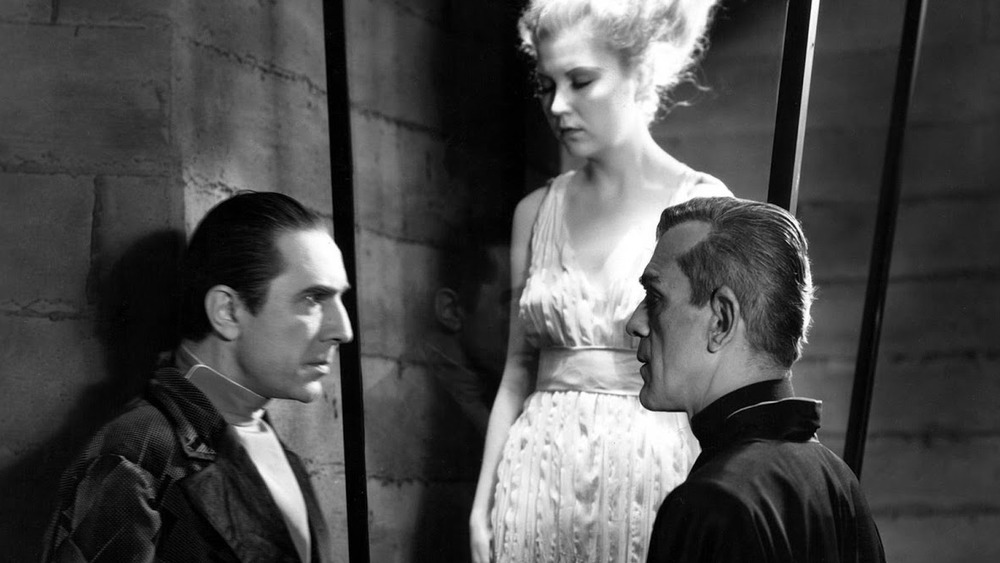 Universal Pictures first paired its top horror stars -– Boris Karloff and Bela Lugosi — in 1934's The Black Cat, which has little to do with the Edgar Allan Poe story but instead offers an array of surprisingly morbid and perverse horrors. 
Looking elegantly wasted in black robes, Karloff is a former architect turned Satanist who lives in a Bauhaus-inspired home, built atop a World War I battlefield in which lie the remains of thousands soldiers he betrayed. Bela Lugosi is a visiting psychiatrist who discovers that not only is Karloff leading robed followers in black masses, but he also married both Lugosi's wife –- whose body is preserved in a glass display case –- and his daughter! 
Lugosi's revenge is the grisly capper for this thriller, which retains the power to shock even after 85 years. Director Edgar G. Ulmer, who apprenticed with Nosferatu director F.W. Murnau, drapes the black mass scenes in symmetrical shadows, making them seem both elegant and sinister and not at all like the frenzied rituals seen in horror films that followed it.
The days are numbered for The Seventh Victim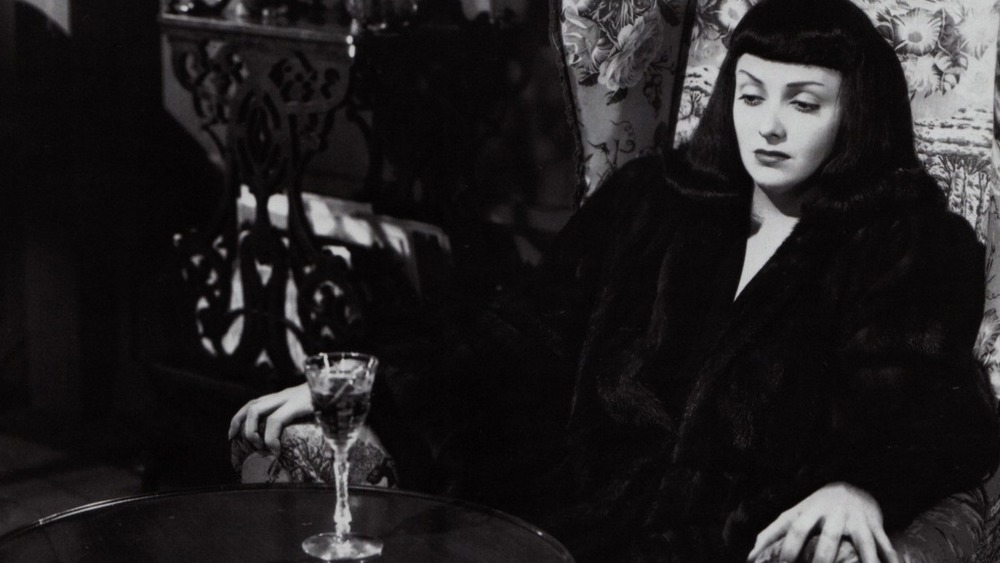 Writer-producer Val Lewton oversaw some of the eeriest and most original horror films of the 1940s and 1950s, including Cat People and I Walked with a Zombie. Between these efforts, he oversaw 1943's The Seventh Victim, a strange, ambiguous, but haunting thriller about a young woman (Kim Hunter) whose search for her missing sister (Jean Brooks) brings her into contact with a Satanic cult in New York's Greenwich Village. In real life, the Palladists, the cult at the heart of The Seventh Victim, were a fictitious group of Satanists wrongly linked to Freemasonry in France during the 19th century. But here, they're an incredibly eerie group with murder on their minds. 
Director Mark Robson, who served as editor on several of Lewton's other films, produces some striking images. For example, Hunter enters Brooks' room to find it empty save for a noose and a chair. On top of that, Robson folds many elements of the cult horror movie narrative (strangers who are secret cult members, severe punishment for breaking cult rules) into a doom-laden plot that's more about the inevitability of death than the fear of it. 
Hammer goes to Hell in The Devil Rides Out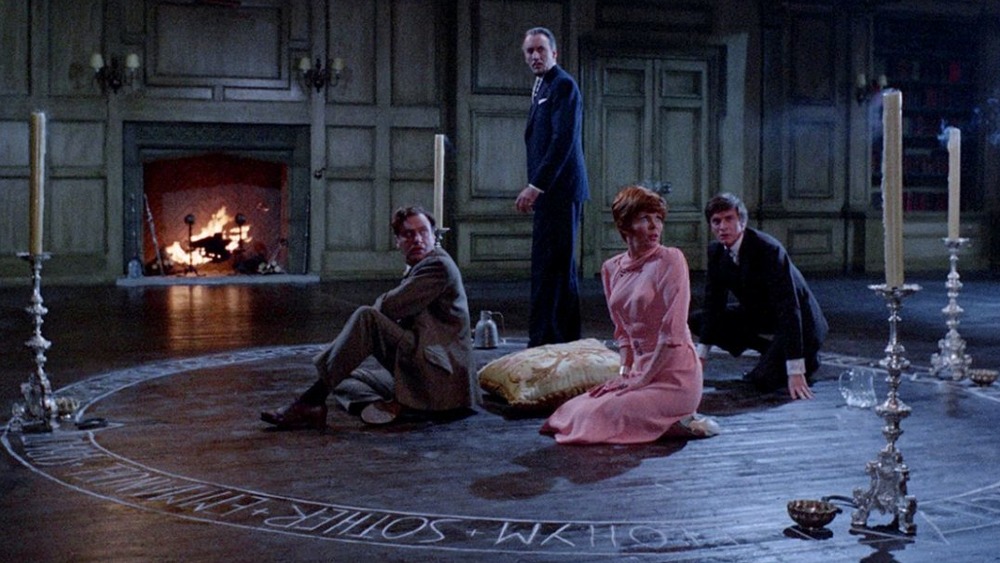 England's Hammer Films briefly stepped away from its cycle of gothic horror for this exciting 1968 adaptation of Dennis Wheatley's novel The Devil Rides Out, about a Satanic cult's pursuit of a pair of unwilling initiates. Hammer star Christopher Lee took the heroic route here as the suave occultist and adventurer defending two people against diabolical devil worshiper Mocata (Charles Gray, the Criminologist in The Rocky Horror Picture Show). The script by Richard Matheson (I Am Legend) streamlines the novel into a series of thrilling set pieces, including an all-night assault by various spirits, including the Angel of Death, while Lee and his companions protect themselves from inside the confines of a pentacle diagram. 
As depictions of cults go, Devil succeeds at portraying the overpowering mind control –- the villainous Mocata needs only his velvety voice and piercing eyes to suggest tremendous psychic power -– used to hold acolytes, as well as the extreme lengths a cult will go to in order to retain them. The film's depiction of a Satanic ritual, complete with the appearance of the Goat of Mendes -– described as the Devil itself but resembling Eliphas Levi's famous drawing of the pagan god Baphomet -– also strikes the right balance of frenzy, terror, and ecstasy.
I Drink Your Blood gives us some hippie Satanists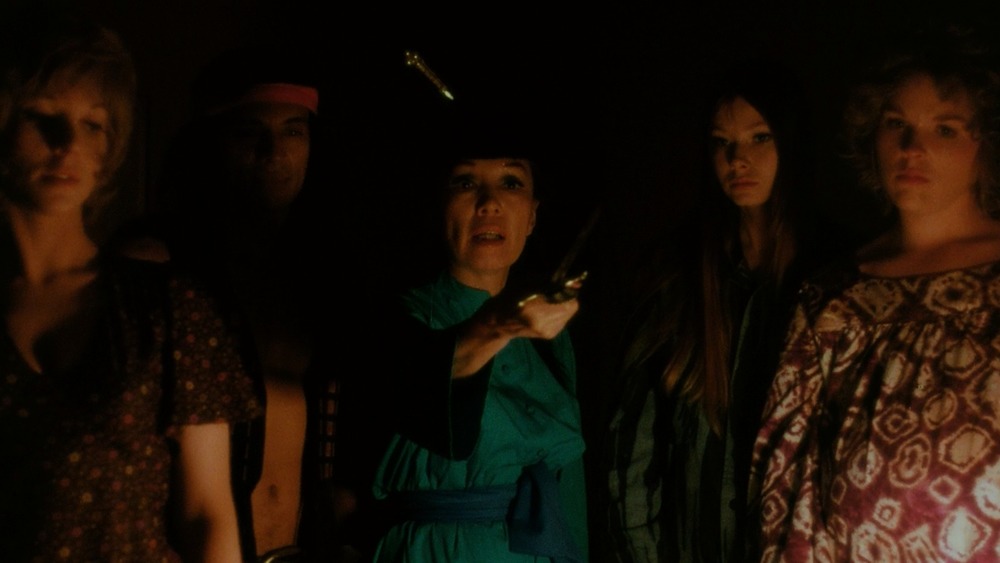 When hippie Satanists force-feed LSD to a small-town baker, his grandson gets revenge by selling them meat pies laced with the blood of a rabid dog! The cultists turn homicidal and not only lay waste to the town, but they also spread the disease to the locals. 
One of the first films to receive an X for violence (though much of the gore was cut prior to its theatrical release), David Durston's low-budget 1970 freakout I Drink Your Blood has its share of dated dialogue ("Satan was an acid head!") and off-kilter scenes (hydrophobia, a symptom of rabies, somehow allows a group of infected hardhats to be held off with a garden hose). But as the disease claims more victims and the rabid cultists and townsfolk butcher each other, Blood becomes a surprisingly graphic and intense viewing experience that builds to a nail-biting siege. 
And intentional or not, it's hard to not see the film's clash between hippies and blue-collar workers as some kind of statement on fears about the counterculture, which at the time of the film's release, were fully ablaze thanks to a real-life cult leader Charles Manson, whose crimes inspired Durston's script.
The Wicker Man is formative folk horror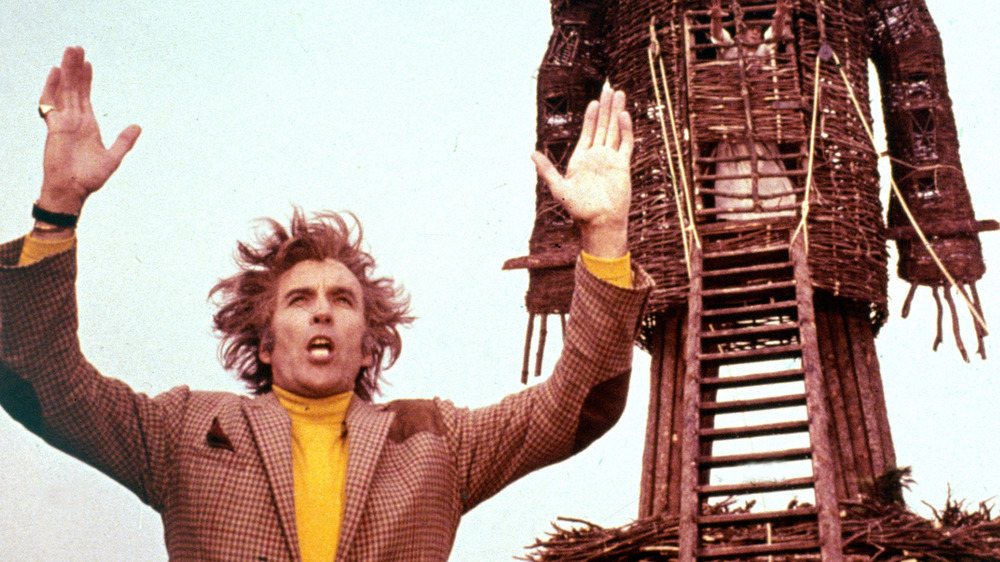 While most of the cults in the films mentioned in this list are openly diabolical, the religion practiced in 1973's The Wicker Man isn't entirely sinister. At least, at first. 
The people of Summerisle, a tiny island off the coast of Scotland, follow a pagan practice connected to many ancient traditions. We've got May Day celebrations (including the maypole), a spiritual connection to nature, and the belief that sacrifice will result in a fruitful harvest. That the sacrifice in question is human isn't inherently evil in the eyes of the island's leader (Christopher Lee) and his constituents, but instead, they view it as centuries-old tradition. However, visiting English policeman Edward Woodward, whose devout Christianity and virginal status make him an object of keen interest among Summerisle's locals, would undoubtedly disagree, especially in the horror film's shocking conclusion. 
That split perspective — what's monstrous to some is just a part of life to others –- is what's endeared The Wicker Man to horror fans for decades, especially among the folk horror movement, which considers the film a forerunner to major titles in that subgenre, including The Witch, The Ritual, and Midsommar. Oh, and that 2006 remake with Nicolas Cage? Don't bother, even for the yucks.
Satan burns rubber in Race with the Devil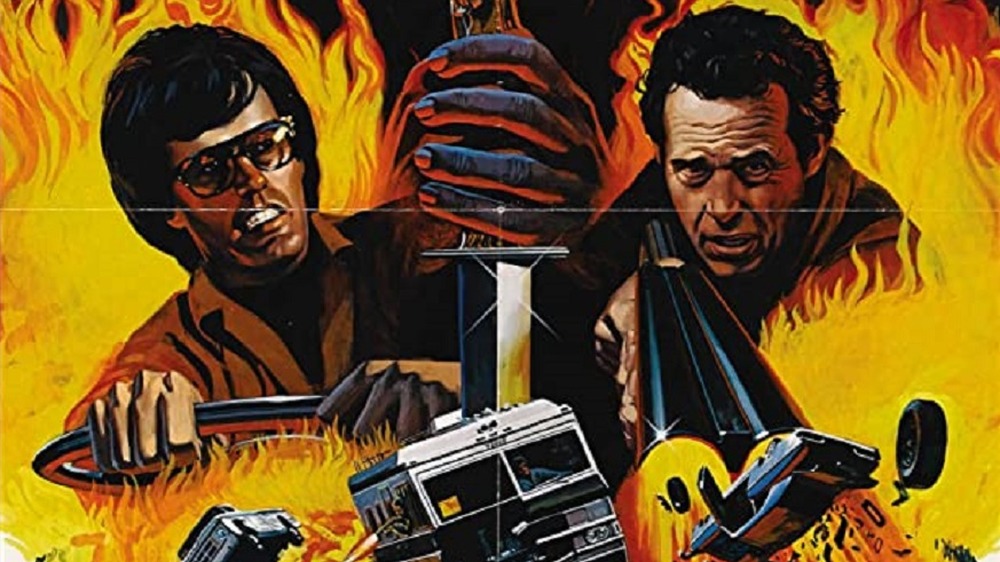 Satanic mayhem meets gear-grinding action in 1975's Race with the Devil, a favorite of drive-in and grindhouse aficionados for its mix of horror and vehicular stunts. Peter Fonda and the great Warren Oates star as motorcycle salesmen piloting an RV to a vacation in Colorado with their wives. The trip is derailed on a lonely stretch of Texas road, where the couples witness a ritual that culminates in human sacrifice. What follows is the traditional paranoia plotline in many cult-based horror films, with Fonda and Oates discovering that their efforts to bring the murder to light only reveal that the law, townspeople, and even a bar band are in cahoots with the diabolical worshipers. 
Unlike other protagonists in their position, Fonda and Oates fight back against the sinister cabal, resulting in some high-octane action set pieces, including a ferocious highway pursuit that rivals big-budget studio productions for sheer bravado. Director Jack Starrett, a veteran of both television and independent action films, nails both the terror quotient (especially in the jaw-dropping ending) and the stunt scenes, resulting in one of the most crowd-pleasing cult horror films of the 1970s.
Kill List is full of tension, terror, and devastation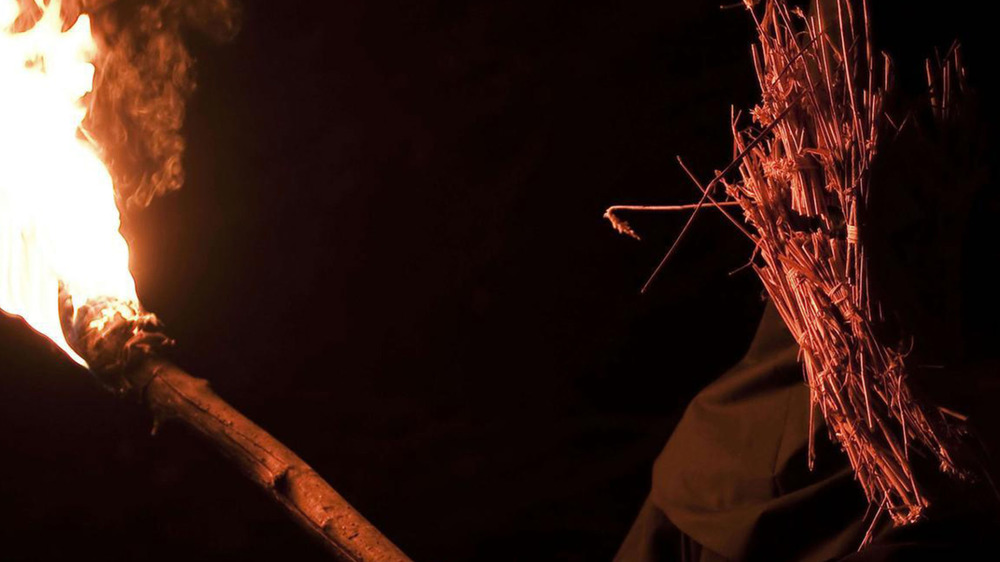 At first blush, English writer-director Ben Wheatley's 2011 film Kill List plays as a dark psychological thriller, with a troubled military vet (Neil Maskell) channeling his simmering rage into work as a hitman. But as he and his gun-toting partner (Michael Smiley) brutally work their way through a list of targets, it slowly becomes apparent that both the intended victims and their mysterious employer are somehow linked to a shadowy pagan cult with far-ranging influence and an appetite for sacrifice. 
Shot in just 18 days and largely improvised by its cast, Kill List raises many questions but leaves most unanswered by its devastating conclusion. In doing so, Wheatley allows our own fears about the cult's intention and its members to run rampant, upping the paranoia and disorientation that's a key element of the plot for most horror movies about dangerous cults. And if you want more films like Kill List, Wheatley has continued to explore the world of secret organizations and identities in a diverse array of films, from the dystopian High-Rise and the psychedelic folk horror of A Field in England to the latest adaptation of Daphne du Maurier's classic thriller, Rebecca.
The Manson Family is a grueling indie take on the infamous cult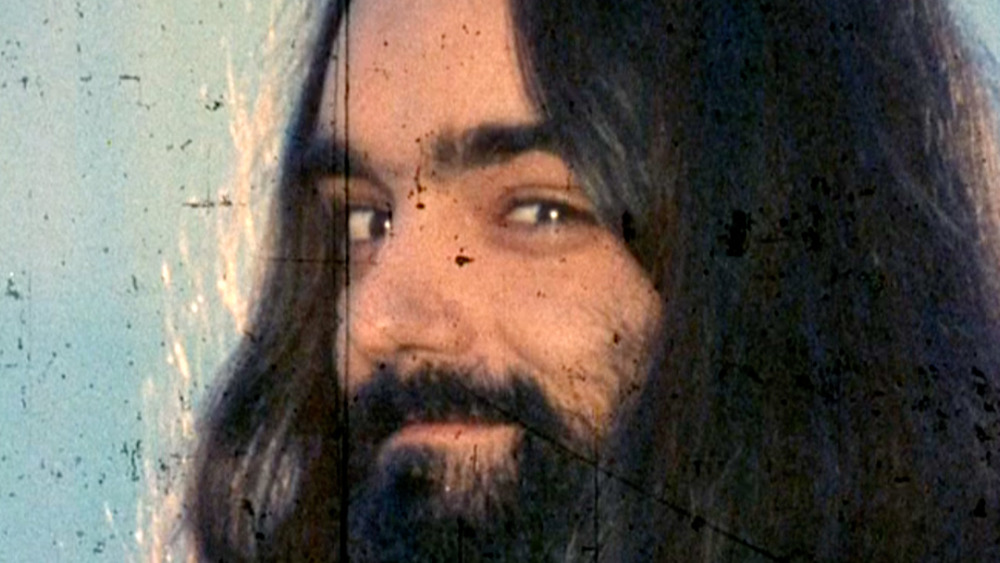 Charles Manson and his followers, also known as the Family, have been the focus of countless films and television projects, including two adaptations of Helter Skelter, Quentin Tarantino's Once Upon a Time in ... Hollywood, the Netflix series Mindhunter, and even a bizarre stop-motion animated film called Live Freaky! Die Freaky! But one of the most grueling depictions of life on the Spahn Ranch, where Manson and his followers lived, is Jim Van Bebber's 1997 feature The Manson Family. 
The independent feature, which took more than a decade to complete, spares no quarter in depicting the horrific mind games and physical abuse that were a requirement to living under Manson's command, as well as the ghastly murders of actress Sharon Tate and her companions in August 1969. But even more harrowing is the film's wraparound story, which follows a modern-day television news reporter's efforts to compile a documentary segment on the murders. In these scenes, Van Bebber skillfully cuts between interviews with aging Family members, long behind bars but still clearly damaged (and faithful) to Manson, and glimpses of a drug-addicted punk-goth gang inching closer to forming their own Family, showing just how long and destructive the shadow of the cult mindset can be.
V/H/S/2's Safe Haven is a full-tilt gorefest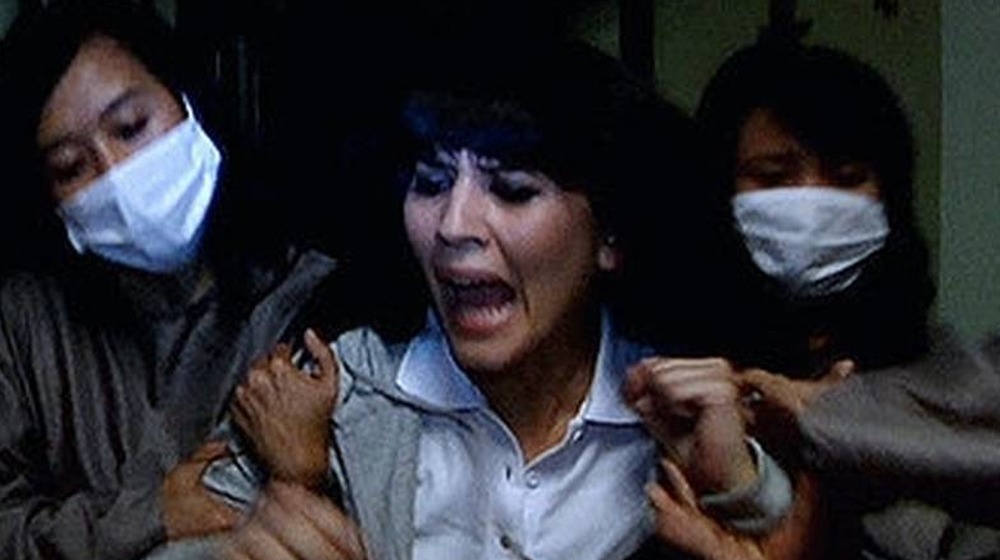 The individual stories in the three films that comprise the V/H/S trilogy of found-footage horror can be hit and miss, but nearly every fan of the franchise agrees that the most full-tilt crazy, gore-soaked entry is "Safe Haven," from 2013's V/H/S/2. Directed by Welsh filmmaker Gareth Evans (The Raid) and Indonesian director-producer Timo Tjahjanto (The Night Comes for Us), "Safe Haven" begins with a news crew conducting an investigation into an obscure Indonesian cult. But as they probe deeper into the group's activities, it becomes apparent that the cult is preparing for a "reckoning," which quickly (make that immediately) entails mass suicide, zombies, gallons of blood, and ultimately, a monstrous supernatural entity. 
Evans and Tjahjanto unleash these horrors at a breakneck pace that barely allows the viewer to comprehend what they're seeing before the next nightmare makes its presence known. That's intense and overpowering, but equally unsettling is the cult members' mindless self-destruction as the "reckoning" takes root, which echoes the terrible real-life events at Jonestown, the Waco siege, and the Heaven's Gate mass suicide.
The Endless: UFO cult or space gods?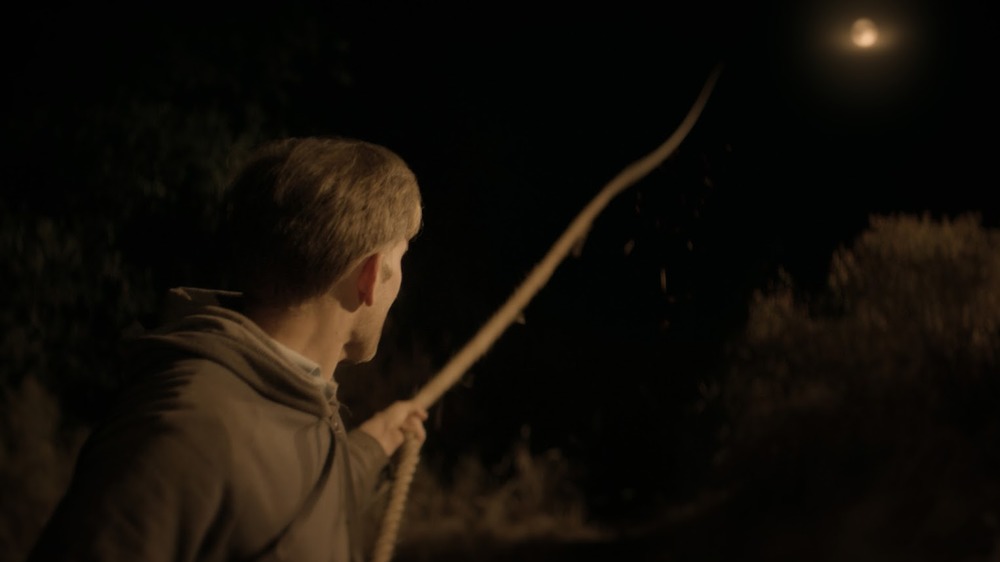 Before you dive into the mind-expanding cosmic terror of 2017's The Endless, you may want to consider checking out Resolution, a 2012 prequel of sorts by writers-producers-directors Justin Benson and Aaron Moorhead. It's not necessary, but it does offer a dive into the core ideas in The Endless, which begins with two brothers (played by the filmmakers) returning to an encounter group they belonged to as young men ... and which may or may not have been an apocalyptic UFO cult. 
The true nature of what happened at the camp eventually becomes secondary to the dawning realization that time and reality there may be under the control of an unseen but ever-present being that subjects Benson, Moorhead, and their fellow campers –- all of whom appear to have remained exactly the same, despite the passage of several years –- to nightmarish temporal loops with no hope of escape. Though the true nature of what happens in The Endless may appear to touch on science fiction, the filmmakers' decision to filter the action through a cult scenario is spot on, as issues of de-personalization, separation from the outside world, and salvation (or damnation) by unseen entities based on degrees of faith are also some of the most frightening elements of a cult experience.
The Invitation offers dinner, drinks, and a murderous cult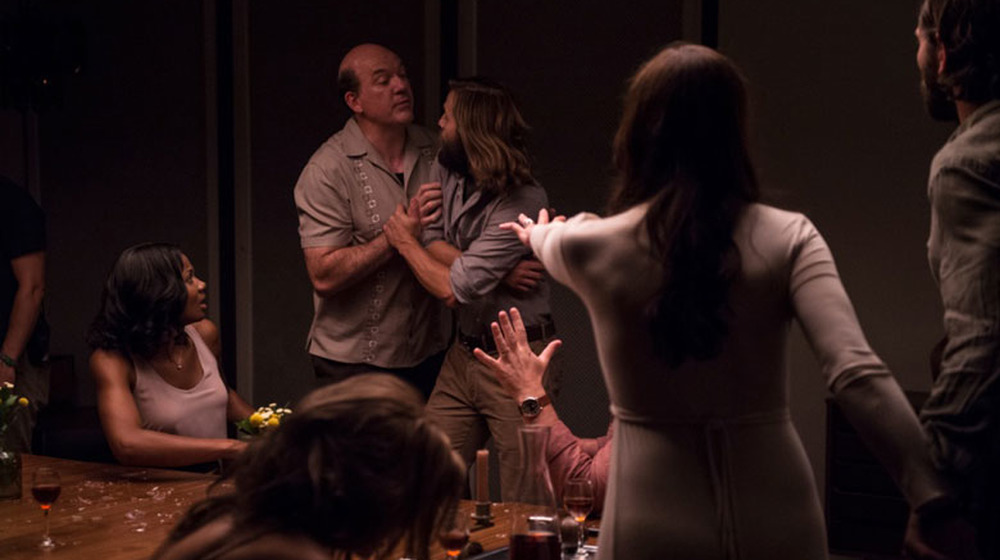 Paranoia is, of course, a key ingredient in horror movies about cults, and the notion that seemingly "normal" people can embrace dangerous or destructive ideas as the gospel truth is one of the key reasons why genre directors continue to return to these groups for fresh and frightening material. One of the best indie films to dive deeply into the secret beliefs of cults is Karyn Kusama's 2015 feature The Invitation. It begins in territory that anyone would find unsettling –- a dinner party thrown by a former significant other –- and from there, it quietly drifts into even more unpleasant waters ... the realization that the hosts are going to use the event to showcase a recent experience. 
But what the hosts (Tammy Blanchard and Michiel Huisman) are selling to their guests, including a former spouse (Logan Marshall-Green) and the always-great character John Carroll Lynch (American Horror Story: Freak Show), is a New Age-styled grief support system. Unfortunately, it's one that helps members overcome trauma by passing it along to others in the most literal way — by killing them. The realization of the cult's intention and the guests' attempts to escape are terrifying, and it all culminates with one of the greatest (and scariest) final shots in horror history. 
Midsommar's cult promises new life and terrible death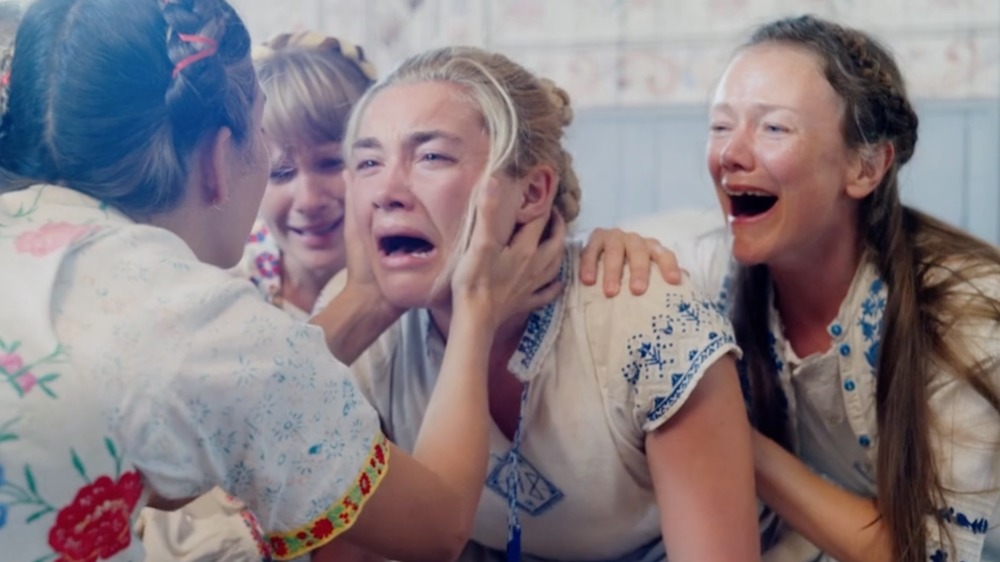 Though there are Satanists behind the harrowing events in writer-director Ari Aster's feature debut, Hereditary, the worshipers of the demon king Paimon are more a coven than a cult, as they lack a charismatic leader (Ann Dowd's grandmotherly Joan is more spokesperson than frontman). But his sophomore film, 2019's Midsommar, is firmly based around a cult –- specifically, a Scandinavian pagan cult that offers a traumatized outsider (Florence Pugh) a chance at redemption and unpleasant ends for her skeptical companions. 
As with The Wicker Man, Midsommar asks the viewer to question if the cult's rites are inherently evil or holdovers from an older and more brutal way of life. That debate comes into sharp focus with Pugh's character, who's been emotionally steamrolled by a family tragedy and her non-committal boyfriend (Jack Reynor). The cult's rites are focused on renewal, rebirth, and transformation, and if anyone seems like an ideal candidate for those gifts, it's Pugh, whose enigmatic smile at the end of the film suggests that the feeling is mutual. Of course, her friends and several cult members have to suffer ghastly deaths in order for that to happen. And therein lies the real terror at the heart of cult horror movies. If you want to enter the gates of Heaven, someone else is going to have to go to Hell.