Saved By The Bell Stars React To Dustin Diamond's Sad Diagnosis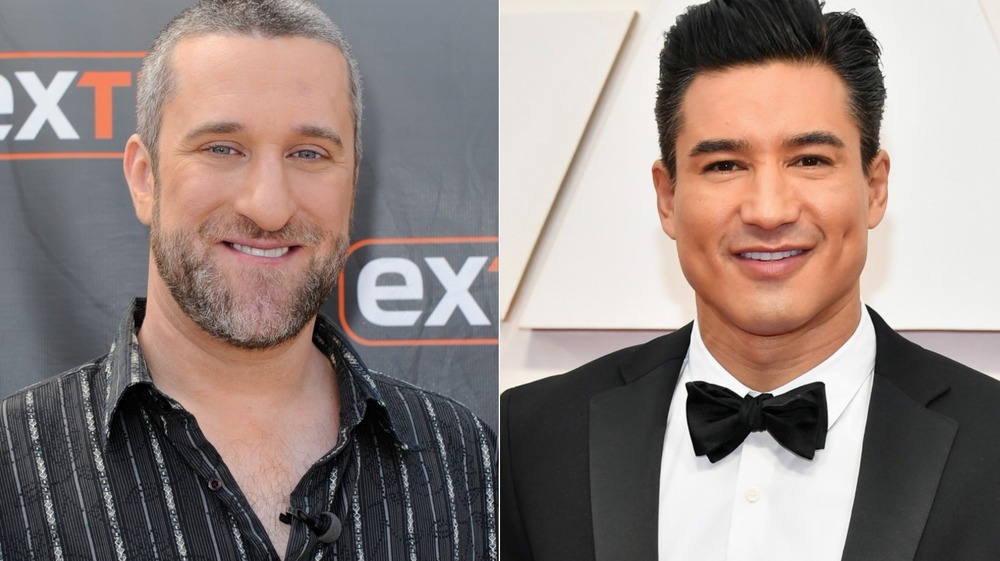 Noel Vasquez, Amy Sussman/Getty Images
The new continuation of Saved by the Bell on NBC's streaming service Peacock was a surprise hit at the end of 2020. Though it bears the same title as the original sitcom from the late '80s and early '90s, the new Saved by the Bell series breaks a lot of ground that the OG couldn't have dreamed of — focusing on income and racial inequality through the lens of characters like Daisy Jiménez (Haskiri Velazquez), Aisha Garcia (Alycia Pascquel-Pena), and Devante Young (Dexter Darden). The new Saved by the Bell also did something that ought to be normal on television by now: have a young transgender woman, Lexi Haddad-DeFabrizio (Josie Totah), be in a normal, healthy, romantic relationship with a cisgender man, Jamie Spano (Belmont Cameli).
In addition to all the new firsts, what brought fans of the original series back to Bayside High were all the returning faces. Both AC Slater (Mario Lopez) and Jessie Spano (Elizabeth Berkley) are back as series regulars, and Zack Morris (Mark-Paul Gosselaar) and Kelly Morris (Tiffani Thiessen) appear in recurring capacities. Restaurant owner Max (Ed Alonzo) turns up to do a little magic, and even Lisa Turtle (Lark Voorhies), whom fans were not expecting to return, makes a cameo appearance.
The only two faces we haven't seen yet are Principal Richard Belding (Dennis Haskins) and Samuel "Screech" Powers (Dustin Diamond). Supposedly, there have been talks about Diamond returning as Screech following the success of the new Saved by the Bell's first season. Unfortunately, we recently learned that Dustin Diamond has been diagnosed with stage 4 cancer and is currently in treatment, according to TMZ. Already, Diamond's former co-stars are reacting to this heartbreaking diagnosis and reaching out to offer their support.
Saved by the Bell stars wish Dustin Diamond well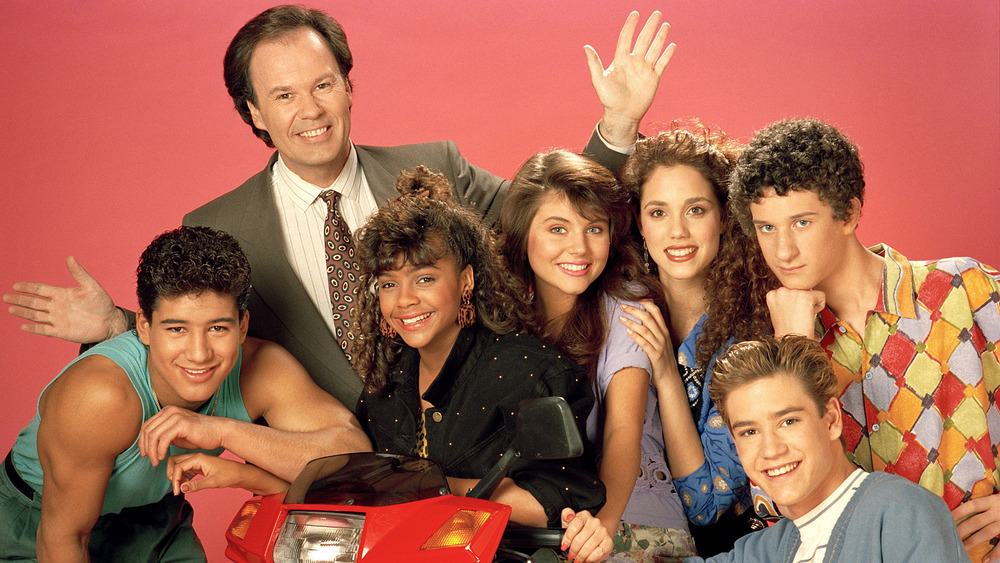 NBC
On January 14, 2021, Diamond's team confirmed in a Facebook post that he had been diagnosed with cancer. The announcement reads, "At this time we can confirm that Dustin does have cancer. Dustin will disclose more information once it is available and a plan moving forward is made. We ask everyone to respect Dustin's privacy during this difficult time. All positivity and prayers are appreciated." 
The following day, Mario Lopez posted to Instagram two photos of himself and Diamond together: one from their Saved by the Bell days and one from 2016, when Lopez interviewed Diamond on Extra TV. Alongside the photos, Lopez wrote, "I connected with Dustin earlier this evening and although the news of his diagnosis is heartbreaking, we remain positive that he'll overcome this. Praying for him & his family and for a speedy recovery. God Bless." Tiffani Thiesen also posted to her Instagram Story, saying simply, "Thinking of you Dustin" (via Page Six).
Lark Voorhies, who played opposite Diamond as Screech's long-time crush Lisa Turtle, also took to Instagram on January 16 to express her love for Diamond and to wish him well during this difficult time. "I'd like to take the time to send special love and special best wishes to Dustin Diamond, who is one of my dearest friends," she wrote. "Dustin, all the many in your close circle who know you to be the great person that you are, are truly pulling for you and praying for the best outcome."
We are wishing Diamond the very best as he undergoes treatment.