Star Wars 8: Early Rumors About Benicio Del Toro And Laura Dern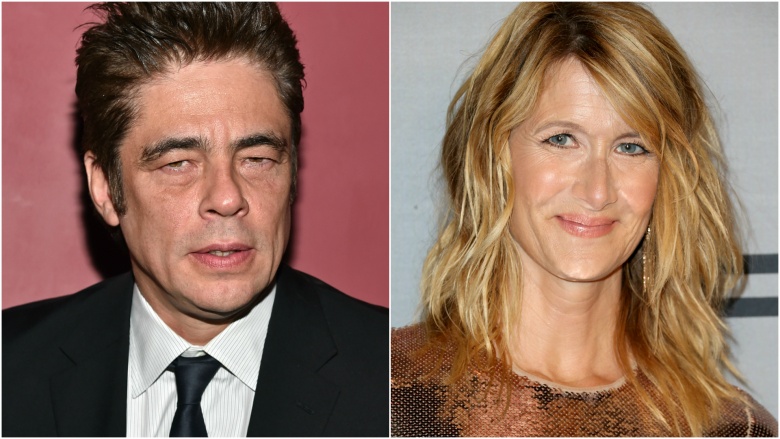 Getty Images
After the upcoming standalone flick Rogue One, the Star Wars universe is set to return to the Skywalker-related storyline we've been immersed in from the beginning. And while there will be plenty of familiar faces in Episode VIII, director Rian Johnson will introduce a few new characters as well.
When the film began production back in February 2016, it was announced (via Variety) that Oscar winner Benicio del Toro, Oscar nominee Laura Dern, and newcomer Kelly Marie Tran would join the cast in undisclosed roles. But a new report from Making Star Wars could shed a little light on their characters.
Sources say del Toro will portray a "man in black" who is considered "dangerous." Initially, many believed he would play a new villain, but the new information suggests it could be more complicated than that. His character is reportedly not viewed as a "bad guy," and is instead compared to Lando Calrissian. Making Star Wars theorizes that he could be connected to a casino that will serve as a setting.
As for Dern, sources say she'll play an "aristocratic and fancy" character who could be a political rival to Princess Leia. Her look is described as "The Hunger Games meets Star Wars," and she reportedly sports an elaborate pink hairdo akin to the style in the prequels.
There's not much known about Tran's character, but she's reportedly involved with Finn's storyline. Sources say her appearance will be the opposite of Dern's, and she'll dress rather plainly. Finn actor John Boyega told Vulture that Tran's character will be significant in the film, and that her storyline is "really cool."
Of course, none of this is confirmed, so we wouldn't wager the Millennium Falcon on any of it. But it certainly serves as a reminder that there's still plenty to explore in the coming installments. Star Wars: Episode VIII is expected to arrive Dec. 17, 2017. Check out everything we think we know about it so far.