The Expanse Actors Reveal Their Most Memorable Fan Encounters - Exclusive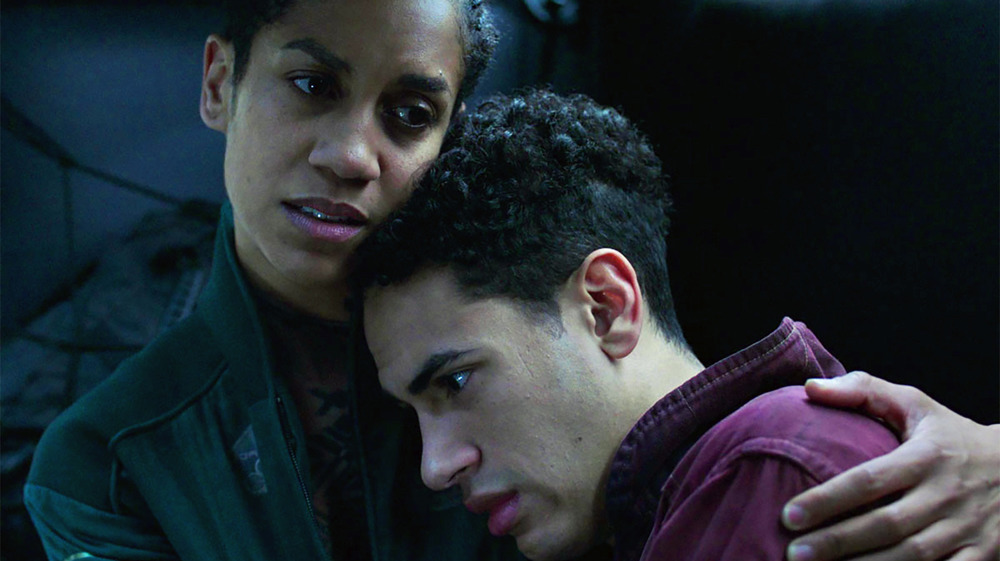 Amazon Prime Video
Contains spoilers for The Expanse
The Expanse wouldn't exist without its fans — at least not in its present form. After The Expanse earned critical acclaim and plenty of awards over the course of three seasons, Syfy pulled the plug on the groundbreaking space opera in 2018. Thankfully, that wasn't the end of the story. Viewers rallied behind the show, launching a major "Save The Expanse" campaign. Eventually, their efforts attracted the attention of one of the show's biggest fans, Amazon founder Jeff Bezos, who just happens to own his very own streaming service. Mission accomplished.
As you can imagine, the cast and crew of the show are very thankful for The Expanse community, and they've had a number of memorable run-ins with fans. While talking with Looper about the show's fifth season, which is currently airing on Amazon Prime Video, The Expanse stars Dominique Tipper and Steven Strait told us about a few of their favorites.
In The Expanse's fourth season, the audience learns that Tipper's character, Rocinante engineer Naomi Nagata, has a complicated past. Not only is the Belter terrorist Marcos Inaros Naomi's former lover, but the couple also has a son together, Filip. Not that Expanse viewers know Filip all that well, though. After Marcos tricked Naomi into developing a weapon that killed over 500 people, Naomi fled, leaving her infant son behind.
That's a story that's resonated with many viewers, and at least one took the time to let Tipper know. "I was at a comic-con, and I had a woman come up to me and kind of break down," Tipper says. "I [asked], 'Oh my God, are you okay?' And she [said], 'I haven't been able to be with one of my children since they were a kid.'"
For Tipper, it was a pivotal moment, and not one she expected. "She was just saying that she felt seen, and that was an aspect that I didn't really think about," she tells Looper. "I felt quite honored, in a way, that she was even sharing that story with me, but also that she felt like she was represented."
In fact, The Expanse's behind-the-scenes focus on representation is one of the reasons why fans have latched on to the show, and one of the things that Tipper loves about it. "That's been one of my favorite fan encounters, because that's kind of in my head: I hope people feel seen by our show in all different ways," she says.
It's not just parents who see themselves in Naomi, either. The character resonates with all kinds of people. "I also had an engineer say to me, 'I'm so glad that an engineer always saves the day.' And this was a young white guy," Tipper says. "I was just [thinking], 'Oh, engineers feel seen too!' That is excellent."
Why fans' efforts to save The Expanse blew Steven Strait away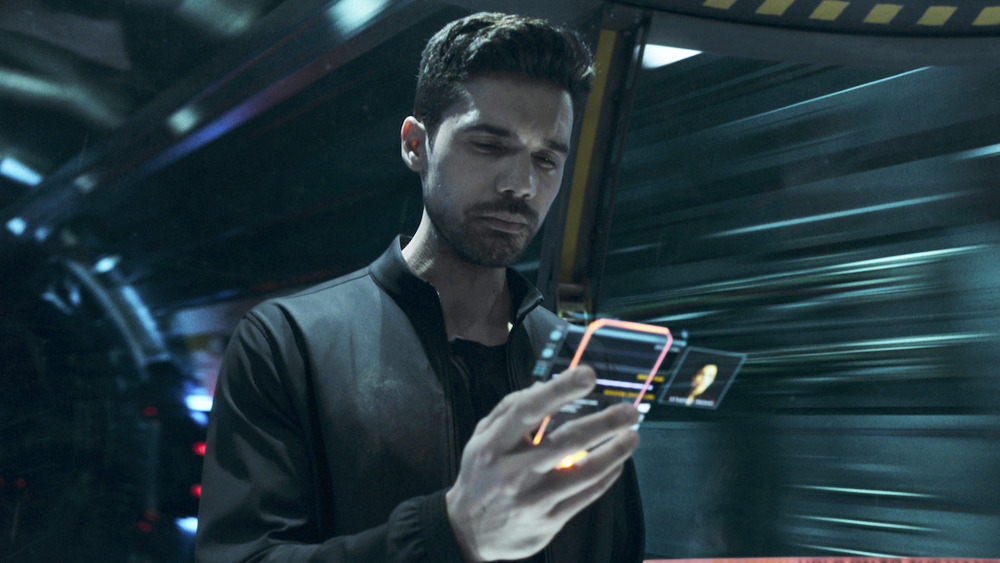 Amazon Prime Video
For Steven Strait, who plays The Rocinante's captain, James Holden, it's hard to pick just one fan encounter. "There have been hundreds," Strait tells Looper. "Our fans are so dedicated, and it's really incredible fuel for us." Still, when pushed, Strait does have an answer: The moment Jeff Bezos announced that Amazon was saving the show.
Before The Expanse's cancelation, the cast and some of the show's writers had been invited to speak at the 2018 International Space Development Conference, where they were going to lead a discussion about the show's forward-thinking science. Two weeks before the conference, the axe fell. But a commitment is a commitment, and The Expanse team headed to the ISDC anyway, where Bezos was scheduled to give a speech during the traditional banquet and awards ceremony.
They weren't alone. As Strait remembers, "A few [fans] had flown themselves to that conference, because they knew how down to the wire it was about us getting picked up, and they were really lobbying for us to get back on air."
That wasn't the only thing that fans had done, of course. Before the ISDC, an online petition begging streaming services to pick up The Expanse amassed over 100,000 signatures. A group of fans raised money and hired an airplane with a "#SaveTheExpanse" banner to fly over Amazon headquarters. "There were all these wild things that they did," Strait says. "For us, to be able to feel like our work means something, to that extent, to the fans out there, is deeply moving."
Their efforts paid off. As the story goes, Bezos was seated at a table near The Expanse team, which inspired him to reach out to Amazon Studios head Jennifer Salke about the renewal. By the time Bezos took the stage, the deal was done. "Ten minutes ago, I just got word that The Expanse is saved," Bezos announced during his remarks.
"When Mr. Bezos announced that it had been saved, [the fans] popped up in the back room with the 'Save The Expanse' banner and a thank you. The whole place just erupted," Strait recalls. "I'm never going to forget that. It was just the craziest, most wild professional experience I've ever had in my life."
And, of course, that relationship with the fans goes both ways. Strait knows that the fans are the reason why the show is still going, and he tries to honor that the best way he can: by making sure The Expanse lives up to their lofty expectations. "Every year, we try to make each season a little bit better than the last one," he says. "We're only here because of them. So, we do our best to give them what they deserve."
New episodes of The Expanse drop on Wednesdays on Amazon Prime Video.