Bridgerton's Regé-Jean Page Was In Harry Potter And You Never Realized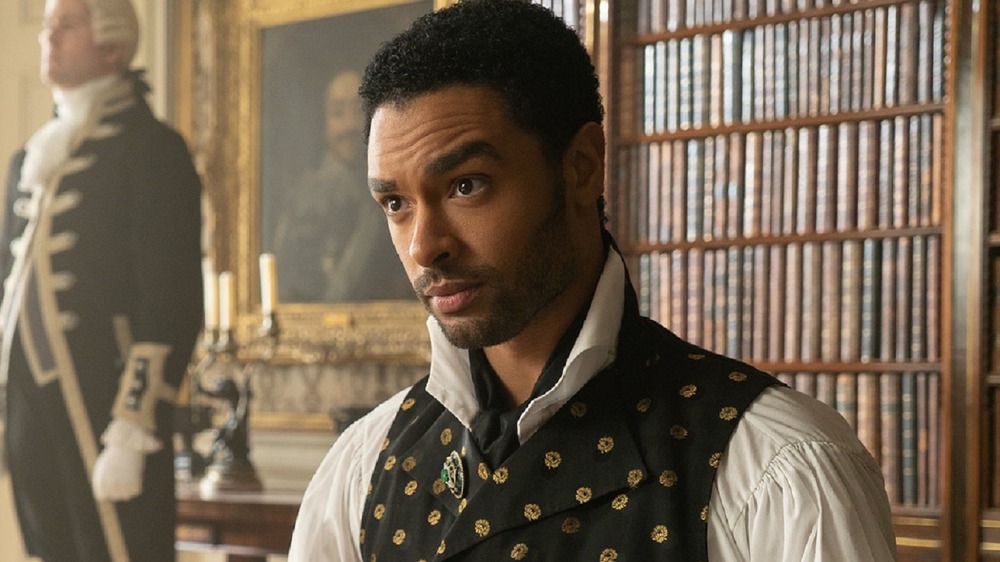 Netflix
Bridgerton fans who binge-watched their way through all eight episodes of the racy Regency drama's first season are thirsty to see more of the series' breakout stars, and they're finding them in surprising places.
According to Variety, Netflix estimates that by January 22, 2021, 63 million households will have watched Bridgerton, making its ensemble cast some of the streaming service's best-known actors. For the first time, not wearing a wig in public may actually help a newly famous actor go unrecognized. The two actors receiving a large part of the attention are the actress that plays Daphne on Bridgerton, Phoebe Dynevor, and Regé-Jean Page, who plays her love interest Simon, the Duke of Hastings. Apart from being the center of the 'ton's marriage market, the onscreen couple share some of the show's most explicit scenes, which seems to have fixed them in the audience's minds.
Page in particular may have just ousted Colin Firth's wet-shirted Mr. Darcy as the genre's most swoon-worthy hero. Which is why it's surprising to learn that he's already appeared in one of the most famous and most watched movie franchises of all time — although only for a second.
Did you spot Regé-Jean Page's fleeting Harry Potter appearance?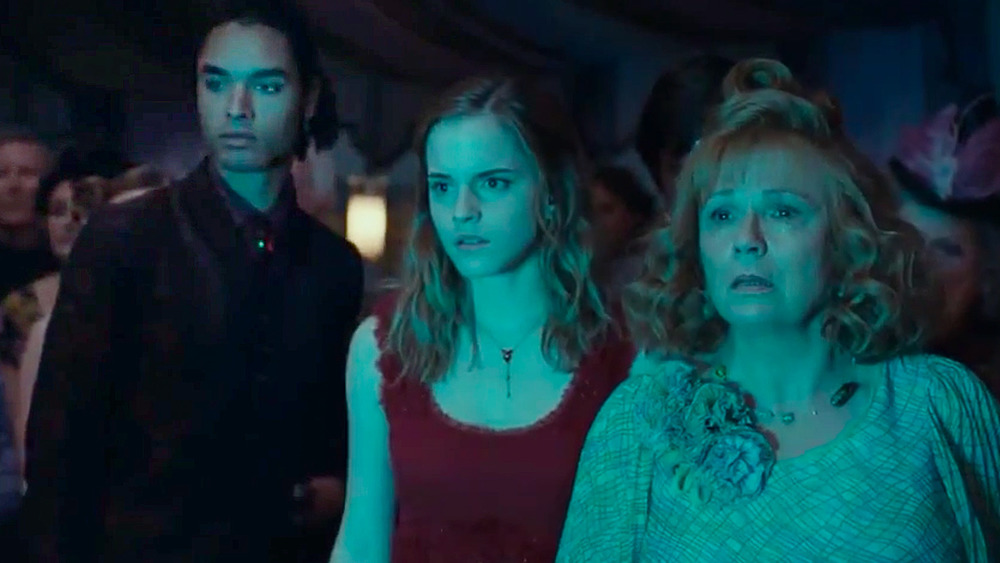 Warner Bros.
It is a truth nationally acknowledged that any British actor aged 11 to 16 between October 2000 and June 2010 must have appeared in at least one Harry Potter movie. That's why Triss Merigold from The Witcher looks so familiar — and why there's a Voldemort family connection you never knew about in Half-Blood Prince.
Regé-Jean Page (who was born in 1990) is no exception. Eagle-eyed Harry Potter fans have spotted the actor in a scene from Harry Potter and the Deathly Hallows: Part 1. It takes place at the wedding of Fleur Delacour (Clémence Poésy) and Bill Weasley (Domhnall Gleeson — that's why General Hux from The Last Jedi looks so familiar). In the scene, the guests have just been informed by a Patronus sent by Kingsley Shacklebolt (George Harris) that the Ministry of Magic has been taken over by Death Eaters who're on their way to crash the wedding. Page can be seen standing to the right of Emma Watson (as Hermione Granger), a second before the Death Eaters arrive. Page isn't credited for the appearance, which is standard for background extras.
Regé-Jean Page has been acting for over a decade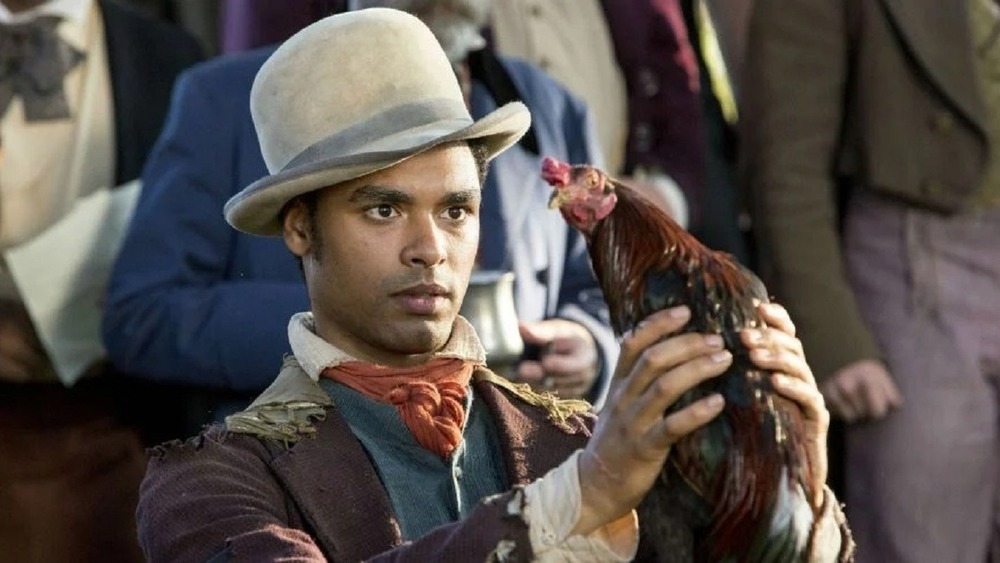 History
There's plenty of material for Page fans who want to explore his past appearances to comb through. Netflix's adaptation of Bridgerton may be an overnight sensation, but Page has been working hard for over a decade, and he has the receipts to prove it.
One of his first gigs was a brief stint on Casualty, a long-running British soap set in a hospital. Appearing on Casualty or its sister show, Holby City, is practically a rite of passage for actors in England. In the Bridgerton cast alone, Claudia Jessie (Eloise) appeared in one episode of Casualty, while Golda Rosheuvel (Queen Charlotte) and Ruth Gemmell (Lady Violet) were in Casualty and Holby City a total of three and five times, respectively. Adjoa Andoh (Lady Danbury) played main character Colette, an emergency department nurse, for three years in the early '00s.
Page also shares another British staple with a Bridgerton co-star. (No, we don't mean those Bond casting rumors.) He played a teacher in the tenth season of Waterloo Road, a soap set in a school, which had previously featured Dynevor. Other now-famous alumni include Doctor Who assistant Jenna Coleman and Killing Eve's Jodie Comer.
U.S. audiences who weren't paying close attention to Harry Potter may remember Page for his role in History's adaptation of Roots — not the 1977 Emmy-showered ABC version, obviously — in which he played Chicken George. Page also played attorney Leonard Knox in the short-lived ABC legal drama For the People. 
So, what are you waiting for? Did you really need a better excuse for a Harry Potter rewatch?