Elizabeth Olsen Reveals Why The First Episode Of WandaVision Was So Nerve-Racking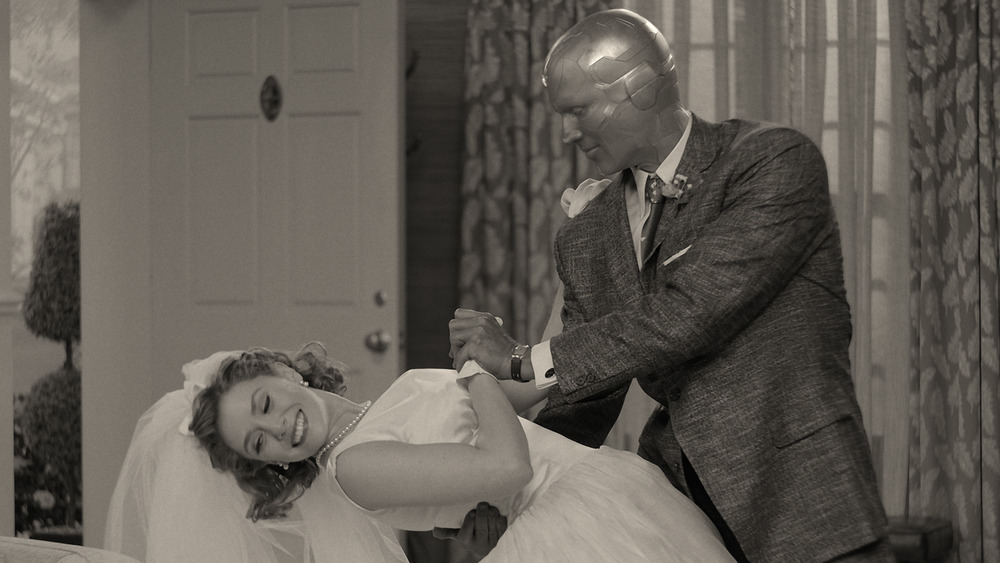 Marvel Studios/Disney+
While WandaVision star Elizabeth Olsen has carved out an impressive career for herself that includes five turns as Wanda Maximoff (aka Scarlet Witch) in the Marvel Cinematic Universe, prior to her new Marvel Studios/Disney+ series, she didn't have the benefit her older sisters did in shooting most of their work front of a live studio audience.
Elizabeth Olsen's sisters are, of course, twins Mary-Kate and Ashley Olsen, who shared the role of Michelle Tanner in the classic sitcom Full House for 193 episodes from 1987 to 1995. And while Elizabeth Olsen actually made an uncredited appearance on Full House in its final season, it wasn't nearly enough to prepare her for her future role in Marvel Studio's unique vision, so to speak, of the life Wanda and Vision (Paul Bettany) never got to experience together.
The story for WandaVision is set post-Avengers: Endgame, yet somehow, Wanda and Vision are transported back to the idyllic world of classic television sitcoms, set in the first three episodes in 1950s, '60s and '70s. And like the sitcom that inspired it — The Dick Van Dyke Show – WandaVision filmed in front of a live studio audience for its first episode.
In a press conference for WandaVision attended by its stars and principal creators, at which Looper was present, Olsen said the production didn't waste any time jumping into the sitcom world of the show, and suddenly finding herself in a Dick Van Dyke Show-like universe gave her a serious case of the jitters.
Being thrown for a (time) loop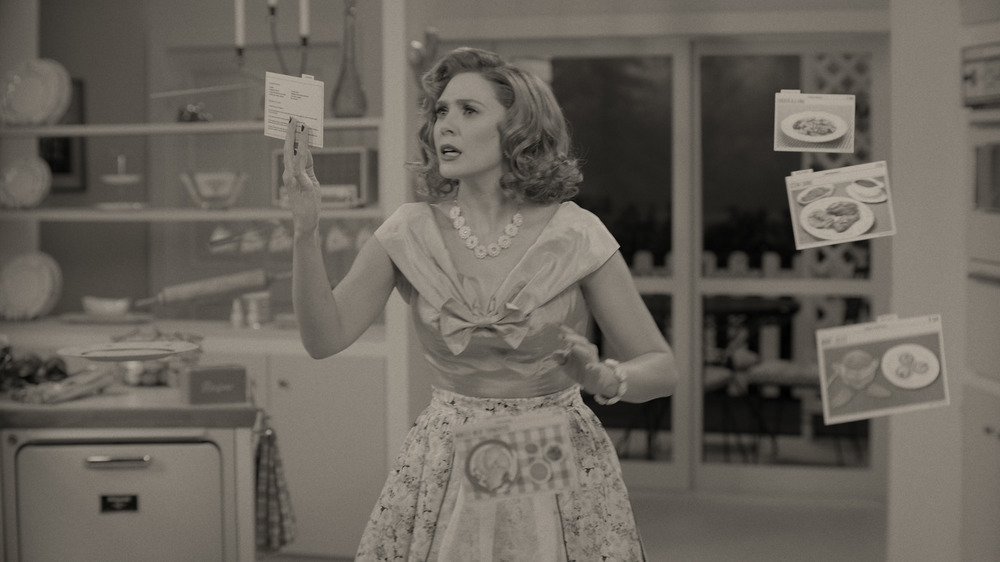 Marvel Studios/Disney+
"It was the first thing we shot. It was so nerve-racking and there was a lot of adrenaline," Olsen said. "There were a lot of quick changes and it totally confused my brain ... the idea of not playing to an audience but feeding off an audience and having a camera. I was really grateful when we added the fourth wall for our second episode."
At least Olsen had some TV icons upon which she could base her performance: Mary Tyler Moore from The Dick Van Dyke Show and Elizabeth Montgomery from Bewitched. Olsen also noted that TV legend Lucille Ball from I Love Lucy was another big inspiration.
"I think [my performance] was an amalgamation of Mary Tyler Moore and Elizabeth Montgomery," she explained. "I think I accidentally threw in some Lucy in the '70s just because there was so much physical comedy."
WandaVision drops on Disney+ with a two-episode premiere on January 15.