This WandaVision Star Changed Elizabeth Olsen's Life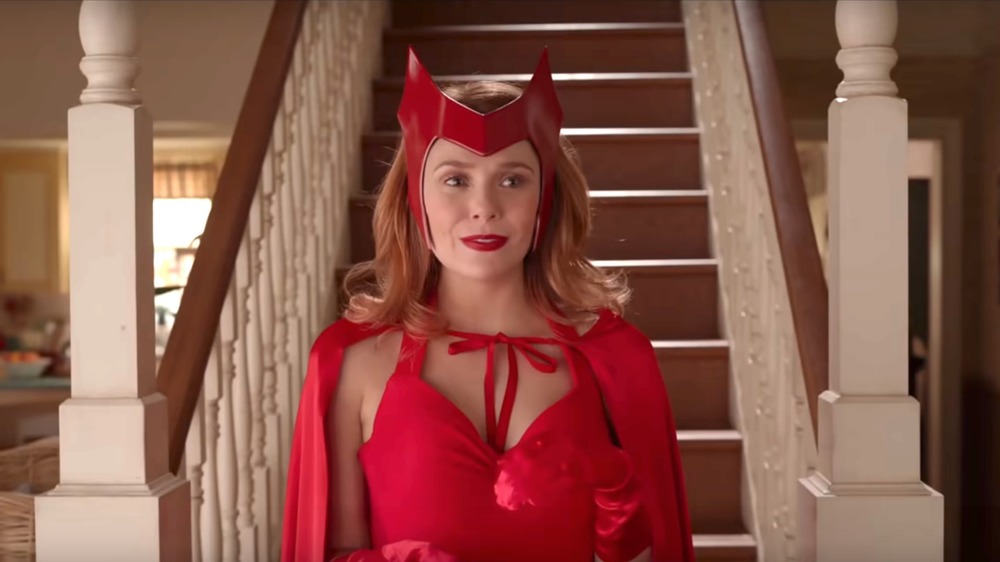 Marvel Studios/Disney+
At long last, the unique sitcom-styled WandaVision will begin Phase 4 of the Marvel Cinematic Universe this week with its double-episode premiere. Critics' first impressions are already trickling in on social media, only adding to the anticipation stoked by the strange trailer and the cast's enthusiastic interviews. One such interview had the series' star Elizabeth Olsen literally singing her praises of her cast mate.
In WandaVision, something strange is afoot as the superhero couple Wanda Maximoff (Olsen) and Vision (Paul Bettany) find themselves in peculiar sitcom settings through the decades. With so little information about the plot, fan theories have abounded concerning Wanda, Vision, and the odd assortment of characters joining them — including Thor's Darcy Lewis (Kat Dennings), Ant-Man and the Wasp's Jimmy Woo (Randall Park), and their "nosy neighbor" Agnes, played by Kathryn Hahn.
Although she's a newcomer to the MCU, Hahn made a huge impression on Olsen, who told Kyle Anderson of SiriusXM's Entertainment Now how much she enjoyed working with her. In fact, Olsen said Hahn changed her life.
Elizabeth Olsen composed a song for Kathryn Hahn, singing of how much she would miss her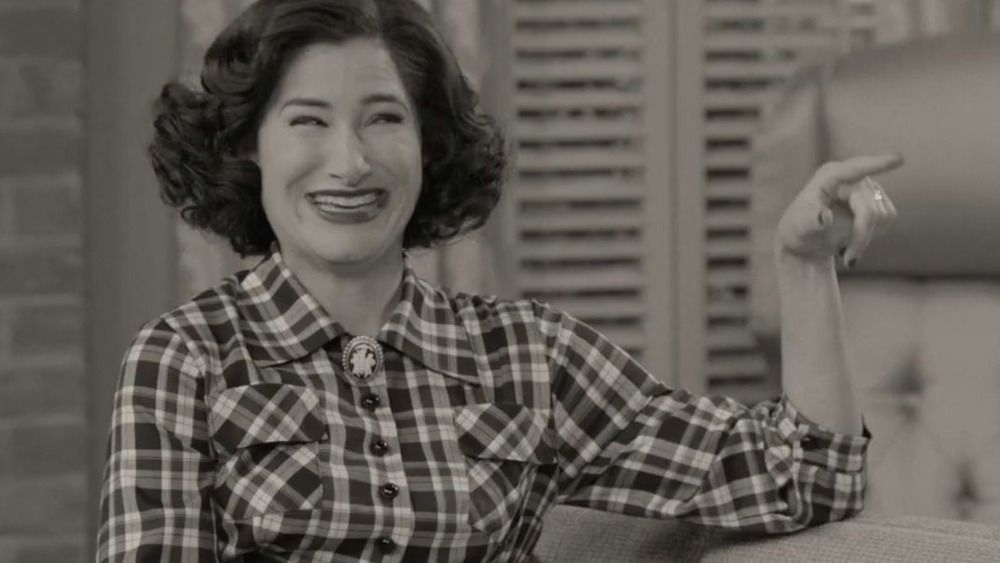 Marvel Studios/Disney+
With the famous twins Mary-Kate and Ashley as her sisters, Elizabeth Olsen has been around actors for her whole life, but Hahn is a standout. Olsen said on SiriusXM's Entertainment Now, "I think that my life is better for having gotten to work with Kathryn Hahn on this project." She added with a laugh, "I told her she was the pelvic floor of our show." 
Remarking on Hahn's impressive talent for comedy — she's a "grounding, central force [that bleeds] comedy out of every part of her body – Olsen called her a "national treasure." This praise comes as no surprise given that Hahn is incredibly well-versed in the comedy genre. She's known for her roles in films like Anchorman: The Legend of Ron Burgundy, Step Brothers, Bad Moms, and We're the Millers, as well as in Amazon Prime Video's series Transparent. Plus, Hahn has even had a Marvel role in the past, voicing the delightfully fantastic Doc Ock in Spider-Man: Into the Spider-Verse.
Olsen went on to say that she spontaneously sang to Hahn on the WandaVision set, coming up with an ode to her cast mate in an Irish folk-style, which she later finished, recorded, and sent to her. In the interview with SiriusXM, Olsen sang a sample of it in a deeper, warbling tone: "Kathryn Hahn, I'm going to miss you, Kathryn Hahn." She repeated that line, then sang, "I'll miss your laughs, I'll miss your burps," but left the rest of the lyrics unsaid.
While it's still unclear as to what part in the WandaVision story Hahn's character Agnes plays, there's a theory that she's actually the comic book character Agatha Harkness. We will know soon enough, though, as WandaVision's first two episodes drop on Disney+ on January 15.