The Pat Morita Documentary Karate Kid Fans Won't Want To Miss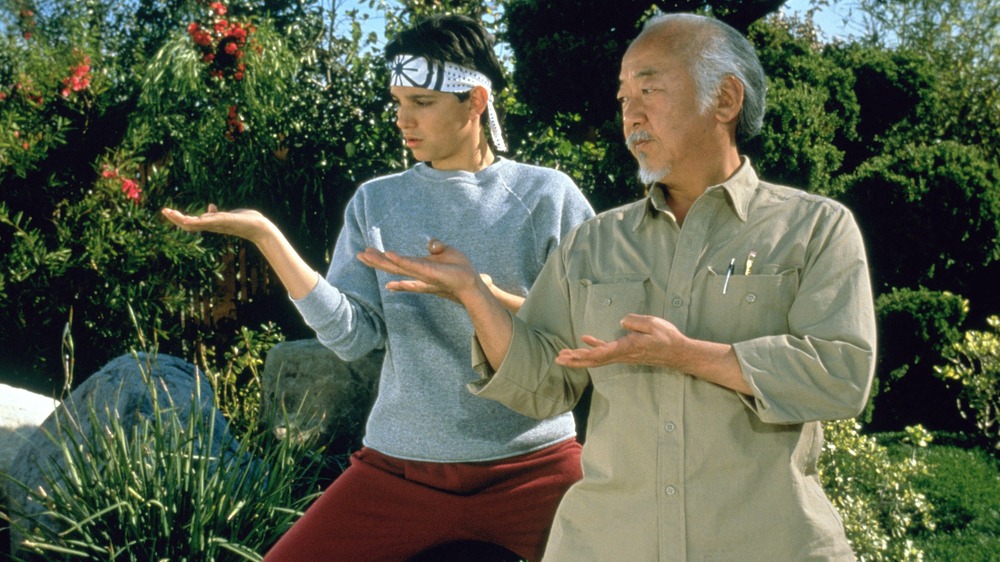 Columbia Pictures
Sometimes a performance is so iconic that it becomes difficult to separate the actor from the role. And, as is so often the case with performers who become known across generations for one character, the resulting fame is both a blessing and a curse.
If you say the name "Mr. Miyagi," chances are someone will chime in with "wax on, wax off" or one of The Karate Kid character's many other catchphrases. If you say, "Pat Morita," the name of the actor who brought Miyagi to life, some of those same people will scratch their heads and respond with, "Who?"
To say that Morita became defined by his role as Mr. Miyagi is an understatement. Not only did he play the character across four films, he was a part of the Karate Kid animated series and even extended the role of Miyagi late in his life by appearing in an Alien Ant Farm music video. But just because Morita was so tightly connected to Miyagi doesn't mean that's all there is to the man.
Now, 15 years after Morita passed away, there's a new documentary that explores the actor's life and times, the roles he played, and the challenges he faced. Fittingly, the documentary is named More than Miyagi: The Pat Morita Story, and we've got a look at the first trailer.
Pat Morita is so much more than Mr. Miyagi
The trailer for More than Miyagi introduces some of the many interesting facts about Morita's life. Born in California in 1932, Morita faced incalculable struggles early on when he was diagnosed with spinal tuberculosis as a child. Even though he was told he would never walk, Morita fought through nine years of hospitals and treatments and finally found himself on the other side, able-bodied enough to become one of the most famous karate figures in pop culture.
Of course, getting out of the hospital was only the beginning of Morita's long-fought journey to stardom. Because he grew up in the midst of World War II, Morita revealed that he was taken directly from the hospital to an internment camp. During the decade-plus Morita spent working at his parents' restaurant, in data processing, and other odd jobs, his one constant was his humor.
Morita's stand-up earned him a very gross nickname (which you'll hear mentioned in the documentary's trailer), but it also earned him the attention of a comic legend — Redd Fox. And so, it wasn't long before Morita found his way on to Redd's show Sanford and Son, leading him to a starring role on another TV classic: Happy Days.
All of these things happened before Morita took on the role of Miyagi — and he had a robust career afterwards. But struggles persist in everyone's life, and Morita is no exception. The trailer for More than Miyagi details his personal battles with substance abuse and alcoholism.
The documentary features voices from Morita's past, including Ralph Macchio, William Zabka, and Martin Kove of The Karate Kid and Cobra Kai. More than Miyagi: The Pat Morita Story will be available to stream beginning February 5, 2021.