The Beth Backstory Sarah Chalke Wants To See On Rick & Morty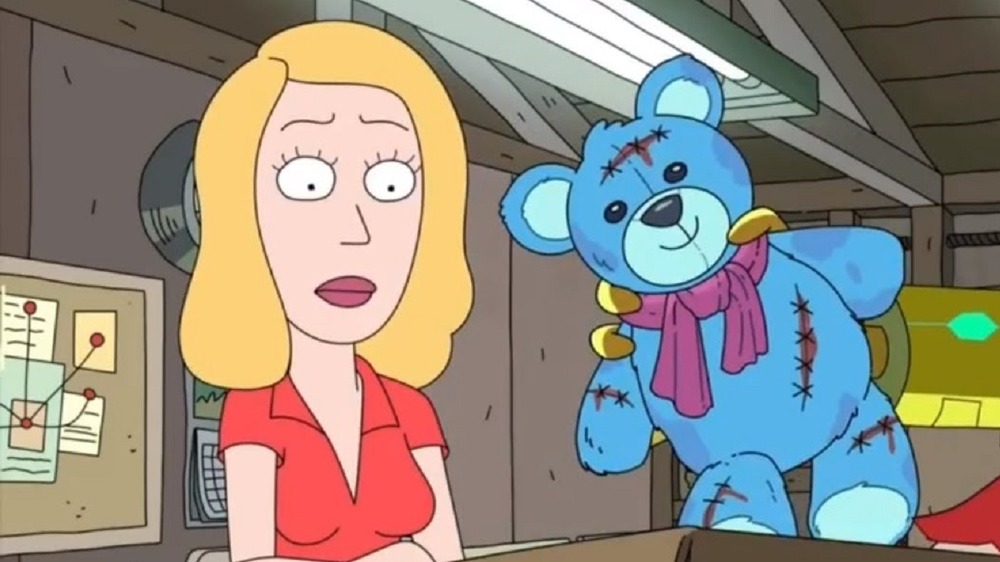 Adult Swim
It can be tough being the daughter of the smartest man in the universe. Just ask Beth Smith (Sarah Chalke), whose father Rick Sanchez (Justin Roiland) is the alcoholic, misanthropic, dimension-traversing agent of chaos (and, when the mood occasionally strikes him, order) at the center of the hit Adult Swim animated series Rick and Morty. 
Sure, it seems like anyone who spends any amount of time within Rick's orbit is going to end up with some pretty serious issues. For evidence, look no further than Beth's son Morty (also voiced by Roiland), who has morphed from a wide-eyed innocent into a hard-edged, wise-way-beyond-his-years, occasionally murderous accomplice in his grandpa's "adventures" over the course of Rick and Morty's four seasons. But the series has at times suggested that, despite her surface normalcy, Beth is an apple that fell disturbingly close to the tree — and never more strongly than in the season 3 episode "The ABC's of Beth," which illustrated quite plainly that Beth is simply the most messed-up character on the series.
In the episode, we (and Beth, who barely remembers her childhood) learn that as a girl, she had her father create some "toys" that could only be described as terribly disturbing: a ray gun, a "whip that makes people like you," and a teddy bear with "anatomically correct innards," to name a few. In a recent interview with Inverse, Chalke revealed that not only has the episode stuck with her, but she actually wouldn't mind seeing that particular beat expanded upon. "I'd love to see a little more insight into her as a kid," Chalke said. "I loved hearing all of the things she used to do, like force Rick to make her mind control hair clips so people would like her. Just seeing her behave so much like Rick at such a young age would be really fun."
Sarah Chalke has a few ideas about Beth's future, too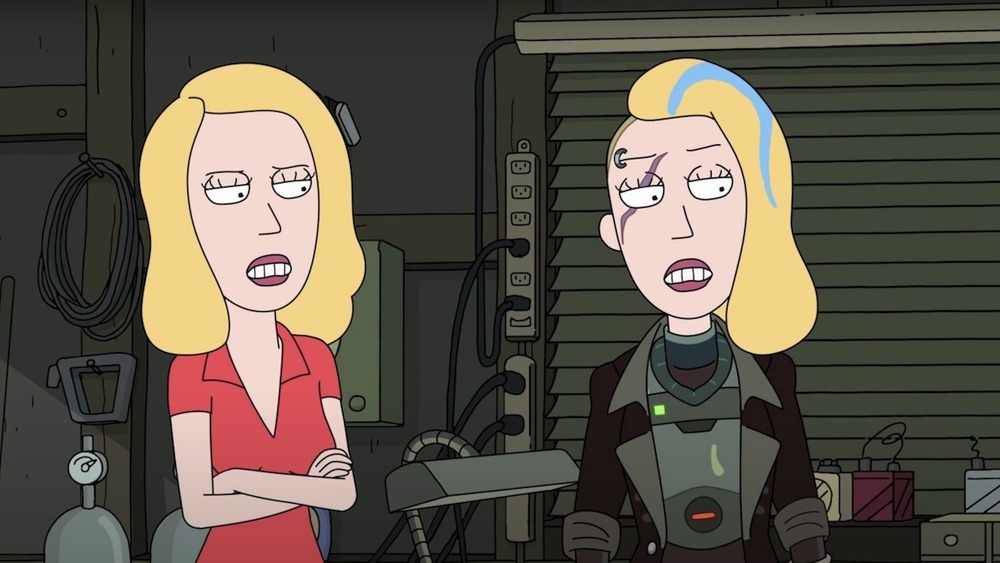 Adult Swim
Chalke certainly has an interesting definition of "fun," but we can get behind it. Beth has been at the crux of several of Rick and Morty's most awesomely bizarre episodes, like the season 4 finale "Star Mort Rickturn of the Jerri." In that episode, a very different version of Beth (teased in "The ABC's of Beth"), who has been off in space battling the reconstituted Galactic Federation, returns to Earth in an attempt to determine whether she is a clone. Unfortunately, "Space Beth" is unable to extract the info from Rick (because Rick purposefully ensured that even he wouldn't know which Beth was the original and which was the clone), but after a dramatic series of events involving the return of Federation agent Tammy (Cassie Steele) and her onetime husband Phoenixperson (series co-creator Dan Harmon), both Beths decide that they no longer care which is which.
In her Inverse interview, Chalke revealed that she had a blast voicing such a different version of her character. "To tweak the character and play a different version was so much fun to do because there are subtle differences between the two of them," she said. As to whether we can expect to see more of Space Beth in the future, though, Chalke couldn't (or wouldn't) spill the beans — but she definitely has an opinion on the matter. "[Roiland and Harmon] are allowed to talk about future episodes — I am not!" she said. "I'm watching every word out of my mouth to make sure I don't spoil anything. If [Space Beth] sticks around, that's fun for me and a really interesting dynamic for Beth to play off of. I personally hope she sticks around, but we'll see."
Somehow, we have a feeling that the question will be answered sooner rather than later. Season 5 of Rick and Morty is expected to debut at some point this year.