The Risk Sacha Baron Cohen Took To Film That Rudy Giuliani Borat 2 Scene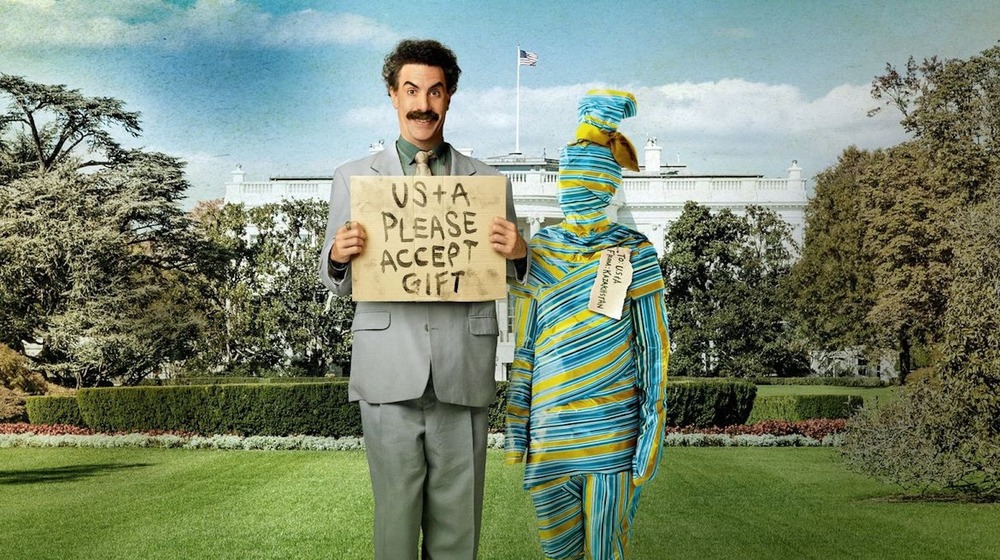 Amazon Studios
Satirist and comedian Sacha Baron Cohen is used to taking risks for his art, but for his 2020 Borat sequel, the entire production had to take a greater risk than they anticipated. 
In an interview with Variety, Baron Cohen discussed the now-infamous Rudolph "Rudy" Giuliani segment from Borat Subsequent Moviefilm, the follow up to his 2006 mockumentary where he plays the titular fictitious journalist traveling across America. In the footage, the former mayor of New York City, and President Trump's personal attorney, is being interviewed in a hotel suite by actress Maria Bakalova, posing as Borat's daughter, Tutar. It appears Giuliani is trying to solicit the woman: While together, Giuliani lies on a bed and sticks his hands down his pants (which he has said he was doing to tuck-in his shirt, though Bakalova disagrees) before Baron Cohen, in character as Borat, saves the day.
The scene became the stand-out moment from a film about America under the 45th president's tenure, and made international headlines. However, it only came about because Baron Cohen broke his production's COVID-19 rules. He and his producers had established strict safety protocols about testing in order to film the sequel amidst the pandemic. Giuliani, who was led to believe he was filming a pro-Trump documentary, refused to take a rapid test to determine if he had the virus. 
"There was this debate of what do we do?" Baron Cohen told Variety, in a rare interview where he's not in character. "Do we go ahead with this scene? What happens if he has coronavirus?
Ultimately, the filmmaker and his team decided the move forward with the hope Giuliani would embarrass himself on camera.
Baron Cohen said the Giuliani scene was 'worth the risk'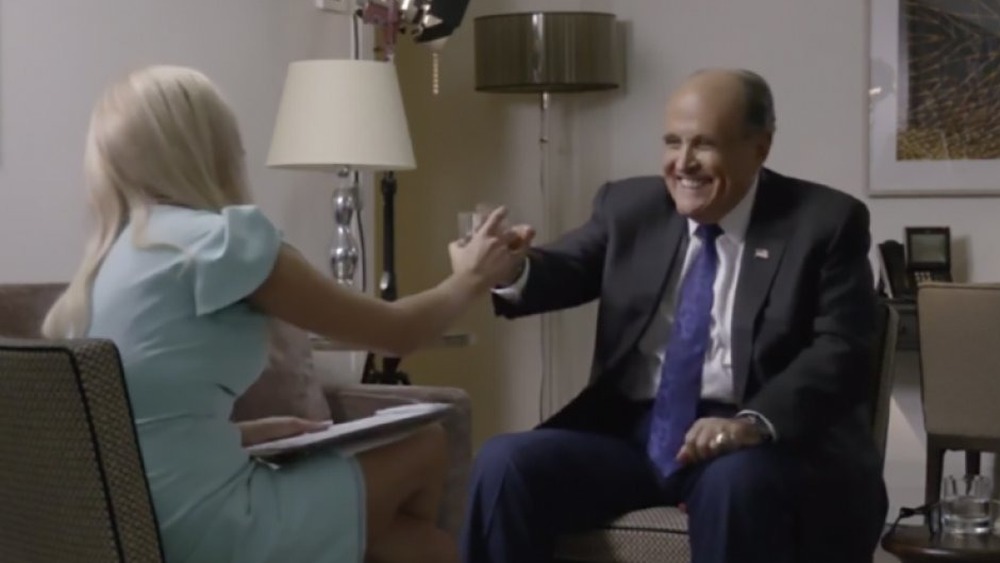 Amazon Studios
"We concluded that it was worth the risk," he added. And indeed, the risk they took with Giuliani paid off for Baron Cohen, and the Borat movie as a whole. As Variety points out, the scene not only went viral, it succeeded in becoming a thorn in the Trump reelection campaign. Borat Subsequent Moviefilm was released in October, at the same time Giuliani was trying to create an "October surprise," and drum up interest surrounding Hunter Biden's foreign business deals. Instead, Borat became the biggest talking point in interviews with the lawyer.
This suited the satirist's goal of lampooning Trump's America, and "expose the bigotry that helped fuel the 45th president's rise to power."
"I do feel happy that every time his name is mentioned as he tries to undermine the election, people are reminded that this is the guy with his hand down his underpants," Baron Cohen explained. 
Baron Cohen said that he made the second Borat movie because he "felt democracy was in peril," wanted to examine the "dangers of Trumpism," and the "lethal effect" of spreading lies and conspiracy theories, especially in the age of the coronavirus. And it was a message he was willing to take a major risk for, which yielded an unforgettable, and embarrassing, moment for Rudy Giuliani.