What Really Happened To The Real Life Version Of Vikings' Ubbe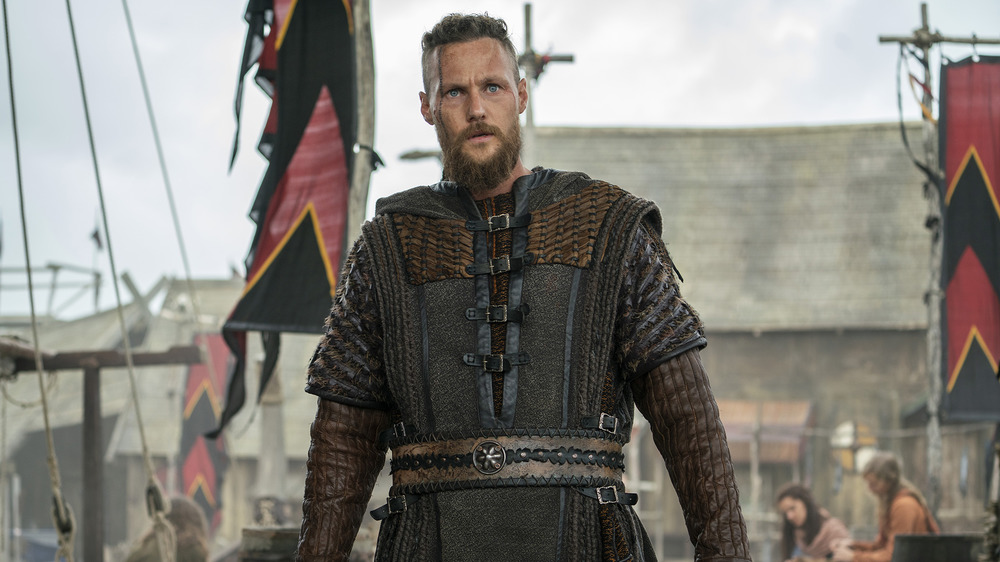 History/MGM Television/Amazon Studios
Contains spoilers for Vikings season 6, part 2
Vikings, the popular historical drama created by Michael Hirst, just released its final ten episodes — the second half of season 6 — on Amazon Prime Video, ahead of a normal release on the show's O.G. home network, History. The series takes place during the late 8th and early 9th century, following the legendary Viking Ragnar Lothbrok (Travis Fimmel) and sons as they fight to conquer distant lands and maintain rule over Norway. Ragnar's sons Bjorn (Alexander Ludwig), Hvitserk (Marco Islø), Ivar (Alex Høgh Andersen), Sigurd (David Lindstron), and Ubbe (Jordan Patrick Smith) follow closely in his footsteps. His first wife, Lagertha, who is a legend in her own right, is played by Katheryn Winnick.
In the final episodes of the series, the brothers are all moving on their own paths. For Ubbe, the eldest son of Ragnar from his second marriage to Aslaug (Alyssa Sutherland), his journey takes him across the ocean in search of the "Golden Land," recognizable to viewers as North America, a place that came to be known by Vikings throughout history as Vinland. But now that fans know where Ubbe ends up at the end of Vikings, the question remains if this fate is historically accurate. So what happened to the real Ubbe Lothbrok?
The real Ubbe never made it to North America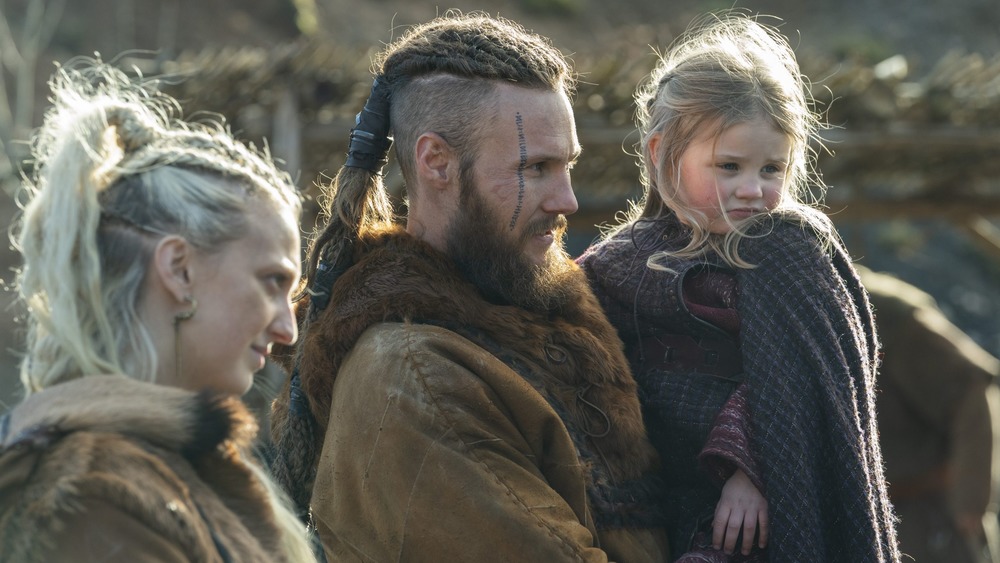 History/MGM Television/Amazon Studios
According to historians (via History Extra), Ubbe never made it further west than the British Isles. Instead of exploring the world, it is believed that Ubbe died in the Battle of Cynwit, which took place in England in the year 878, alongside more than 1,000 other Danish and Norse Vikings. Historians refer to this as one of the forgotten yet important battles of Viking history. A little disappointing, that's for sure. Considering the real history, it makes sense that Vikings would alter the story, giving Ubbe the truly fitting and triumphant ending that the cerebral son of Ragnar Lothbrok deserved.
Instead of Ubbe, the first European believed to have set foot in North America is Leif Eriksson, around the year 1000. In Vikings, Ubbe has an encounter there with Native Americans, called Skrælings by the Norse people. In reality, this first encounter happened between Native Americans and Eriksson's brother, called Thorvald Eiriksson, who was killed when the interaction turned violent. Historians say that this loss didn't seem to deter more attempts by the Norse to settle in North America, though their settlements never ultimately took.
Before Eriksson's travels, the first European to actually set eyes on North America was reportedly a man named Bjarni Herjólfsson, an Icelandic trader, who only did it accidentally in the year 986 while he was trying to reach Greenland. After determining that he wasn't looking at his desired destination, Herjólfsson didn't stop to venture on this new land. Instead, he traveled up the coast, finally making it to Greenland.