Why Disney World's Soarin' Ride Bothers Aviation Fans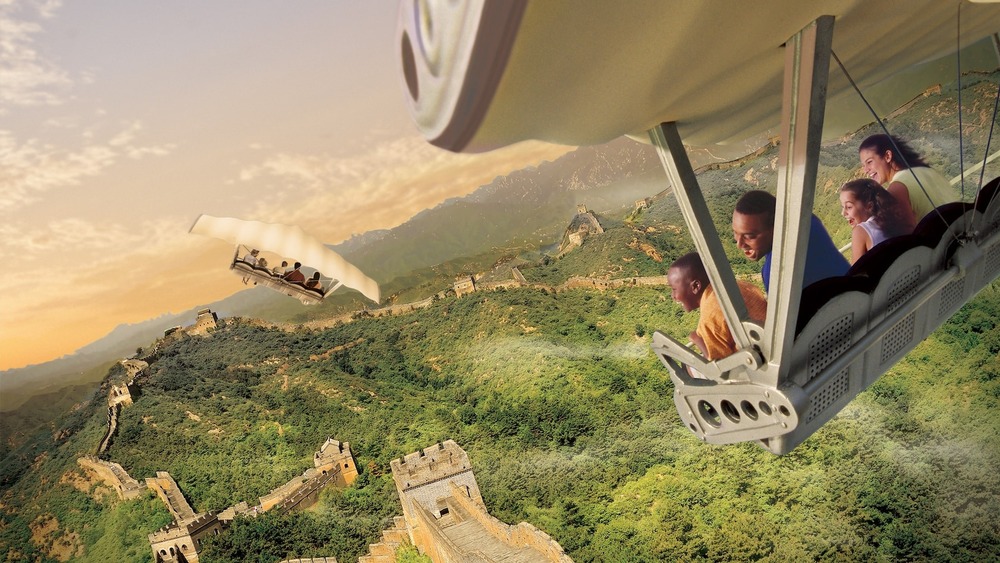 Disney
A fan-favorite at Disney theme parks, visitors can generally find long lines for the simulation attraction Soarin' Around the World. People strongly recommend getting a FastPass ahead of time, because it's certainly worth riding if you get the chance. Using a projected film, a ride machine that simulates the feeling of hang gliding, and artificial scents and wind, Soarin' gives guests the experience of hang gliding around the world from inside a theme park. The current version of the ride takes you flying over famous landmarks like the Great Wall of China and the Sydney Opera House, as well as African savannas and the beautiful ocean in the South Pacific.
Soarin' Around the World originally opened as Soarin' Over California in Disney's California Adventure theme park in 2001, before being duplicated as Soarin' in Walt Disney World's Epcot in 2005. In 2016, both versions of the attraction were refurbished and reopened as the new Soarin' Around the World, featuring visits to various international attractions. Following its success, a version called Soaring Over the Horizon opened at Shanghai Disneyland in 2016, with Soaring: Fantastic Flight opening at Tokyo DisneySea in 2019.
Though the ride is extremely popular at all the Disney parks, some aviation fans who visited Soarin' Around the World in Disney World had qualms about one major part of the ride.
Fans think Disney World's version of Soarin' should have more aviation theming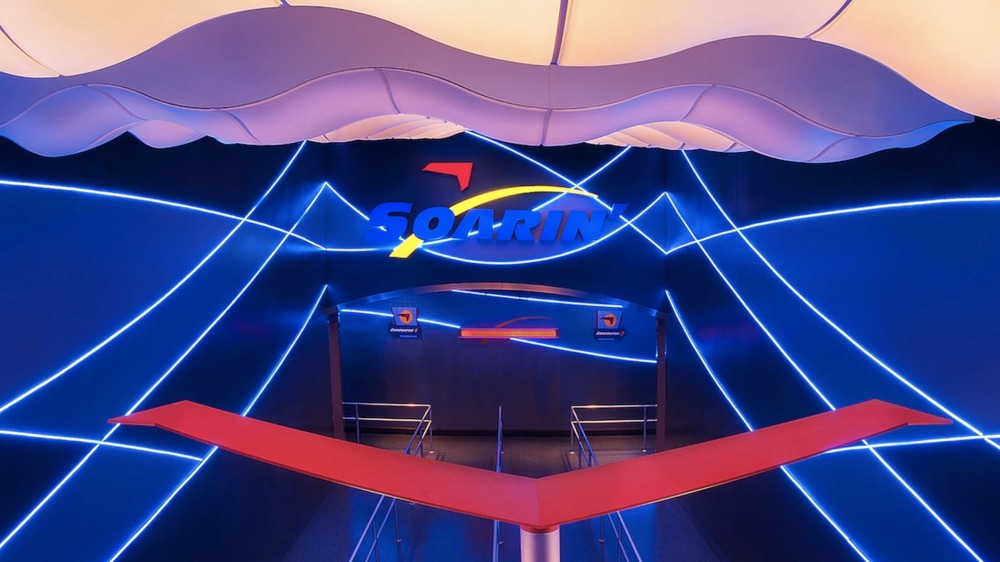 Disney
According to a Reddit thread in which user slaminsalmon74 asked Disney fans who have an interest in aviation about their thoughts on Soarin', some people said they think the version at Walt Disney World has a lackluster queue, missing a huge opportunity to showcase aviation history. The area where guests wait features some interesting lighting effects and screens, but other than that, there's nothing to see, which can be especially disappointing when there is a long line.
In comparison, the version of Soarin' in Disney's California Adventure has a fully themed ride queue. This includes a walk through the history of aviation, with actual parts of historical airplanes. It also has pictures of prominent figures from flight history like Charles Lindbergh, who is credited as the first person to fly solo across the Atlantic Ocean. As another user, yankeeinexile, explained, "You feel like you're fixing to hop into a prop plane and take off from a small airport."
Knowing this, you can see why fans would be disappointed by Disney World's less inspiring version. Along with Soarin's design, people note that in their entirety, Disney theme parks are rather lacking in anything aviation-themed. Right now, the only attractions at Disney that could be labelled as aviation-related are Soarin', Mission: Space, and a few others like The Barnstormer, starring the Great Goofini and Dumbo the Flying Elephant, if you really stretch the meaning. Overall, Disney parks definitely have work to do in order to bring more content to satisfy aviation fans.