The Supernatural Being You Can Only Find Hidden In Epcot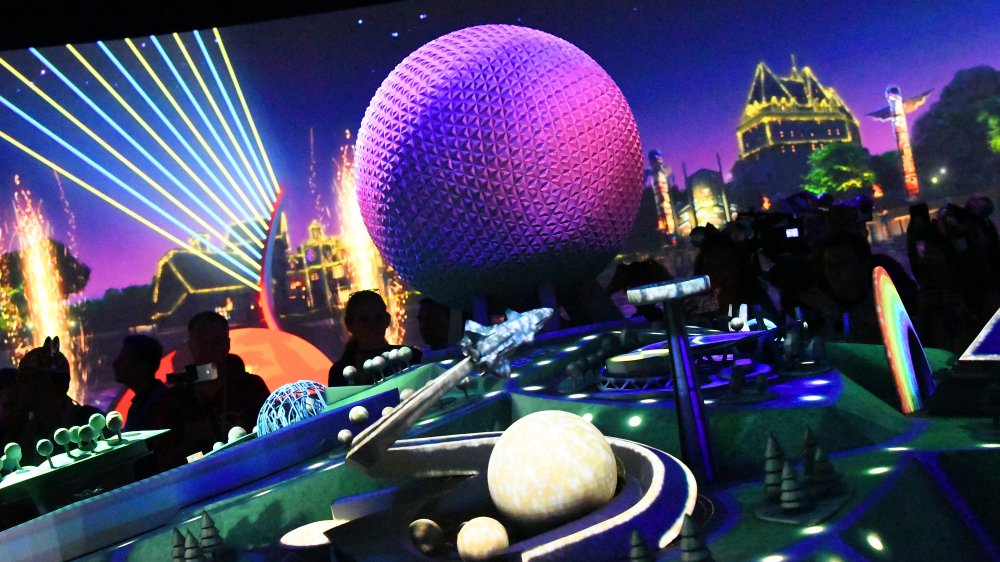 Gerardo Mora/Getty Images
With four huge theme parks — Magic Kingdom, Animal Kingdom, Hollywood Studios, and Epcot — it's nearly impossible to see everything at Walt Disney World. Recently, Hollywood Studios has gotten a lot of attention for its new areas, Star Wars: Galaxy's Edge and Toy Story Land, while Animal Kingdom blends nature adventures with the world of Avatar and Magic Kingdom is home to iconic Disney rides like Pirates of the Caribbean and Space Mountain. But what about Epcot?
Easily the most overlooked part of Disney World, Epcot is made up of two sections: Future World and World Showcase. While Future World focuses on technology and innovation, World Showcase offers up a taste of culture from 11 different nations. There's plenty here to eat, drink, and learn. Do you dream of visiting Japan or France but can't quite manage the trip? Well then, head on over to World Showcase and immerse yourself in the next best thing.
The Disney Imagineers, of course, are known for their attention to detail, and devoted fans will spend park visits hunting down every last Hidden Mickey. These are features shaped like Mickey Mouse's head, inserted by Disney Imagineers into everything from hotel room carpets to attraction vehicles, and so much more. It's no surprise that this ethos extends to Epcot's World Showcase, where sharp-eyed visitors can catch a glimpse of a mythical creature from Japanese folklore.
A secret hidden in Epcot's Japan pavilion
One adventurous Epcot explorer recently took to Reddit to share their surprising discovery: a Tengu. A Tengu is a Yōkai, a class of supernatural creatures featured in Japanese mythology. Known as spirits of the forests and mountains and can manipulate wind, Tengu are usually depicted with a mix of human and bird characteristics. Some have beaks, while many have extremely long noses. In Buddhism, Tengu were believed to be demonic and dangerous. Over time, though, the perception of Tengu softened, and now people see them as protectors.
Tucked behind a koi pond on the left side of the World Showcase's Japan pavilion, the Tengu statue was a part of a now-defunct exhibit called Spiritual Beasts, tracing prominent figures in Japanese folklore from tradition to the present, all the way through anime and manga. Other creatures featured included Kitsune, the Kappa, and the Oni, to name a few. This exhibit was on display until 2016, when Disney replaced it with Kawaii: Japan's Cute Culture, which remains in the space today.
The hidden Tengu statue may be all that's left of Spiritual Beasts, but the creature has now become an amazing little secret for visitors to look for when they visit Epcot.