The Real Reason Thorunn From Vikings Disappeared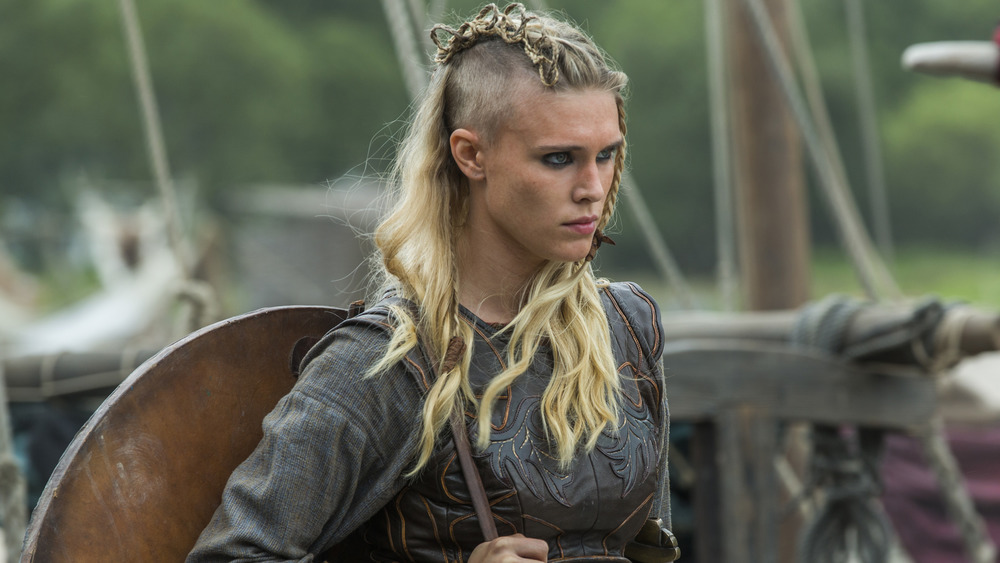 History
The end has finally come for History's long-running historical drama Vikings. While the halls of Valhalla are surely fuller than at any point in the series' six-season run, there's one fan-favorite character whose fate remains frustratingly uncertain. Her name was/is Thorunn. She was portrayed by Gaia Weiss. After turning up as a servant girl in the second season of Vikings, she quickly caught the eye and won the heart of Bjorn Lothbrok (Alexander Ludwig), son of Kattegat King Ragnar (Travis Fimmel).
Though the two were later married, their happiness was decidedly short-lived and eventually ended after a pregnant Thorunn is nearly killed in battle by a Mercian warrior. Though her life and that of her unborn child are saved, Thorunn's face was badly scarred in the fray. So much so that even after healing, minus her physical beauty Thorunn considered herself unworthy to be a wife, or even a mother. Against the wishes of her husband and his royal family, the tormented woman eventually decided to flee Kattegat and everyone in it altogether. Doing so when Bjorn was away at battle, Thorunn has never been seen again.
Beloved by the history-loving whole of Vikings fandom, it was always assumed Thorunn might one day return to Bjorn, their daughter Siggy (Jessalyn Gilsig), and the rest of her Kattegat family. Sadly, the long-anticipated moment never came. With the series having just released its finale, it never will. In a recent interview with Express UK, Vikings creator Michael Hirst explained that was always the plan for the one-time wife of Bjorn, though. "Her story effectively ended when she left, I have never had plans to bring her back."
Like many Vikings players, Thorunn's time was brief but vital in the overarching narrative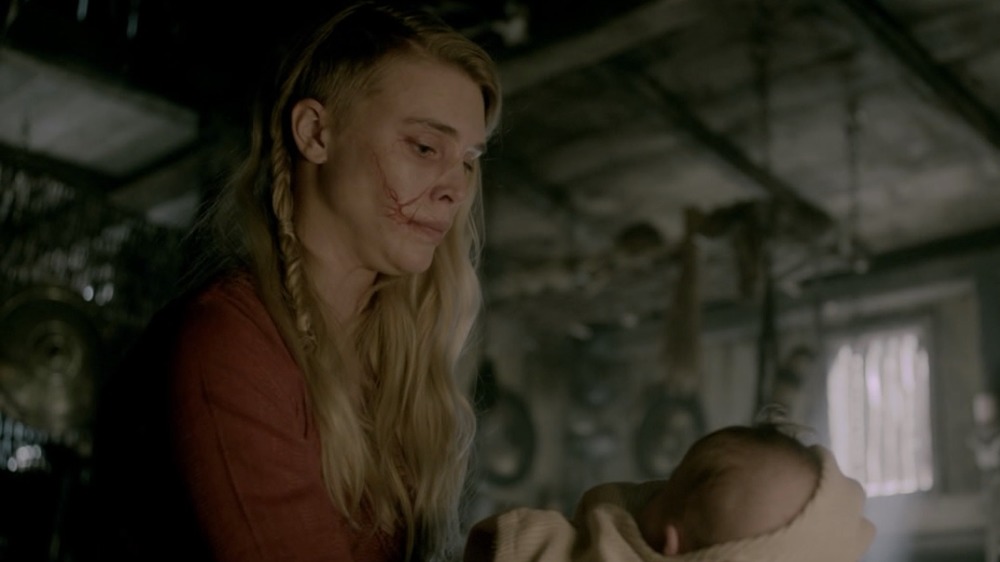 History
Like so many Vikings players, Thorunn's time on the series was always meant to be brief. Unlike the many regulars who departed the Vikings landscape before and after (largely by death in battle), the ultimate fate of Thorunn remains the great unknown in the show's narrative. If Michael Hirst is to be believed, even he doesn't know what became of Thorunn after she left Kattegat, and it sounds like he may actually prefer it that way.
"It was a tremendously tragic story, it was a long time ago. I do think deeply about death and disappearances because I love my characters. I know Thorunn disappeared and I didn't want to imagine what would become of her, she just disappeared out into the darkness," he told Express UK.
As has been the case with many of the Vikings short-timers, though Thorunn's time was brief, her influence on the show's overarching narrative was nothing short of seismic. Per Hirst's comments, the character's uncertain fate may have impacted the love life of Bjorn throughout. "I have often thought, can I reprieve her and save her in some way? But in many ways that was the start of Bjorn's trouble with women," he noted.
Vikings fans can no doubt attest that Bjorn's relationship status after Thorunn's departure has been choppy at best, with the King of Kattegat suffering mightily in affairs of the heart. That remained true until he met the fierce shield-maiden Gunnhild (Ragga Ragnars), however, though Bjorn would complicate even that loving relationship by taking a second wife. And without spoiling any of the series' final run of episodes, we'll just say matters continue to be complicated on that front.
If you want to find out just how complicated, the final ten episodes of Vikings can now be enjoyed on Amazon Prime Video.