Are These Two Marvel Heroes Secret Characters In WandaVision?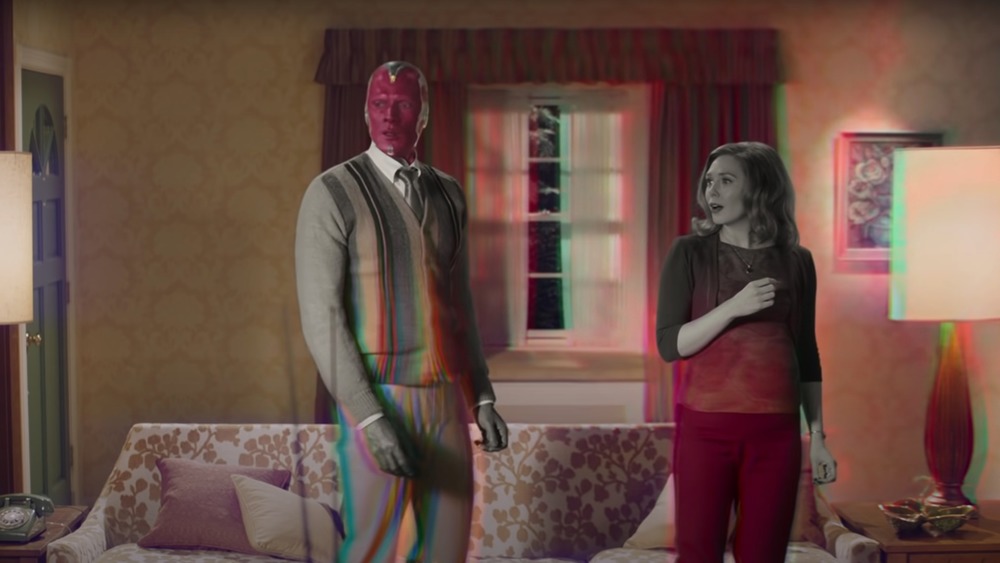 Disney+
Now that January 15, 2021 is right around the corner, fans are counting down the days until WandaVision premieres on Disney+, marking the first of many Marvel television shows to come in 2021, and beyond. Starring Elizabeth Olsen as Wanda Maximoff and Paul Bettany as Vision — reprising their roles from Marvel's Avengers films — the TV series focuses on their life together after the events of Avengers: Endgame. Of course, last fans saw Vision, he was destroyed by Thanos, who wanted the Mind Stone. With little to go on, people have no idea how he returns, but hopefully WandaVision will shed some light on that.
WandaVision appears to move through different eras of television sitcoms as Wanda and Vision experience a perfect life together. Trailers include many small details that allude to famous comic book storylines and major events in the characters' lives, including marriage and children. Also starring Kathryn Hahn as a neighbor named Agnes, Teyonah Parris as Monica Rambeau, and Kat Dennings reprising her Thor role as Darcy Lewis, there's a lot to be excited about.
With Marvel's habit of keeping big surprises and characters secret before a release, as well as misleading fans, it would come as no surprise if huge aspects of the plot have been completely left out of any promotions. But one storyline very slyly hinted at in WandaVision's trailers and photos may foreshadow the introduction of two major Marvel characters in the series.
Wanda and Vision's twin sons, Billy and Tommy, may appear as adults in WandaVision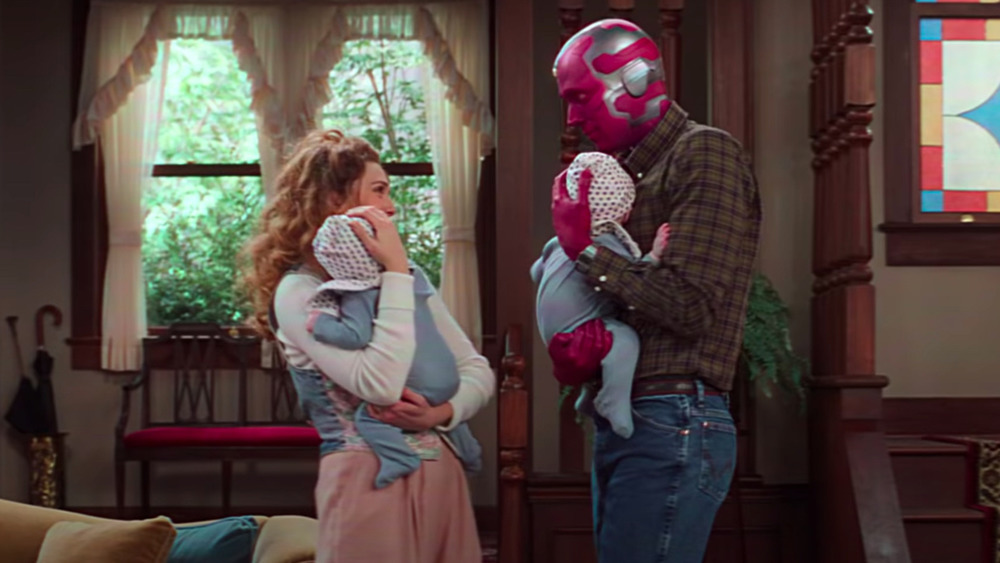 Disney+
If fans closely watched the WandaVision clips and trailers released so far, they might have noticed a couple shots of Wanda and Vision with two babies in a seventies era house. If the show is following the comics, and fan theories are correct, then the two babies are likely the couple's twins, Billy Kaplan and Tommy Shepherd.
The big mystery here is the nature of this strange reality the characters find themselves in, and whether any of this is real. In the comics, Wanda uses her powers to bring the twins into existence, but simply put, Billy and Tommy go through quite a bit before they truly exist and have a real life. Considering the theories about WandaVision's reality being created from Wanda's own expansive power, a similar situation might happen in the show.
However, even without knowing yet how this all comes to happen, WandaVision is confirmed to show the couple traveling through sitcoms, while appearing to also jump forward in time. That means that those two little babies, who seem so insignificant right now, may grow up onscreen to become teenagers, and even adults, who go on to join the Young Avengers.
Who is Billy Kaplan?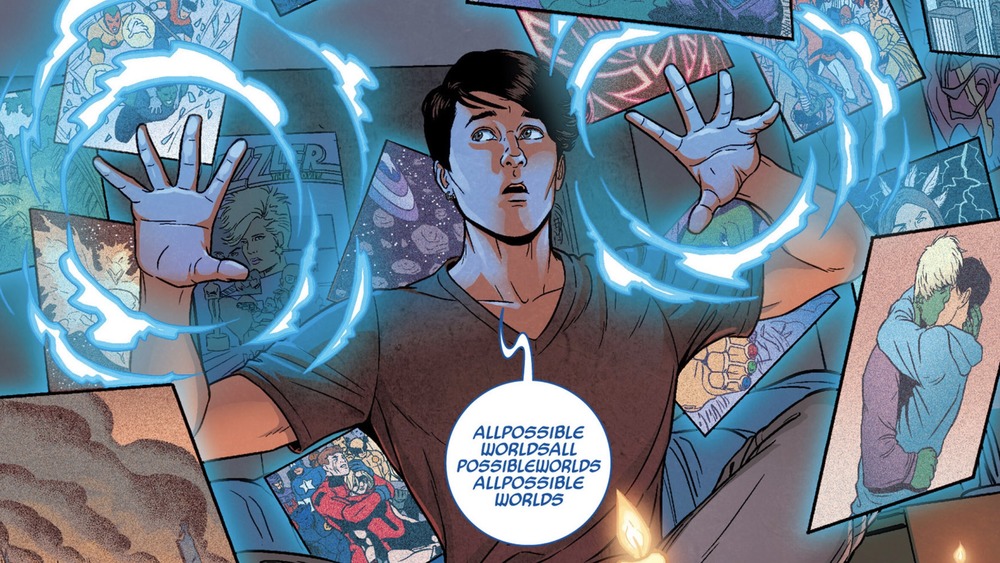 Jamie McKelvie/Marvel Comics
After a small magical obstacle results in Billy and his brother being reincarnated into new families, Billy grows up a member of the Kaplan family living in Manhattan. Wanda has no clue of their existence at this point, believing that she lost her sons completely. As Billy gets older, he starts to develop his powers, which have a strong similarity to those of the Scarlet Witch. His abilities have an otherworldly, mage-like quality, and the range of what Billy can do is unclear, though some believe that he may be more powerful than his mother.
As he progresses in learning and becoming confident with his powers, Billy joins up with other young heroes including America Chavez, Kate Bishop, Cassie Lang, and Teddy Altman. He adopts the codename Wiccan, and quickly develops a strong romantic relationship with his teammate, Teddy. Throughout the group's adventures, they rescue a boy named Tommy, who Cassie notes looks like he could be Billy's twin. The boy in question has the ability of super-speed, and eventually decides to join up with the other Young Avengers under the codename Speed. 
Billy eventually figures out his and Tommy's real identities — namely, that they are Wanda's twin sons — and convinces his brother to go searching for her together.
Who is Tommy Shepherd?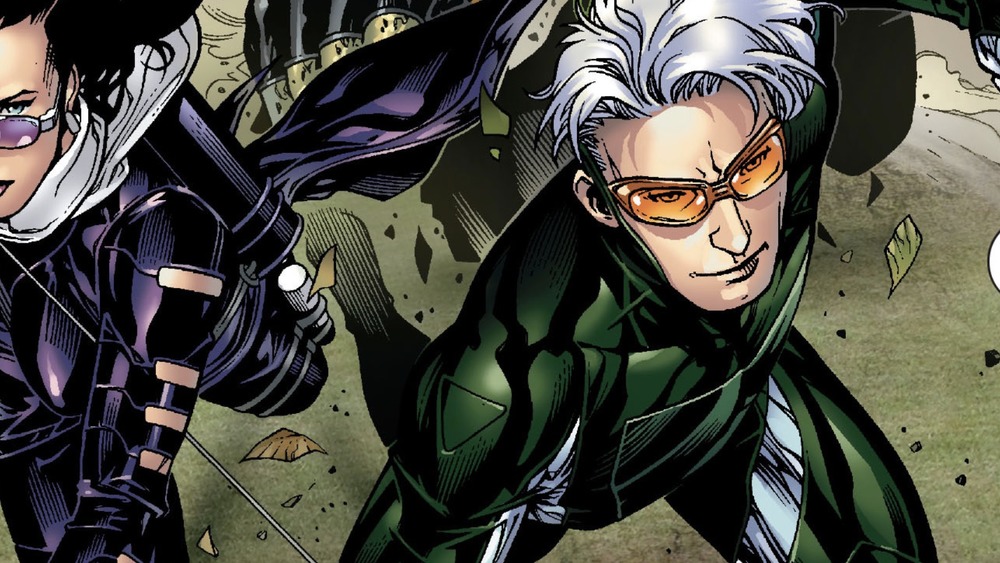 Jim Cheung/Marvel Comics
While Billy grows up with the nice Kaplan family, Tommy becomes the only child of the Shepherds, who live in Springfield, New Jersey. He has a tough childhood, spending a lot of time in juvenile facilities. After using his burgeoning super-speed powers to vaporize his high school, Tommy is sent to an intense juvenile facility that uses oppressive techniques to control powered individuals. This is where Billy and the Young Avengers eventually find him and help him escape from. When Billy's boyfriend, Teddy, is kidnapped by the Kree, Tommy helps them fight to get him back, before deciding to officially join the team, taking the name Speed. 
With Billy and Tommy's connections to Wanda, Vision, and the Young Avengers — who many suspect will be coming to the MCU in the near future — it seems obvious that the twins will make an appearance soon. So why not in WandaVision? With the reality-shifting magic central to the plot, it's the perfect opportunity to both explain their creation, and quickly age them up to adults. 
Obviously, there are bound to be huge surprises throughout the first season of WandaVision, ones that Marvel has successfully kept completely under wraps. The casting and first official appearance of full-grown Billy and Tommy, the twin sons of Wanda and Vision, could definitely fits the bill.
Wandavision premieres on Disney+ on January 15.