The Insane Amount Of Cut Footage We'll Never See In A Clockwork Orange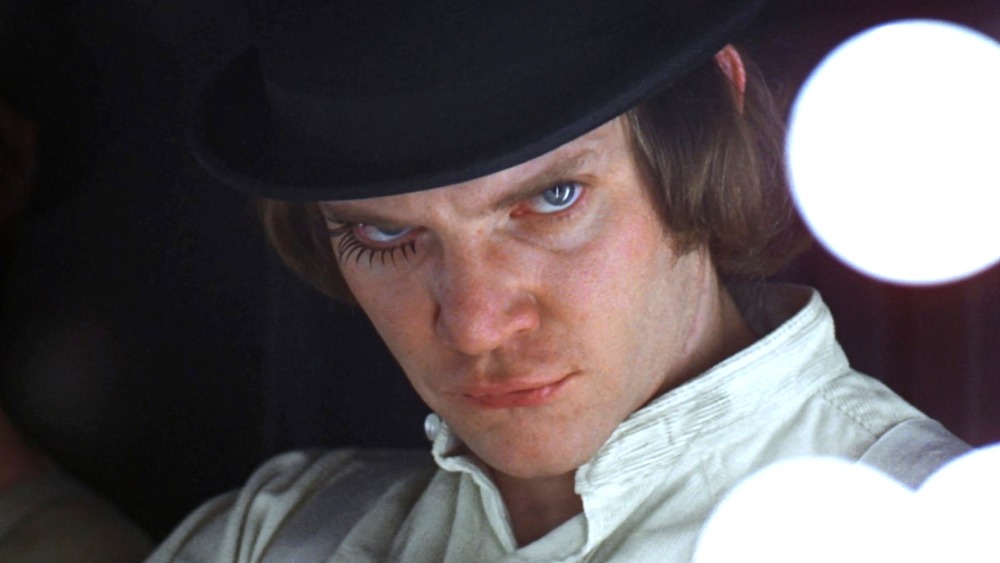 Warner Bros.
Based on Anthony Burgess' 1962 novel of the same title, Stanley Kubrick's A Clockwork Orange is a highly influential yet infamous piece of cinema, and not for any lack of trying. This story of a criminally deranged youth named Alex DeLarge (Malcolm McDowell), who runs roughshod all over Britain with his gang of thugs, isn't for the faint of heart. Nevertheless, thanks to Kubrick's flair for visually stimulating moments and desire to pull off the perfect scene every time, this morally depraved narrative became a masterclass in perfectionist filmmaking — even if achieving such a status meant enduring some insanely long days on set.
Across his over four-decade-long career, Kubrick quickly built himself a reputation as a stern filmmaker with no quarrels about putting his cast and crew through the wringer in pursuit of the best product possible. Look no further than his borderline abusive treatment of actress Shelley Duvall during the filming of The Shining for proof of his intense style (via Rolling Stone), which surely left its mark on A Clockwork Orange as well. For example, as revealed shortly after filming wrapped up, the team behind the production shot an insane amount of footage, more so than could ever be used in a mainstream big-screen production.
Miles upon miles of A Clockwork Orange footage never made it into the film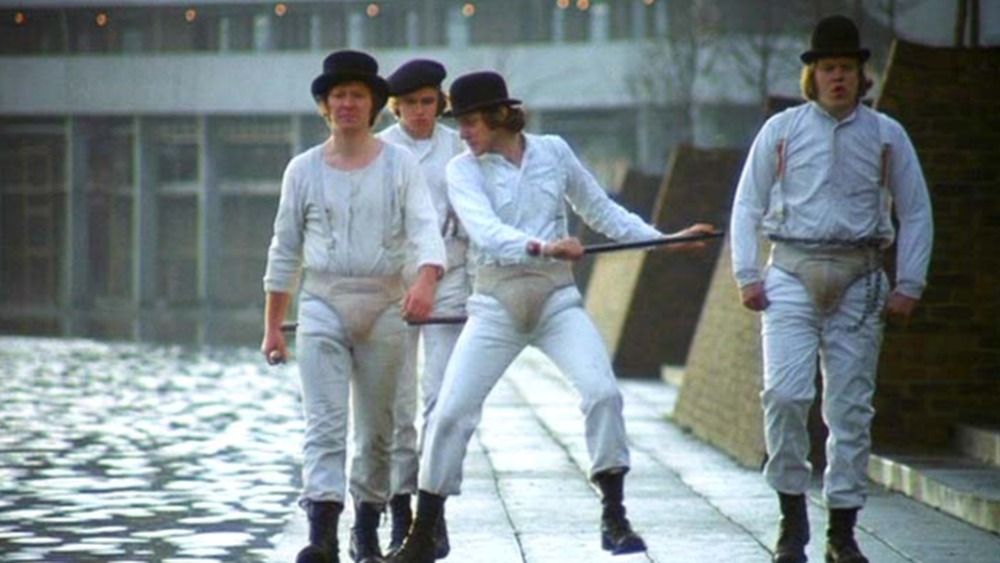 Warner Bros.
Long before digital took over and became the overwhelming standard in Hollywood, directors had to rely on reels of physical film to shoot their projects and distribute them around the globe. Shot in 1970, A Clockwork Orange is a product of this bygone era, and over the course of the movie's production, Kubrick and his team weren't conservative of their resources by any means. The progress report from the final call sheet for the movie tallied 39,880 feet of film was wasted, 377,090 feet was exposed, and 13,120 feet remained as short ends; in total, 452,960 feet of film (about 85 miles) was used to make A Clockwork Orange.
As deduced by Redditor u/PoorFilmSchoolAlum, "You get roughly 10 mins of footage out of 1,000 feet of 35mm film at 24 fps. So that comes out to about 75 hours of footage." Others pointed out that it's probably more like 83 to 90 hours of footage captured. U/PoorFilmSchoolAlum also added that for a two-and-a-half-hour film (A Clockwork Orange comes in at two hours and 17 minutes), that results in a roughly one-to-30 ratio of film used to film shot. Another Redditor noted that "A Clockwork Orange had a shooting ratio slightly under 37:1."
Given that the original cut of Kubrick's classic only occupies 137 minutes from start to finish, there's a huge amount of additional scenes, unused takes, and bloopers that the general public will sadly never have the chance to witness. As it is, 35mm degrades within a few years if not properly stored and taken care of, so the odds of some extra A Clockwork Orange material resurfacing or an obscenely long extended edition hitting the market is pretty unlikely.