What You Never Noticed About Dumbledore's Robes In Harry Potter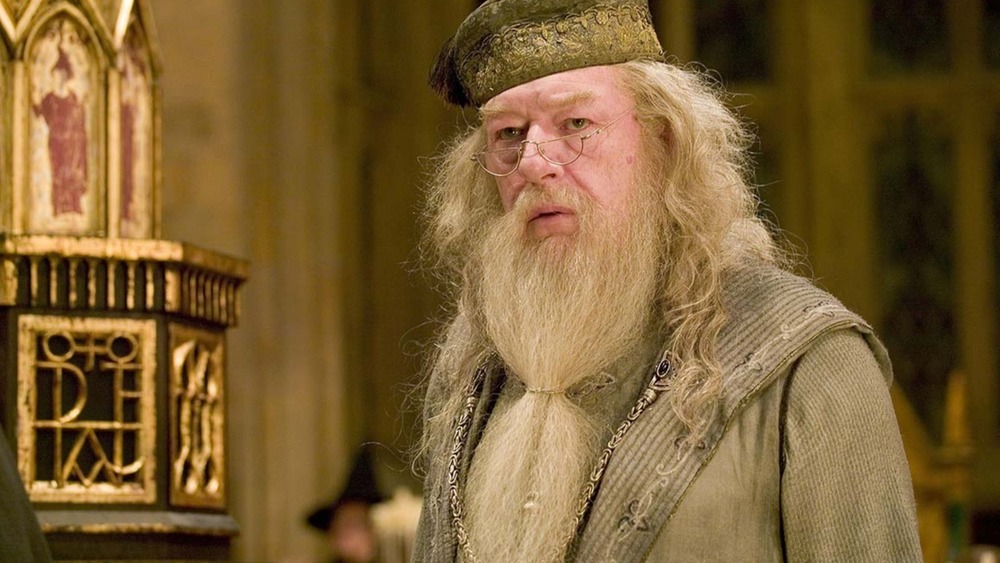 Warner Bros.
As the Wizarding World of Harry Potter, combined with Fantastic Beasts, expands in all directions, fans are getting a deeper look at the events and characters of this fictional universe than they ever thought possible. The latter series has taken audiences back decades before The Boy Who Lived was even The Boy Who Was Born, fleshing out the peripheral elements of his story and those who took part. For example, making his big-screen return (and chronological introduction) in Fantastic Beasts: The Crimes of Grindelwald, Albus Dumbledore (Richard Harris, Michael Gambon and, later, Jude Law) received a fair amount of genuinely meaningful backstory, especially regarding his personal life.
Prior to earning the position of headmaster at Hogwarts School of Witchcraft and Wizardry, founding the secretive Order of the Phoenix, or taking up ownership of the powerful Elder Wand, Dumbledore was an aspiring wizard not bound to any major titles or responsibilities. As a young man, he cultivated a friendship with future magical terrorist and Durmstrang Institute alum, Gellert Grindelwald, but their relationship quickly blossomed into so much more. They soon fell in love with one another, and even after they went their separate ways following their legendary wizarding duel, it was something Dumbledore never quite let go of — which is commemorated through his choice wardrobe.
The texture of Dumbledore's later outfits reflects his younger romance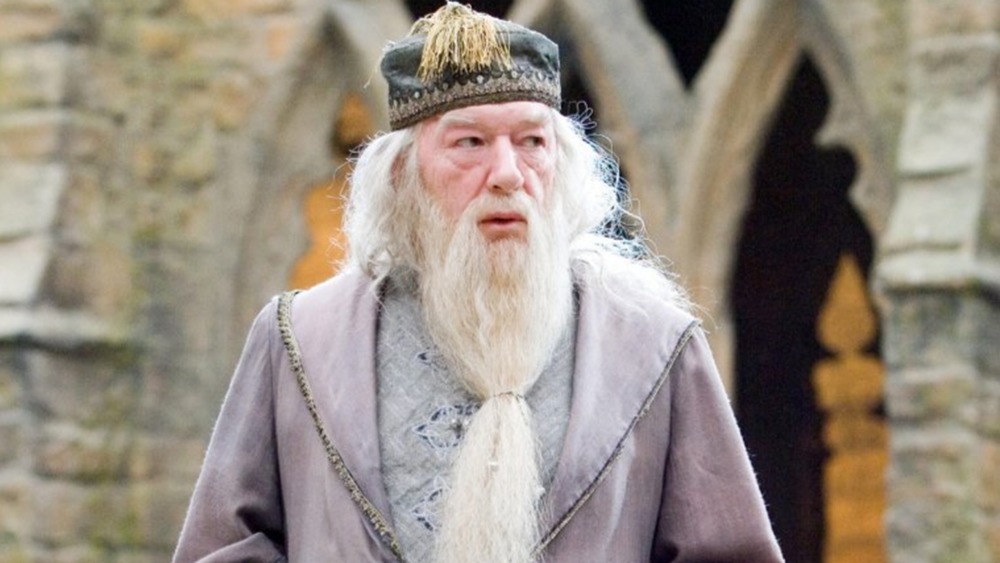 Warner Bros.
The Fantastic Beasts series depicted Albus Dumbledore in formal clothing, including slacks, dress shoes, a vest, a tie, a button-down shirt, and occasionally a hat or overcoat to complete the look. However, this is a much younger, ambitious interpretation of the character, who hasn't quite settled into the robes, caps, and bifocals he'd often wear into his elderly years during the Harry Potter films. This particular trend of softer, comfortable outfits says a lot about him as a person and his memories of Grindelwald.
Laurent Guinci, who worked on the Harry Potter series as part of a costuming team guided by Jany Temime, spoke to Metro in December 2020, explaining a lot of time and effort went into assembling the famous wizard's wardrobe. "I really love his costumes, and I love the softness, the sensitivity that you've got behind the costume." Guinci explained, adding, "you've got to also reflect the fact that he had a soft spot for Grindelwald, and you discover that much later in the films." It's always interesting to see the brainstorming process behind a movie character's design, and it's even more intriguing when it turns out that the story played a major role.
However, for as thought-out, and visually lovely, as his costumes seemed, one of Dumbledore's outfits met a grizzly end — along with him — in Harry Potter and the Half-Blood Prince. "We did the scene when he falls down [from] the tower and there were wires and a harness and stuff like that," said Guinci, continuing, "I remember, with my scissors, going right into the layers of silk to get into the costume. I was thinking, 'this costs thousands and thousands of pounds and I'm going with my scissors to get into it just to put wires to facilitate the use of the harness.'"
Despite keeping his connection to Grindelwald quiet for the duration of his Harry Potter tenure, Dumbeldore's love for the Dark Wizard always managed to shine through, via his ornate attires.