The George Clooney Sci-Fi Epic That's Dominating Netflix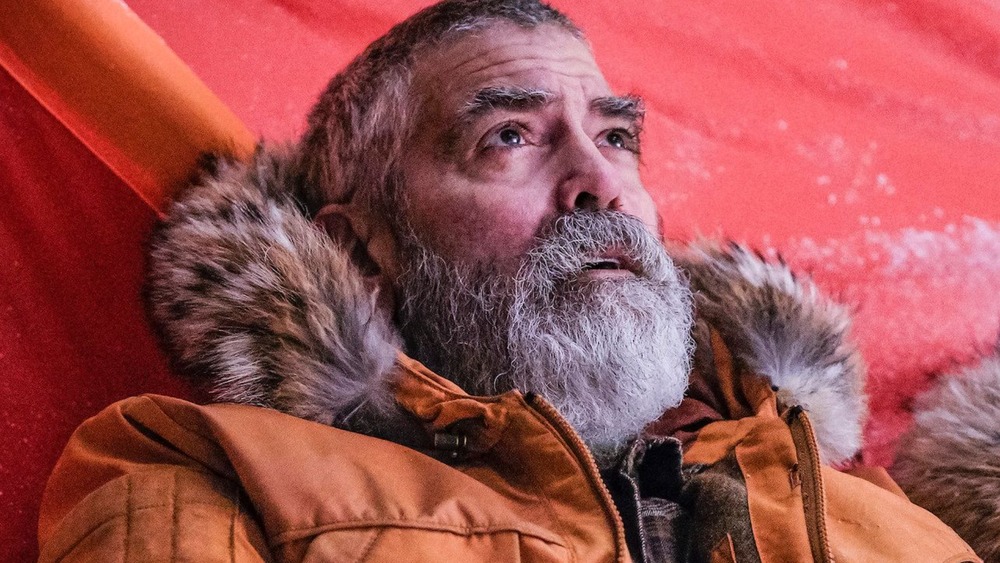 Netflix
After several years working mostly behind the camera, George Clooney has stepped back in front, to remind us why he's one of the world's greatest living movie stars. His new film, The Midnight Sky, is currently making a lot of noise on Netflix, ranking at or near the top of the streaming service's daily Top 10 list since it was released on Dec. 23.
Clooney produced, directed, and stars in the sci-fi blockbuster, which is an adaptation of Lily Brooks-Dalton's 2016 novel Good Morning, Midnight. Clooney has mostly focused on producing and directing in recent years, and The Midnight Sky is the Oscar winner's first film role since 2016's Money Monster — though it's not technically his return to acting, as he did have a supporting role in 2019's Hulu limited series Catch-22, which he also directed and produced.
Clooney plays Augustine Lofthouse, a scientist who is so focused on life on other planets that he neglects his life on this one. He lives at a remote Arctic research base, and has recently been diagnosed with terminal cancer. When an extinction-level event happens somewhere else on Earth, everyone else leaves the base, but he stays behind to try to contact spaceships to tell them not to return. The only one in range is the Æther, which is crewed by a pregnant astronaut who goes by "Sully" (Felicity Jones), as well as several other people who want to go home after a long trip exploring one of Jupiter's moons for habitability. The base's antenna is too weak to reach the ship, so Augustine, accompanied by a very quiet little girl named Iris (Caoilinn Springall) who was left behind during the base's evacuation, sets off through the Arctic toward another base with stronger communications equipment, hoping to save humanity before he dies.
The Midnight Sky is getting mixed reviews, but big audiences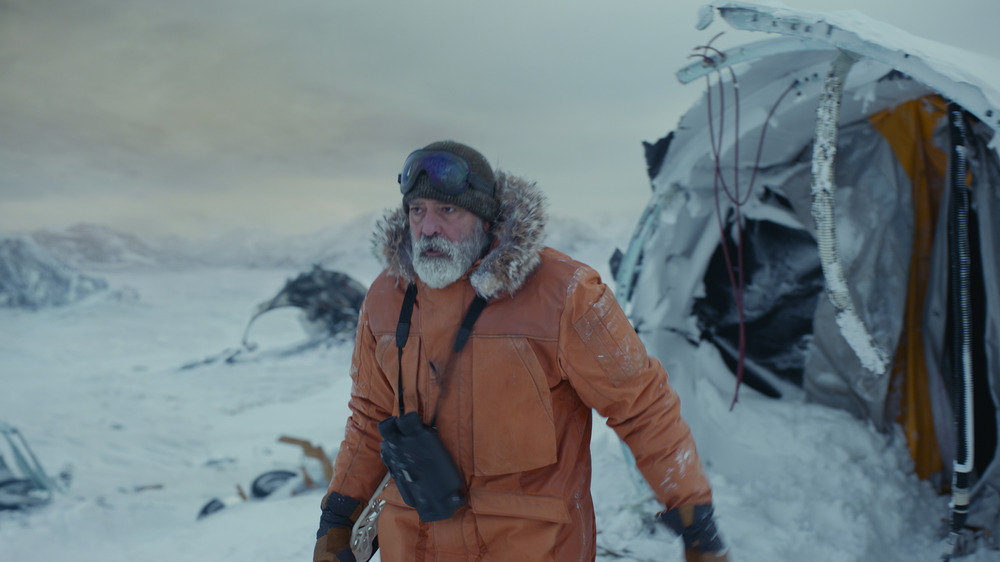 Netflix
The Midnight Sky is highly reminiscent of a lot of other movies, but not in a bad way. It's a simple story about survival, elevated by its excellent cast and impressive production values. Clooney said that other movies he worked on that were set in space, notable Gravity and Solaris, influenced The Midnight Sky. Gravity provided the template for how the spacewalk scene in The Midnight Sky was shot, while the cerebral Solaris inspired Augustine Lofthouse's psychology. It's also the second Netflix original film set in the Arctic, after 2018's Jeffrey Wright-led, Netflix mystery Hold the Dark.
The movie has received mixed reviews from critics, with a 53% score on Rotten Tomatoes. "The Midnight Sky lacks the dramatic heft to match its narrative scale, but its flaws are often balanced by thoughtful themes and a poignant performance from director-star George Clooney," is the consensus. Curiously, the movie has a disproportionately poor 25% audience score, with the audience consensus that it moves too slowly and not enough happens.
Whether it's too slow, or a worthwhile way to spend two hours during the lazy week between Christmas and New Year's, is up to you. But the movie is there to be streamed on Netflix, and it's getting big audiences, if you're in the mood to watch George Clooney emote under a big, gray beard.