Why The 'Other' Steve Trevor In Wonder Woman 1984 Looks So Familiar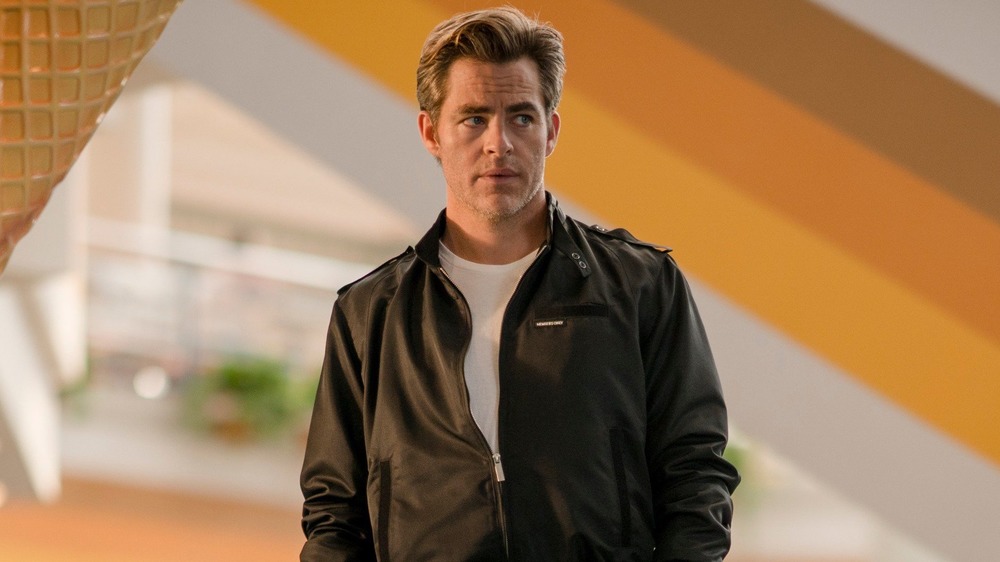 Warner Bros./DC Entertainment
Contains major spoilers for Wonder Woman 1984
Diana Prince is back for her second adventure on the silver screen — and, miraculously, so is the true love she lost during her first solo outing. But not in the way you might think.
Long before Wonder Woman 1984 hit select theaters in the U.S. and dropped on HBO Max on December 25, 2020, fans were gifted with the knowledge that Chris Pine's Steve Trevor would return for the sequel flick to reunite with Gal Gadot's Diana. The two fell in love in the original Wonder Woman movie, but their romance turned tragic when Steve bravely sacrificed himself for the greater good at the end of the film, telling Diana that he could save today but Diana could save the world. 
It isn't too long before Wonder Woman 1984 reveals how Steve gets pulled from the great beyond to get his and Diana's long-wished-for "more time." In the film, Diana — now working as an anthropologist at the Smithsonian Institute — and her new colleague Barbara Minerva (Kristen Wiig) help the FBI identify stolen antiques seized from a jewelry store. One artifact is the Dreamstone, a mysterious object that grants wishes to anyone who puts their hands on it. Barbara wishes to be just like Diana, while Diana quietly hopes that Steve will somehow return to her life, though she knows it's impossible.
Well, not so with the Dreamstone. Steve does return ... but in someone else's body. They meet again during a gala at the Smithsonian, and at first, Diana doesn't know what's happening; who is this strange man who looks nothing like Steve, yet is saying words only the two of them know the deep meaning of? Then, it clicks: Steve's soul overtook a living man's body. Once she makes this realization, all Diana can see is Steve — despite him looking different in the mirror and, presumably, to others. 
If you thought that the "other" Steve Trevor — the nameless man whose body the real Steve's soul jumped into — looks oddly familiar, you're not alone. Kristoffer Polaha plays him in Wonder Woman 1984, and you've definitely seen him in movies and on TV before.
Kristoffer Polaha's early days in television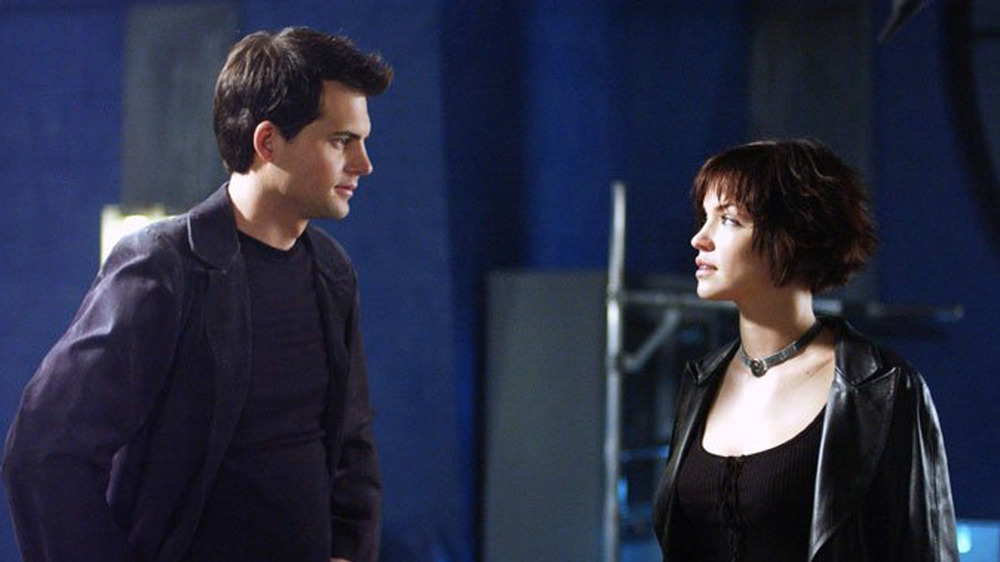 The WB
Kristoffer Polaha got his Hollywood start in the television realm in the early 2000s, appearing first in the 2001 television movie The Third Degree before scoring a two-episode stint as Gavin in the CBS comedy-drama That's Life. From there, the ensuing six years of Polaha's on-screen career centered around small roles in television series and the occasional made-for-TV film. 
You may recognize him as Dylan from Angel or Eric Hughs from Roswell. Or perhaps you recall Polaha from his role as the metahuman Darkstrike, who popped up for a single episode of the loosely-based-on-the-DC-Comics series Birds of Prey (nearly two decades before Warner Bros. and DC Entertainment's Birds of Prey feature film arrived in theaters). A year after Birds of Prey, Polaha played John F. Kennedy Jr. in America's Prince: The John F. Kennedy Jr. Story and Wes Brown in Splitsville — both made-for-TV movies that aired in 2003. He also had a three-episode run as Mark Evans in Fox's supernatural drama Tru Calling. 
In 2004, Polaha secured his first main role in a television series: Jason Matthews in North Shore, the primetime soap opera that revolves around the lives of those working and staying at the Grand Waimea Hotel and Resort in Hawaii. Polaha's character Jason is the general manager of the (fictional) resort, and has a tumultuous past with Nicole Booth (Brooke Burns), Grand Waimea's new director of guest relations.
A string of single-story appearances came after North Shore — including appearances in House, Hot Properties, It's Always Sunny in Philadelphia, CSI: Miami, Bones, and Close to Home.
Kristoffer Polaha played Carlton Hanson on Mad Men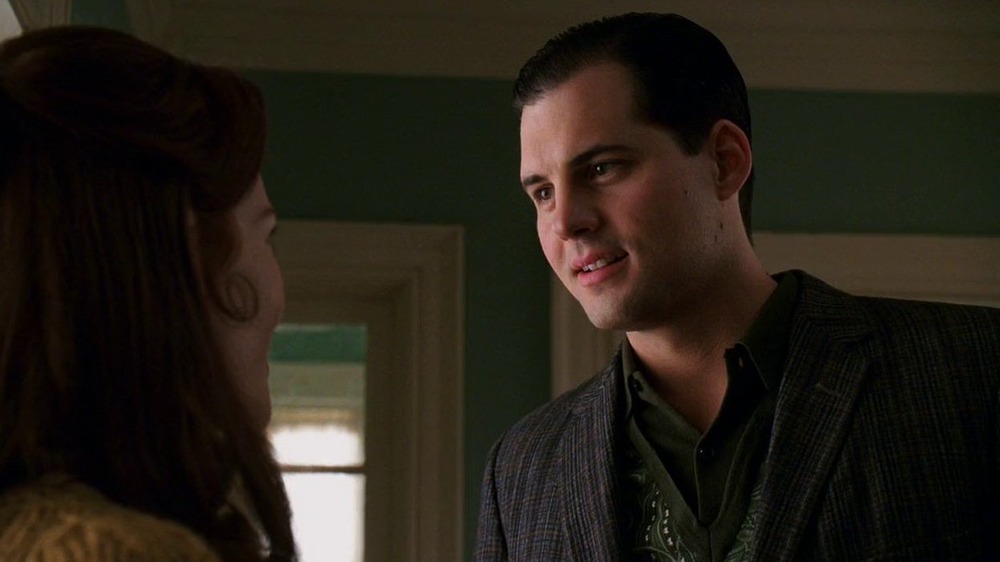 AMC
For anyone whose go-to drink is an Old Fashioned and those who can't resist the urge to scream, "Not great, Bob!" when someone asks how they are on a particularly bad day, Kristoffer Polaha is most recognizable from Mad Men. 
On the acclaimed drama series, starring Jon Hamm as the perpetually troubled Don Draper, Polaha plays Carlton Hanson — the husband of Francine (Anne Dudek), one of Betty Draper's (January Jones) best friends in Mad Men's early seasons. The Hansons live in the same Ossining, New York neighborhood that the Drapers do, though Francine makes more appearances at the Draper residence than Carlton does given that she and Betty enjoy catching up and gossiping. 
Arguably the most memorable instance in which Francine shows up at the Drapers' home is when she, still in her dressing gown, visits Betty and confides in her that she believes Carlton is having an affair. This is, of course and sadly, true — and it's telling that even the serial womanizer Don thinks Carlton is slimy. Francine and Carlton do eventually reconcile, but when audiences see him in season 2 of the show, he looks considerably different — seemingly having traded in sleeping with women who aren't his wife for indulging in extra helpings of dinner and snacks at all hours of the day. 
Polaha's Carlton wasn't in very many episodes of Mad Men — just four in total — but it says a lot that he made a big impact on the show and an even bigger impression with fans.
Kristoffer Polaha on Miss Guided, Valentine, Life Unexpected, Ringer, and Made in Jersey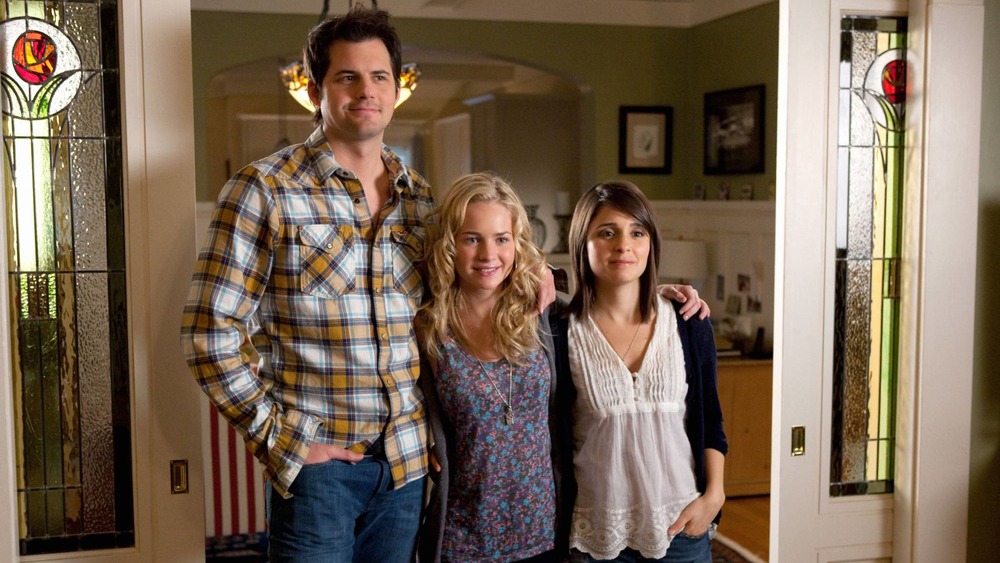 The CW
Post-Mad Men, Kristoffer Polaha kept his TV hot streak going by landing main roles in 2008's Miss Guided and 2009's Valentine. Miss Guided, a sitcom about a high school guidance counselor, sees Polaha playing Tim O'Malley, the Remedial Spanish teacher at Glen Ellen High School. In Valentine, the CW's romantic dramedy about a family of gods (the Valentines) living amongst mortals, Polaha portrays the gun-toting Danny Valentine — the son of Grace Valentine (Jaime Murray), an incarnation of Aphrodite. Danny is actually Eros, the god of erotic love, and uses his gun to shoot his targets and make them fall in love. 
Another run of one-off roles (in The Ex List, Without a Trace, Better Off, Dollhouse, and Romantically Challenged) followed, but in 2010, Polaha nabbed another main role. This time, it was as Nathaniel "Baze" Bazile in the CW's teen drama series Life Unexpected. Britt Robertson leads the show as Lux Cassidy, a teenager who spends nearly her entire life in the foster-care system before she locates her biological parents, Nathaniel Bazile and Cate Cassidy (Shiri Appleby), who was just 16 when she gave birth to Lux. When Lux meets her biological parents, she's hoping to obtain their signatures so she can become an emancipated minor. However, they end up gaining custody of Lux instead. 
After Life Unexpected came two more sizable roles for Polaha: unhappy writer Henry Butler in the thriller-crime-drama Ringer, about a woman (played by Sarah Michelle Gellar) who assumes her twin sister's identity after she goes missing, and law firm associate Nolan Adams in Made in Jersey, CBS' legal drama that ran for a single season.
Kristoffer Polaha's roles on Backstrom, Castle, Get Shorty, and Condor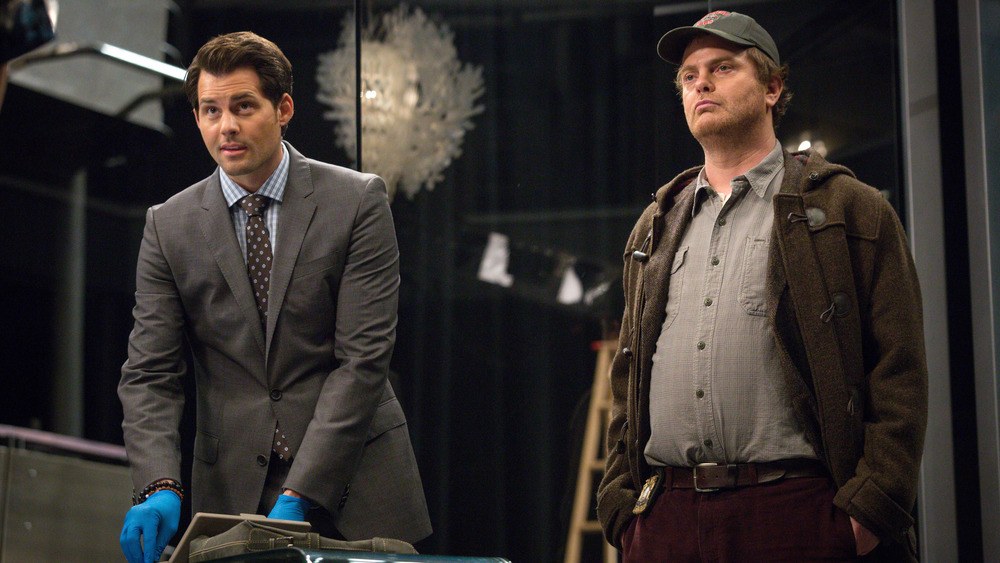 Fox
Even into the mid-2010s, Kristoffer Polaha maintained an admirable balance between shorter small-screen turns and meatier roles in television series. 
Sandwiched between one-offs in CSI: Crime Scene Investigation, Stalker, and Hawaii Five-O was a starring role in Fox's crime dramedy Backstrom. In the series, which aired just one season in early 2015, Polaha plays Sgt. Peter Niedermayer opposite Rainn Wilson's Detective Lieutenant Everett Backstrom, an offensive and irritable criminologist. 
Polaha then appeared on four episodes of Castle, as Caleb Brown, and on five episodes of Get Shorty, as Jeffrey. The actor's most recent recurring role on television was as Sam Barber in the thriller series Condor, based on James Grady's novel Six Days of the Condor and the 1975 film Three Days of the Condor. 
His other television credits include Rizzoli & Isles, Lethal Weapon, Designated Survivor, and Ballers.
Kristoffer Polaha's film credits feature a ton of Hallmark movies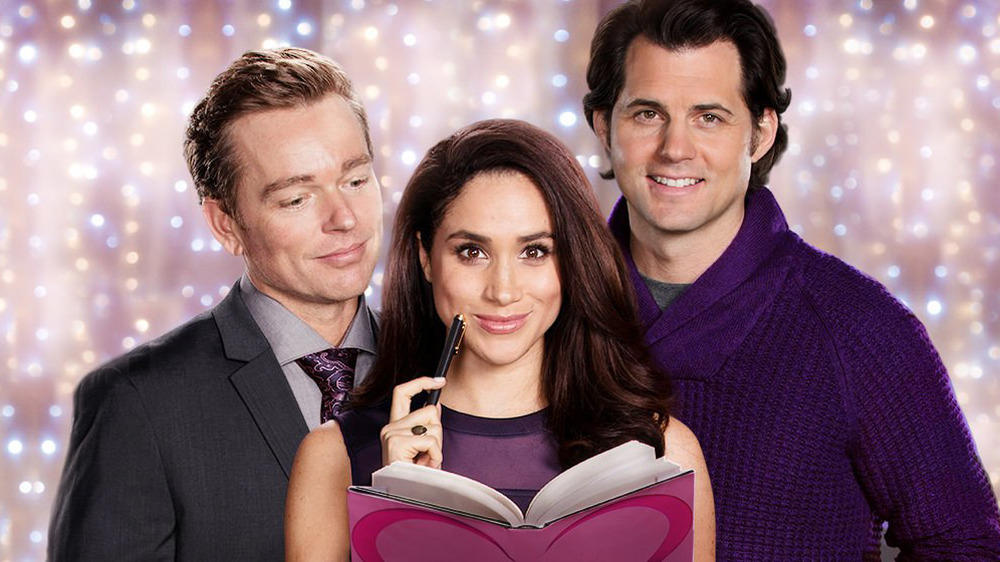 Hallmark
Outside of television series, Polaha has appeared in a number of films — both on the big screen and on his tried-and-true small screen. 
His first feature film role came in 2008, when he played a young Charles Templeton, a former Christian evangelist, in the biopic Billy: The Early Years. The film tells the story of well-known Christian evangelist Billy Graham (played by Armie Hammer) as seen from the perspective of Templeton, who became an agonistic after experiencing doubts with religion and who subsequently lost his friendship with Graham. Five years later, Polaha starred in another biopic: 2013's Devil's Knot, a harrowing depiction of the story of three teenagers (dubbed the West Memphis Three) who murdered three children during the Satanic Panic of the 1980s. Alongside Reese Witherspoon as Pamela Hobbs, a mother of one of the murdered boys, and Colin Firth as private investigator Ron Lax, Polaha played Val Price, the public defender assigned to murder suspect Damien Echols.
In 2014, Polaha starred in Atlas Shrugged Part III: Who Is John Galt?, the third film in the Atlas Shrugged film series. He portrayed the titular John Galt, a philosopher, inventor, and engineer who's a major force in Ayn Rand's novel Atlas Shrugged, upon which the film franchise is based. That same year found Polaha playing Len Brenneman in the comedy flick Back in the Day, and in 2015, he tugged on heartstrings as Calvin Campbell in the drama film Where Hope Grows. 
Polaha's other film credits include projects like Vineland, Frontman, Bachelor Lions, Beneath the Leaves, and Run the Race, but since 2016, the actor has largely focused on starring in Hallmark movies. He's been Matt Crawford in 2016's Hearts of Christmas, Graham Mitchell in 2017's Rocky Mountain Christmas, Colin Page in 2018's Pearl in Paradise, Emmett Turner in 2018's A Small Town Christmas, and Chris in 2019's Double Holiday. Polaha got the best of both worlds when landing the role of police detective Travis Burke in a multi-part Hallmark Movies & Mysteries project consisting of Mystery 101, Mystery 101: Playing Dead, Mystery 101: Words Can Kill, Mystery 101: Dead Talk, and Mystery 101: An Education in Murder, which aired in March 2020.
Perhaps the most exciting Hallmark movie Polaha has starred in is 2016's Dater's Handbook, led by Meghan Markle, the actress-turned-royal who became the Duchess of Sussex upon marrying Prince Harry, Duke of Sussex, in 2018.
Kristoffer Polaha will next appear in Jurassic World: Dominion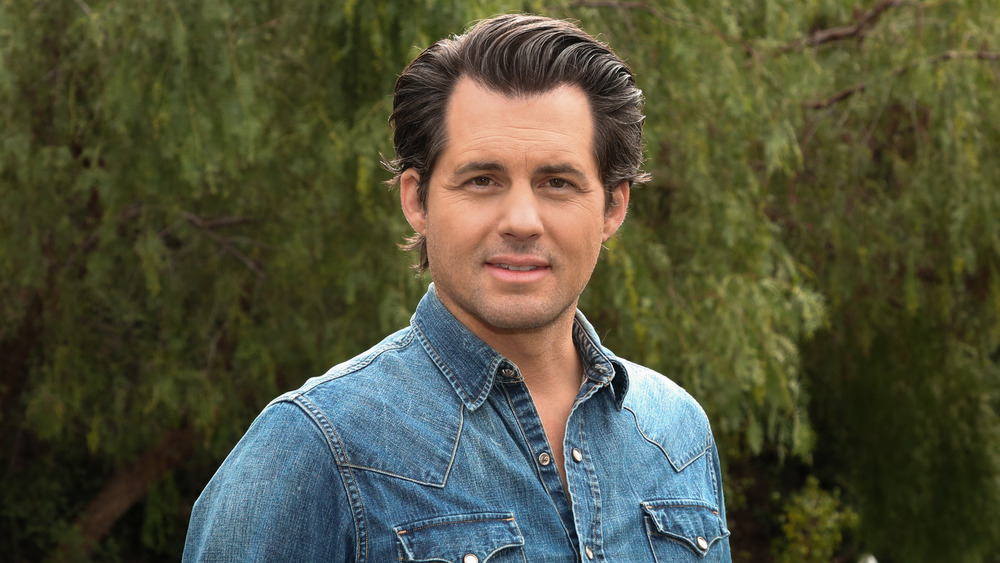 Paul Archuleta/Getty Images
Clearly, Kristoffer Polaha has remained booked and busy throughout the years, and that doesn't look to change in the future. Next up for the actor is what's bound to be his biggest feature film role to date: Wyatt Huntley in Jurassic World: Dominion. 
Not much is known about Wyatt at this point in time — we don't have a clue what his profession is, if he's a good guy or a bad guy, or how he'll impact the film's story — but considering that Dominion closes out the Jurassic World trilogy and that actress Bryce Dallas Howard teased that the film will blow everyone away, fans should expect Polaha's character to embark on a wild adventure.
Jurassic World: Dominon is scheduled for release on June 10, 2022. Until then, rewatch Kristoffer Polaha as not-Steve-Trevor in Wonder Woman 1984.