Deadpool Creator's Avengelyne To Get Movie Adaptation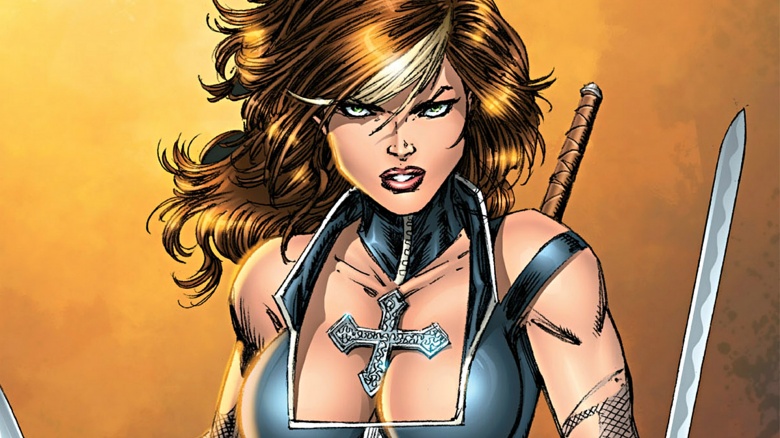 Image Comics
When you're hot, you're hot, and Deadpool creator Rob Liefeld definitely falls into that category right now.
After the rampant success of the Deadpool movie, Hollywood is looking to bring another one of his characters to the big screen. Deadline reports that Paramount has secured the rights to Avengelyne, one of Liefeld's lesser-known comics. Oscar-winning screenwriter Akiva Goldsman will produce and possibly direct the movie, which is being described as a "female John Wick."
In the comics, Avengelyne is a fallen angel who was banished from heaven by God after she was tricked into questioning his love for humans. She was stripped of her angelic abilities, but retained great strength and magical blood that can be used as a weapon. Although angry about her exile, she uses her remaining powers to battle demons on Earth, and she could be mankind's last hope in a coming Armageddon.
Back in 2013, Liefeld had plans to make a movie version with former MMA fighter Gina Carano as the lead. When that fell through, Carano was cast as Angel Dust in Deadpool. There is currently no actress in line for the part in the upcoming flick.
Not much is known about the plot, but Liefeld previously spoke (via Deadline) about the need for an Avengelyne movie a few years ago. "Avengelyne resonated so powerfully with the audience because her story of redemption is one that is so relatable," he said. "A fallen angel, sentenced to redeem herself by serving humanity, Earth is a foreign environment to her, she must adapt in order to save herself as well as mankind. Her dilemma provides humor amidst the larger plot engine driving her journey. "
We'll keep you posted as more details emerge. Meanwhile, things are a little rocky with Deadpool 2. Director Tim Miller walked away from the project due to a reported creative conflict with Ryan Reynolds, and composer Junkie XL recently followed suit. He said, "Deadpool without [Miller] at the helm just does not sit right with me, and that is why I have decided not to be involved in the second chapter."
While we wait to see what happens next, take a look at Deadpool's dark history.