Rosie Perez On Her Flight Attendant Character, Working With Kaley Cuoco, And More - Exclusive Interview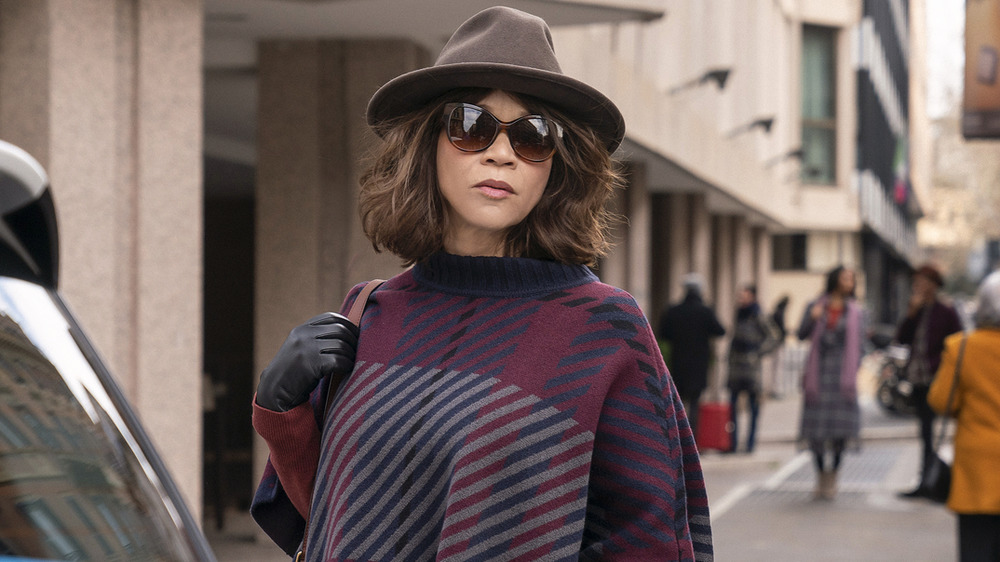 Colin Hutton
Rosie Perez is an acting dynamo who's regularly wowed audiences with her skills for decades. She started out in the '80s, making her first big splash as Tina in Spike Lee's Do the Right Thing. Around that time, she was also busy winning Emmy Awards for her talented choreography on the show In Living Color. Her performance as Carla Rodrigo in the 1993 movie Fearless earned her an Academy Award nomination for best supporting actress. She's also a writer — her published works include an autobiography — as well as a director and an activist for social change.
Perez is currently one of the stars of the HBO Max series The Flight Attendant. Her character Megan works alongside Kaley Cuoco's Cassie as — you guessed it — a flight attendant. As Cassie finds herself embroiled in a murder mystery, she becomes a magnet, pulling everyone in her surroundings into her drama. In an exclusive interview, Perez spoke with Looper about what it took for her to make the decision to join The Flight Attendant, what she brought to the table to highlight Megan's depth, and what it was like making a short film during the pandemic.
Coffee with Kaley was just what Rosie Perez needed
Phil Caruso
You've been open about your anxiety regarding traveling and that initially, it was a potential deterrent for committing to the role of Megan. Having a meet-up with Kaley Cuoco helped seal the deal, right?
Her niceness and professionalism and her enthusiasm sold me, and I believed her when she said she was going to take care of things. And specifically, her work ethic, we are in the same vein. We both work really hard, we take it very seriously and we both have no tolerance for those that don't bring their A-game and I really appreciated that, it makes it worthwhile to go to work. The worst thing is when you're in a scene with someone and they go, "Oh gosh, wait, what's the line again?" And you know it's not from nervousness, because sometimes your mind goes blank because of that, that can be forgiven. But you know it's because they didn't care enough to do the work to know those lines.
It can throw things off.
Yes, and you're like, "Really?" Because it takes you out of your game and you really have to remain so focused and that takes a lot. And you have to tell yourself, "Don't get mad, don't get frustrated, just breathe, be supportive." And then you find yourself taking care of the other actor while thinking, "That's not my job, that's the director's job. We're supposed to take care of each other in the scene, yes, but I'm not supposed to help you with your homework. You were supposed do that." It's different if you've done your homework and still get nervous and you have your insecurities and you say, "Come on, we can do it. Come on, let's try it again. You want a moment?" There, you become a partner.
You and Kaley found that partnership?
Totally. When I explained that to her — my work ethic — she goes, "Oh honey, you're speaking my language," and we high-fived each other. And I said, "Oh, Kaley, you're wonderful." We both care so much and have such a deep appreciation for being fortunate enough to do this. And so I was like, "This is the girl, this is it. This is it. I believe everything she's telling me." And she came through.
You got to go into it with a lot of trust.
A lot of trust. And she's fun.
Rosie Perez talks about shaping Megan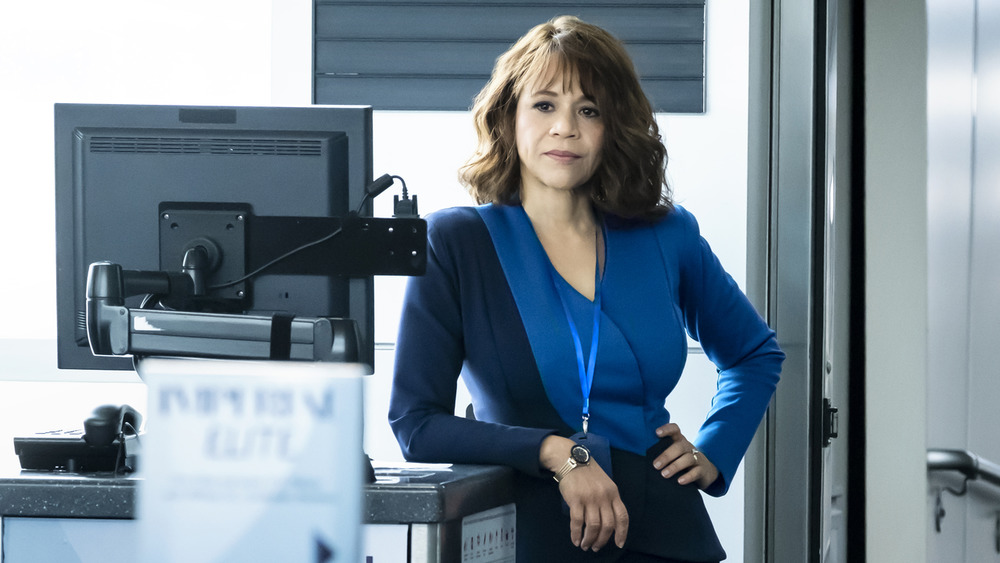 Phil Caruso
Your character Megan is mysterious and complex. How did you find the balance needed to bring her to life?
I had told the executive producers, I said, "I don't want Megan to be a punching bag, but I don't want her to be a really strong 'F-you' type-of-character either." I said I would love to balance the two. Where she feels like nobody sees her and she feels discontent with her, actually, great middle-class life. She looks at Kaley's character Cassie and wishes she had her youth back. She wishes she had that excitement even though she knows that Cassie is a mess. She's frustrated by Cassie's mess but at the same time, she's charmed by it. There was once scene where Megan chastises Cassie for being late, saying, "We were taking bets to see how late you were going to be." I wanted to change the way that was delivered. Initially, they wanted Megan to be very angry and very annoyed with her. And I go, "No, Megan wished she could be late because she just got out of bed with a hot guy." I wanted it to be more like, "Oh, we're late again? I can't wait to hear the juicy details."
So, they rolled with your take on it?
Yes. I explained to them, "I really know how to hide my anxieties and my insecurities, I've been doing it since I was a child, and I would like to bring that to Megan — where you're wondering what's up with her." It's wonderfully written, and it drops a little gem each episode revealing more of what [Megan's] all about and what she's up to. I told them, "I know how to do this." The tone of the show is so specific, and it took a minute to find that right spot to ease into. We have a great team and cast, especially the director, Susanna Fogel. After the first few scenes, I go, "I got her, I got her — let's rock and roll!"
A second season hasn't been announced yet but if it goes in that direction, are you on board?
[Laughs] Are you kidding? Is the sky blue? Are you kidding? I would love to, but, fingers crossed, we have to see what happens. I've been in this game for a long time and you have to just roll with the punches.
Was there anything else about the character that resonated with you?
Another favorite thing that I love about playing Megan is something I play underneath it all, but I know women of a certain age are going to get it. When you are over 50 and menopause starts to hit, you really start to reassess your life. Because everything changes physically, emotionally, mentally. And if life isn't what you expected it to be, that's going to be really hard to deal with when you're hormonal and menopausal. You know? It's really going to be hard. And that's why women run to the gynecologist to get hormone replacements, it's like, "I can't deal with this!" The hot flashes and all this stuff, the emotional ups and downs. And so, Megan acting like, "I'm the head person, I have everything in control but inside I'm a bubbling mess of nerves," is something that I hope women of a certain age get as the episodes go on. Megan has been melting down inside. Because depression can be either highs or lows.
Perez on animated adult humor and lugging heavy equipment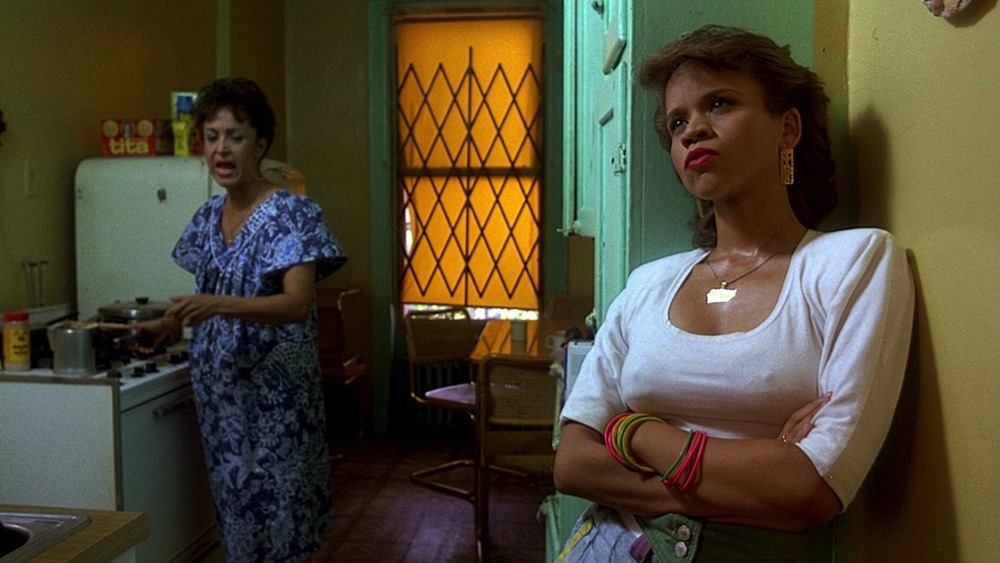 You've been in some beloved movies, from Do the Right Thing to White Men Can't Jump. Do you keep in touch cast members from those classics?
Oh yes, Woody Harrelson and Wesley Snipes from White Men Can't Jump — we don't see each other often, but we definitely stay in touch. Sam Rockwell and I did an independent movie in the early '90s called Somebody to Love, and we are still friends. John Leguizamo is another — we are very good friends. I don't have many friends in Hollywood and as the years go by, I'm really okay with that. It took me a minute to get over the fact that if I go to a Hollywood event, I'm always standing up against the wall and saying to myself, 'Why am I here?" I was able to finally answer that question for myself: "Because you don't want to be, and that's okay."
What's it like being part of the DC Universe?
It's really weird! [Laughs] and awesome. Working with Margot Robbie and Mary Elizabeth Winstead are incredible — they're both wonderful. And it was also hard — it's a hard role!
In addition to The Flight Attendant, what else do you have cooking?
I'm on the show Human Resources on Netflix. It's an animated spinoff of Nick Kroll's Big Mouth. It's very adult. The stuff that's written, I'm like, "Oh my god, you're crazy, you guys are crazy." [Laughs] I am having a great time doing it in my closet, because that's my recording booth these days. I also got to write and direct a short film for a project Trudie Styler and Sting are doing on life during COVID-19.
How was that experience?
It was a great challenge, but I really loved it. I hired Justina Machado to play opposite me.
What was hard about it?
Well, I had never operated a camera, even though it was the iPhone. You have to assemble the tripods. This is before the Zoom with the ring lights and all this stuff. And so, I'm by myself lugging heavy equipment up and down the stairs. And I remember telling the producers, I go, "Why didn't you tell me to shoot this all on one level? I have four floors in my house." [Laughs] My husband, who is an artist, was away at a residency, so I wrote about being alone during COVID. It was challenging, but in a lot of good ways, and I hope it all comes together and does well, because it was really a blessing to get to have the experience.
All eight episodes of The Flight Attendant are available on HBO Max.