What Kevin Hart Would Look Like As Roland From The Borderlands Movie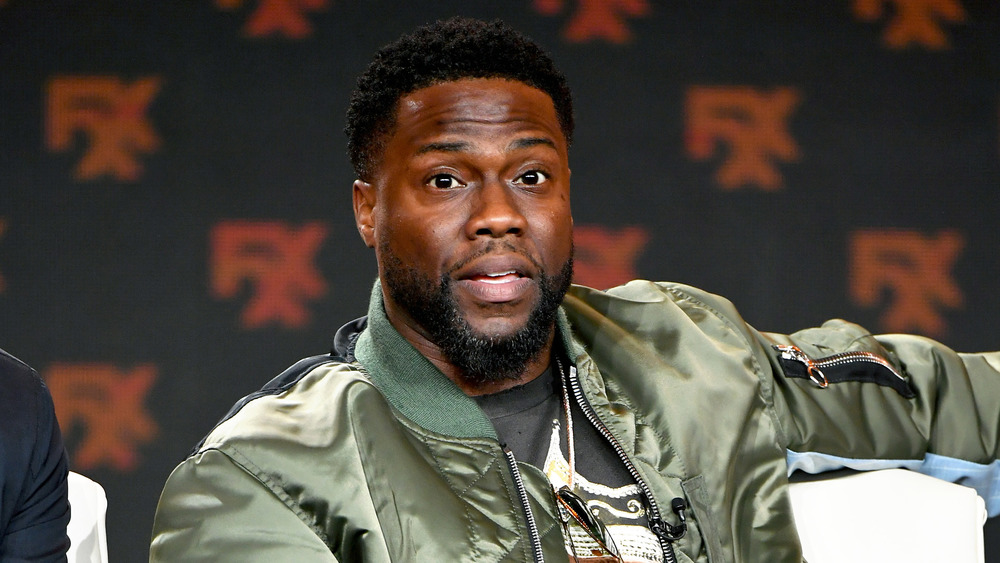 Amy Sussman/Getty Images
Video game film adaptations have a long, troubled history. While these movies have historically done away with much of what made the games special in the first place (looking at you Super Mario Bros.), there have been improvements over the last few years. Films like Detective Pikachu and Sonic the Hedgehog are some of the best-reviewed video game movies ever made, and much of that success results from their faithful embrace of what's already been established by the IP.
Movie studios are going full-speed ahead with a slew of video game adaptations in the works, including ones for Devil May Cry, Deus Ex, and Borderlands. While there hasn't been a ton of forward momentum for those first two works-in-progress, we're finally starting to see some progress being made on Borderlands. It was announced back in May of 2020 that Cate Blanchett was in talks to join the film, and we recently got some idea of who might be joining her. 
Based on recent reports, Kevin Hart is also in negotiations to join the upcoming movie as Roland, a highly trained mercenary proficient with pretty much any weapon you can think of. Hart's potential involvement with the film is incredibly exciting and would be a major departure from the kind of roles we're used to seeing the comedic actor in. While Hart's casting isn't finalized yet, we already have an idea of what he'd look like in the role courtesy of Instagram artist ApexForm. 
Kevin Hart makes a surprisingly good Roland
Kevin Hart got his start in stand-up comedy before becoming one of the best-known comedic actors in the world. With starring roles in films like Ride Along, The Wedding Ringer, and Central Intelligence, Hart has shown he more than has what it takes to tickle people's funny bones on the big screen. He's also had a chance to show off his action chops in the recent Jumanji movies, so he comes to Borderlands pretty well prepared.
The video game adaptation would give Hart a chance to show his real range, and based on artwork from ApexForm, we think Roland is the perfect role for the actor to take on. Along with the image, ApexForm also included the following message: "Kevin Hart is reportedly in talks to star as Roland in the long awaited Borderlands adaptation. With this news I had to create a render of what this might look like. And frankly he does look pretty BA in the role. What do you think?"
Based on the comments below the image, it looks as though not everyone is convinced Hart is right for the role, with one user stating, "Roland is a tall, striking, deep voiced Captain America archetype. Someone like Anthony Mackie, Mike Coulter, or [Jamie Foxx] would fit." Still, other comments are more positive. As one former skeptic put it, "The artwork is selling me a bit tho so great work!"
We'll just have to wait and see if Hart actually signs on for Borderlands, and we get a chance to see this artwork come to life on the big screen. No release date has been set yet for the film, but keep checking back in as more updates become available.