What Only Game Of Thrones Fans Will Notice About The Mandalorian Chapter 16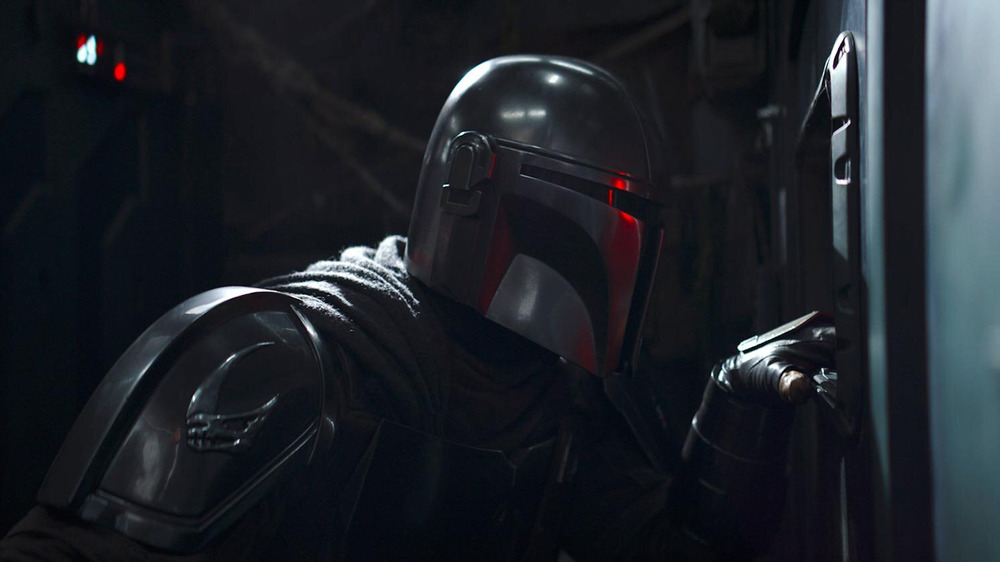 Disney+
The season two finale of The Mandalorian featured a sneaky little Game of Thrones Easter egg. Spoilers for both Game of Thrones and the second season of The Mandalorian ahead!
During the second season finale of The Mandalorian, the title warrior, Mando — played by Pedro Pascal — assembles a group of intrepid fighters and strategists to break into an Imperial ship, both to defeat the evil Moff Gideon (Giancarlo Esposito) and to rescue tiny Grogu, who was kidnapped by Moff Gideon earlier in the season. However, after successfully boarding the ship, they run into an unforeseen problem; Moff Gideon's army of robotic Dark Troopers, which are relentless, extremely powerful, and seemingly indestructible.
After facing off against just one Dark Trooper, Mando has his work cut out for him, but he has one thing on his side: his Beskar steel. Despite landing punch after punch on Mando's helmet, the Dark Trooper can't crack the protective covering, and eventually, Mando manages to best the Dark Trooper entirely with his Beskar spear. While this serves as yet another amazing action set piece in The Mandalorian's second season, it's also a sly reference to one of Pascal's high profile roles. Here's the little thing that Game of Thrones fans will notice in the sixteenth chapter of The Mandalorian.
Pedro Pascal should have been wearing a helmet on Game of Thrones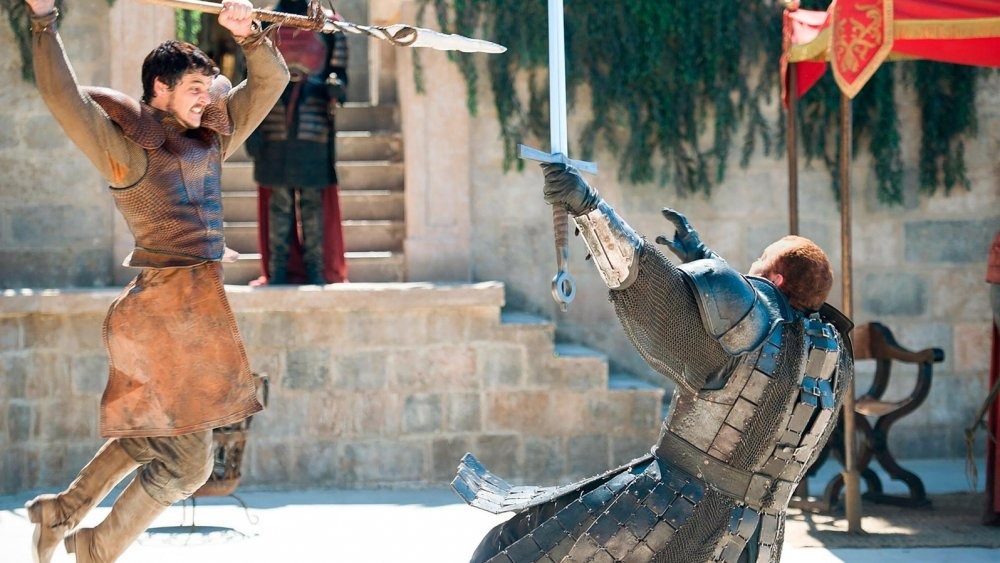 HBO
If you're a fan of Game of Thrones, you likely remember how Pedro Pascal's storyline ended on HBO's epic fantasy series Game of Thrones... and it didn't go particularly well.
As Oberyn Martell, a highborn prince of Dorne, Pascal played a swaggering, suave foreigner to the Seven Kingdoms, making his first appearance at a royal wedding in the show's fourth season. However, after the wedding goes horribly awry — namely, when the groom, King Joffrey Baratheon (Joffrey Gleeson) is poisoned and chokes to death — Oberyn is left adrift in Westeros, and ultimately agrees to serve as a champion in a trial by combat on behalf of Joffrey's falsely accused murderer, his uncle Tyrion Lannister (Peter Dinklage).
Though Oberyn fights skillfully against his longtime nemesis Gregor "The Mountain" Clegane (Hafþór Júlíus Björnsson), his hubris eventually gets the best of him. After knocking his opponent to the ground with a poisoned spear, Oberyn taunts The Mountain, only for his enemy to rise back up and kill him in the most brutal way possible, crushing Oberyn's skull into pieces.
The reference to Oberyn Martell's fatal head injury on The Mandalorian might have been subtle, but Game of Thrones fans definitely got the joke. All of The Mandalorian is currently streaming on Disney+, and all of Game of Thrones is available on HBO Max.