The Surprising Inspiration Behind Get Out's Title Isn't What You'd Expect
Blumhouse Pictures
Any creative sort would be quick to tell you that inspiration can strike anywhere. And more often than not, it strikes when and where you least expect it.
Current genre-god Jordan Peele is almost certainly one of those creatives, by the way. In the years since Peele delivered his instant-classic feature directorial debut Get Out unto the horror-loving masses, the writer-slash-director-slash-producer has admitted to drawing inspiration for the film from all manner of cinematic confections and societal issues, even citing standardized testing as a key influence on his story.
Of that narrative — which follows a young Black photographer (Daniel Kaluuya) as he ventures to meet his white girlfriend's family only to find himself embroiled in a dastardly plot beyond belief — most would agree there really hadn't been anything quite like it conjured on the big screen before. They'd likely agree there hasn't been anything like it since, either, as Get Out became that rarest of movie to successfully meld piercingly insightful social commentary with popcorn horror movie panache.
But even as fans can clearly see the influence of genre staples like The Stepford Wives, Rosemary's Baby, and TV's The Twilight Zone woven into the narrative fabric of Get Out, Peele confirmed in a 2017 interview with Entertainment Tonight that his hit film took both its name and its central conceit from a most unlikely place: an Eddie Murphy stand-up routine from 1983.
Murphy fans no doubt recall that 1983 saw the premiere of the funnyman's legendary HBO special titled Delirious. And it seems Jordan Peele indeed used one of Murphy's signature Delirious bits as the genesis for his Oscar-winning film. 
A vintage Eddie Murphy comedy bit helped form the bones of Jordan Peele's breakout film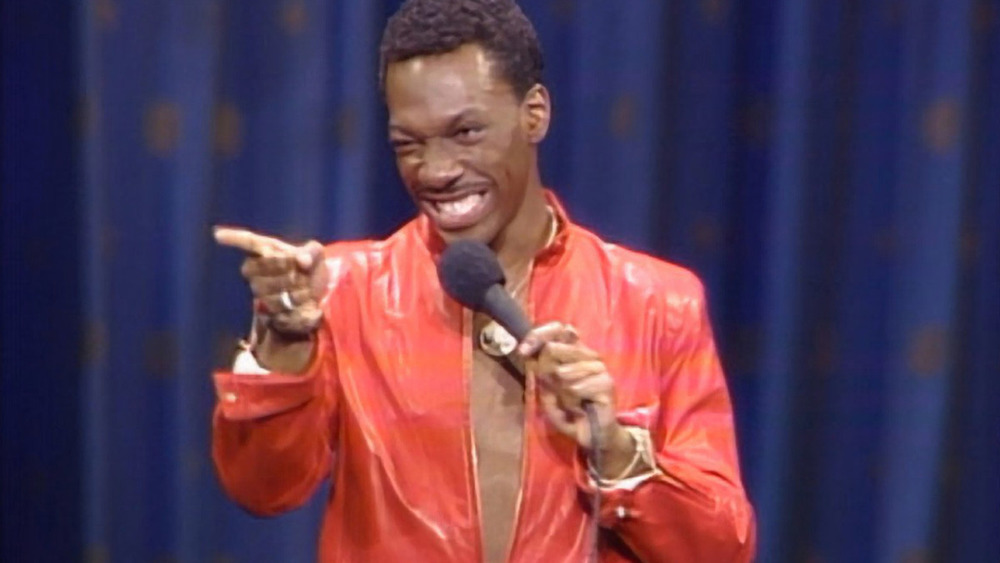 HBO
The vintage Eddie Murphy bit that so directly inspired Get Out actually finds the iconic comedian skewering horror movies themselves. More succinctly, the bit finds Murphy getting a laugh by pointing out the racial divides between how audiences react to typical horror movie quandaries. 
Murphy specifically points to classic creepers like 1979's The Amityville Horror and 1982's Poltergeist in noting how white people tend to ignore such bone-chilling happenings as a ghostly voice telling them to "get out" of this house or that, while Black characters would be far more motivated to follow such an ominous order.
So enamored with that hilariously on-point observation has Peele become over the years, he indeed borrowed it in titling Get Out before putting his own singular spin on the concept. Peele being so hip to Eddie Murphy's classic (if often shamefully homophobic) comedy hour should hardly come as a surprise, though. The Get Out mastermind did, after all, get his start in comedy via his beloved Key and Peele sketch series.
While Peele dabbles in comedy throughout Get Out, even the laughs tend to come with blatant racial undertones. They also tend to come barbed with a near-apocalyptic sense of dread that feeds into the ensuing drama in increasingly complicated ways — particularly when Kaluuya's character actually tries and to "get out," only to be foiled by a shocking betrayal.
In these moments, Peele manages to take Murphy's quippy observational jab at racial disparity and twist it into a stark exploration of a culture trapped and marginalized in every conceivable way by white society. And in that exploration, Get Out is no laughing matter at all.