New Cobra Kai Season 3 Clip Teases Mr. Miyagi Connection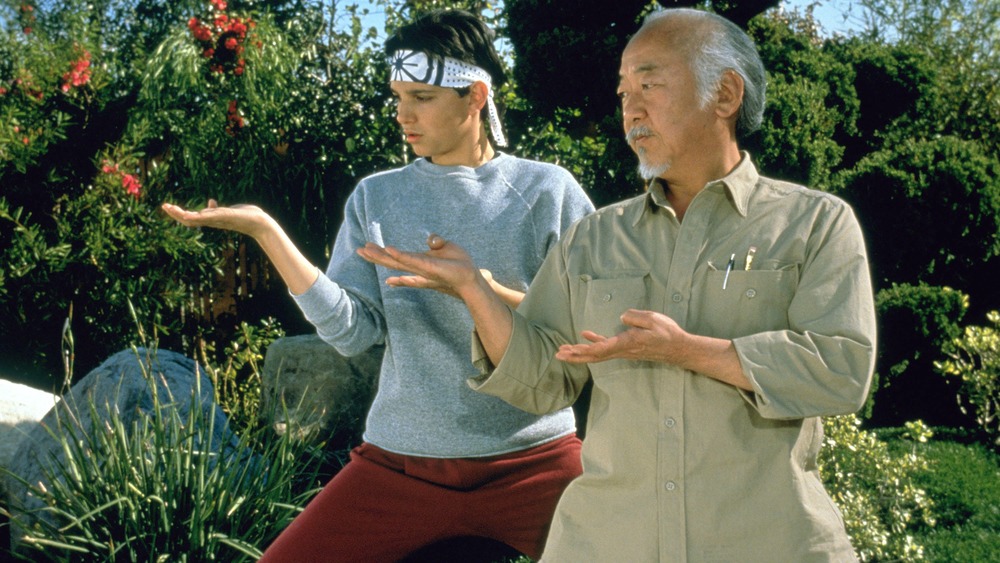 Columbia Pictures
Cobra Kai season 3 is dropping on Netflix at the start of 2021. That means we are very close to finding out the resolution to so many plot lines — whether Miguel (Xolo Maridueña) will walk again, what justice Robby (Tanner Buchanan) will face, how John Kreese's (Martin Kove) control of Cobra Kai will impact its students, and of course whether or not Johnny Lawrence (William Zabka) will be reunited with his high school sweetheart Ali (Elisabeth Shue).
Thanks to the recent trailer for Cobra Kai's third season, we found out about two other major character returns that long-time Karate Kid fans will be thrilled to see: Daniel LaRusso's (Ralph Macchio) brief girlfriend Kumiko (Tamlyn Tomita) and his former nemesis Chozen (Yuji Okumoto), both from The Karate Kid Part II.
We've known or a while now that Daniel would return to Mr. Miyagi's (Pat Morita) birthplace of Okinawa this season, but we haven't known all the particulars. Thanks to the latest Cobra Kai clip, which highlights one of the episodes in which Daniel returns to Okinawa, we find out a little more about his reunion with Kumiko. Not only do we see Kumiko and Daniel together, but we also get our first hints about how Daniel might commune with his former sensei Mr. Miyagi from beyond the grave.
Kumiko, Okinawa, and the Cobra Kai connection
Morita was the beating heart of The Karate Kid franchise, appearing as Miyagi in all of the original four films, and imbuing life into a now-legendary character — even though producers didn't even want to see him audition for the part. In Cobra Kai, Daniel keeps Miyagi-Do karate alive by teaching his students what Miyagi taught him. In that way, Miyagi speaks through Daniel, making his presence felt even though he can't physically appear. His absence actually feeds one of the core conflicts of Cobra Kai: the fact that Daniel has lost his way from Miyagi's teachings and turned towards revenge and even violence.
Returning to Miyagi's birthplace of Okinawa should go a long way to reconnecting Daniel to his old sensei. Certainly, seeing Daniel interact with Kumiko, who Miyagi cared for, also ties Miyagi back into Daniel's narrative in a way Cobra Kai has never achieved before. In this latest clip, Kumiko suggests that there's something more she can do to not only help Daniel reconnect with Miyagi, but also make it so that Daniel can be guided by his former sensei one more time.
How is it possible for Daniel to commune with Miyagi again? We don't know for sure just yet, but there are a number of people from Miyagi's past who hail from Okinawa, any of whom could still be alive. Perhaps in some way, one of them holds the key.
Cobra Kai season 3 comes to Netflix on January 8, 2021 — or possibly sooner.