Exclusive Clip: Get A Sneak Peek At The Sci-Fi Video Game Movie Max Cloud
Most of us have been here before: You spend hours trying to defeat the final boss in a platformer, first-person shooter, or shoot-'em-up video game, or you get lost inside the rich world of an RPG title or narrative-based adventure, and the lines between reality around you and the simulated world on the screen in front of you begin to blur. It's not uncommon to feel like you've been sucked into an video game when you sink so much of your time into it — but what would happen if you actually got trapped inside your favorite game?
That question is at the heart of Max Cloud, Well Go USA Entertainment's upcoming sci-fi comedy flick that finds a teenage gamer literally imprisoned inside her favorite side-scroller. Ahead of the movie's release on December 18, Looper is excited to share an exclusive clip from Max Cloud. 
Shown above, the clip sees Franz Drameh's character Cowboy getting the shock of his life when the video game he's playing starts talking back to him. At first, Cowboy thinks there's something wrong with the game and wants to reboot it, but the voice coming from the TV begs him not to restart the quest. The person talking to Cowboy is his friend Sarah (played by Isabelle Allen), a gamer who happened upon an Easter egg inside the game Max Cloud that inadvertently opened up a portal. Sarah was sucked inside the game, then turned into a character named Jake (whom she calls "literally the worst") and got trapped within a terrifying intergalactic prison that's home to the roughest, toughest, and most intimidating villains in the entire galaxy. 
It's up to Cowboy to help Sarah complete the game so she can return to the outside world — or else she'll be confined to a 16-bit life as Jake for the rest of time.  
Max Cloud features some awesome talent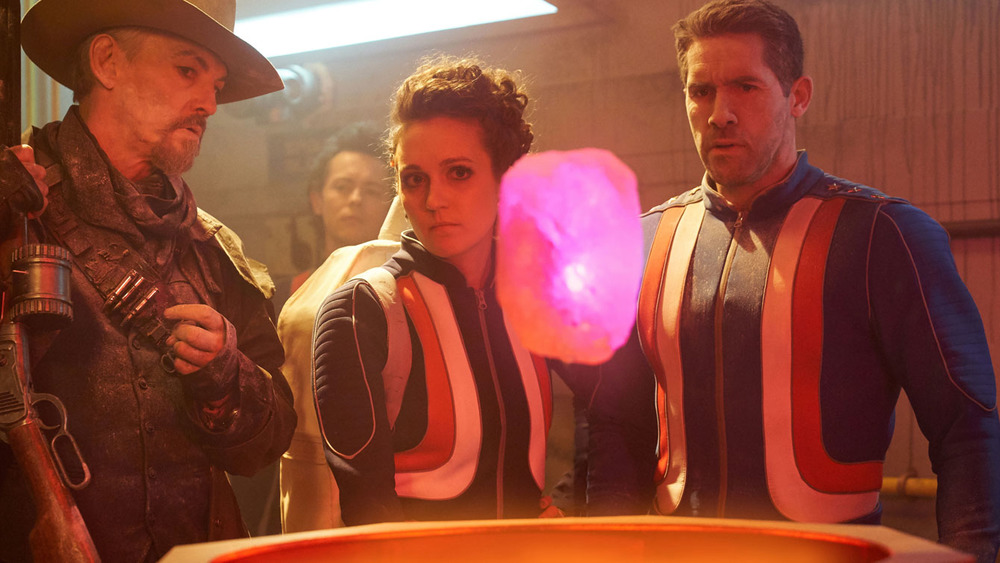 Well Go USA Entertainment
Alongside Drameh and Allen in Max Cloud are a handful of talented stars playing a variety of different characters. The most prominent is Scott Adkins, known for his work in Undisputed II: Last Man Standing (and its sequels), Ninja and Ninja: Shadow of a Tear, The Debt Collector, The Legend of Hercules, Ip Man 4: The Finale, Doctor Strange, Zero Dark Thirty, The Bourne Ultimatum, X-Men Origins: Wolverine, and many more. In Max Cloud, Adkins plays, well, Max Cloud — the hero of the game who takes all the goodness of a sci-fi protagonist and cranks it up to 11. 
Every hero needs a villain or two, and in Max Cloud, Lashana Lynch — whom you'll recognize from her role as Maria Rambeau in Captain Marvel, and who will become the first female 007 in the forthcoming James Bond movie No Time to Die — and BAFTA-nominated Scottish actor John Hannah fulfill those duties. Lynch portrays a character called Shee, while Hannah takes on the role of the vicious Revengor. 
As for Jake, the character Sarah has transformed into? Elliot James Langridge plays the physical embodiment of Jake (taken over by Sarah), who adventures side-by-side with Max. Joining the pair are Tommy Flanagan (Westworld, Guardians of the Galaxy Vol. 2) as the cowboy-hat-wearing Brock Donnelly and Sally Collett (who also co-wrote Max Cloud alongside director Martin Owen) as Rexy, who's likely going to be the voice of reason amid all the wacky antics bound to unfold. 
Max Cloud — formally known as The Intergalactic Adventures of Max Cloud — will be released on video on demand on December 18.