Daniel Craig's Last James Bond Scene Wasn't Shot As Originally Planned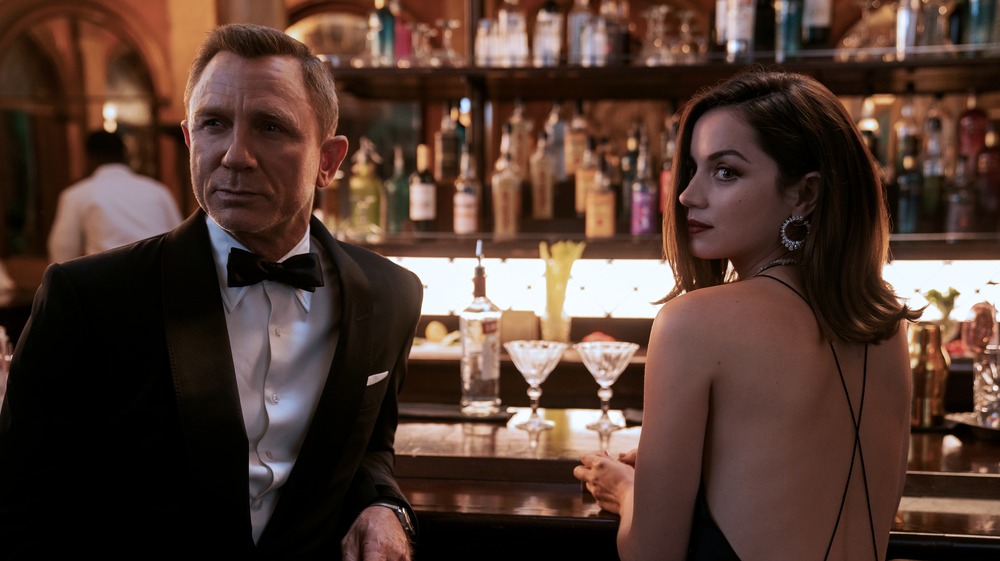 MGM/Eon/Sony Pictures
No Time to Die has arguably had one of the bumpiest roads to release any Bond movie. 
Now debuting on April 2, 2021, thanks to pandemic-related theater closures, the film was originally slated to release in late 2019. But due to director Danny Boyle departing over creative differences and a series of script rewrites, it was pushed back until February 2020 with Cary Joji Fukunaga hired to direct. It was then delayed again until April 2020 after No Time to Die experienced a late-stage production halt when star Daniel Craig was flown to the U.S. for X-rays following an incident while shooting in Jamaica. Craig was reportedly sprinting during one of his final scenes for the movie before he slipped and fell awkwardly on his ankle (via Variety). The subsequent shoot at London's Pinewood Studios was canceled as a result. 
But that incident didn't just alter the film's release date. It also impacted where the movie was able to resume filming, and ultimately which streets audiences will see Craig sprinting down. A GQ magazine interview revealed that Craig had filmed his final shot as James Bond on a Havana streetscape-themed backlot at Pinewood Studios, on which he was being chased down a fake Cuban alleyway. That was despite plans for a Caribbean-based scene filmed in the spring, which was ultimately scrapped after his fall resulted in ruptured ankle ligaments and required surgery. "It feels like, 'How the f*** are we going to do this?'" Craig said of the movie's complicated production history. "And somehow you do."
Daniel Craig's No Time To Die injury is one in a long line of Bond-related accidents for the actor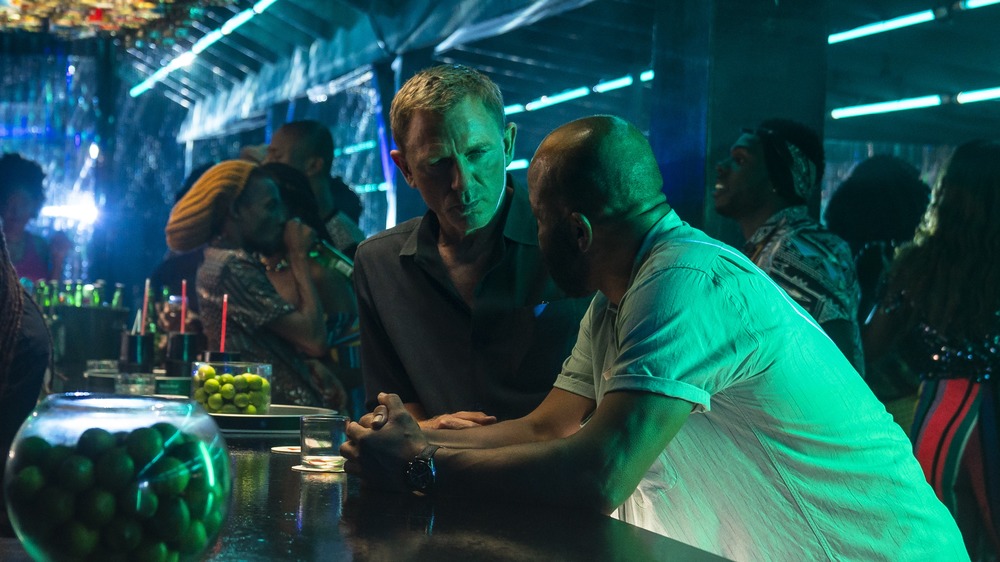 MGM/Eon/Sony Pictures
The actor's injury changed how his final moment as the iconic British secret agent unfolded. But while Craig chalked part of it up to his age, telling GQ, "You get tighter and tighter. And then you just don't bounce," it was hardly his first bad run-in with stunts. 
Craig experienced a bad accident on just about every one of his five Bond movies while performing many of his own stunts. During his initial turn as 007, the actor had two of his teeth knocked out while completing his first stunt scene in Casino Royale. Following his debut, he sustained a series of other injuries, ranging from the cringy to the downright head-spinning. According to Variety, that includes incidents in which he tore a shoulder muscle and sliced off a fingertip on the Quantum of Solace shoot before injuring a knee in a fight scene filmed for Spectre. 
Of course, this is on top of a long history of stunt injuries on Bond sets, including a broken rib for Famke Janssen on 1995's GoldenEye and Halle Berry's Die Another Day eye injury, which required surgery after shrapnel from a smoke grenade hit her eye. Still, Craig holds the record for the number of injuries sustained by an actual Bond actor (via CinemaBlend). 
With his No Time to Die injury, it seems Daniel Craig has (painfully) come full circle as the famous cinematic spy.