Netflix Movie Moments You Never Realized Were Improvised
It's no secret that improvisation has resulted in some of the most iconic lines in movie history. Without the creativity of certain actors, we'd never be able to recite classic film quotes like, "Here's Johnny," "All right, all right, all right," and "You're going to need a bigger boat." Even the most meticulously scripted films are sometimes made better by the quick thinking of their cast and creatives, who tweak their dialogue or actions just enough to elevate what might be a good scene into something unforgettable. Some filmmakers even rely on their actors to find the right words in critical movie moments.
But while comedies are often most well known for those stellar improv moments, you can also find some unscripted gems tucked into rom-coms, action flicks, and even the most celebrated dramas. Ad-libbing has become a very important component of the filmmaking process as a whole, including in some of Netflix's most popular originals. Let's take a look at some of the Netflix movie moments you might not realize were improvised.
Aaron Paul brought back a signature phrase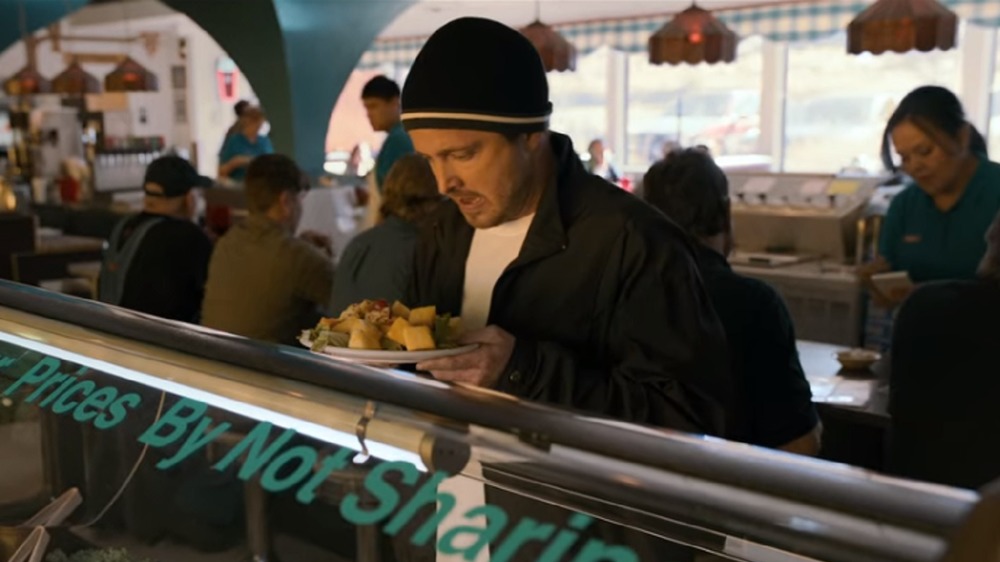 Breaking Bad fans were excited about the epilogue El Camino for many reasons, not the least of which is that we get to see Jesse Pinkman (Aaron Paul) reunite with his former mentor Walter White (Bryan Cranston). Even though most of the film takes place after the events of Breaking Bad's finale — and, thus following Walt's death — El Camino brings the two back together in a flashback to a more optimistic time for them both. 
In addition to being a satisfying reunion, the scene also features Jesse using his signature line one last time. Surprisingly enough, though, that callback is owed to a bit of improv by Paul. It may seem like a no-brainer for Jesse to drop his infamous "yeah b****" phrase in El Camino, but the line was not originally in the script. Paul revealed on Conan that after noticing that his word of choice was missing from the movie, he found the perfect place to drop it in himself, during the scene with Jesse and Walt at the diner. 
"It was just a spur of the moment thing," Paul remembered. "When I placed a tomato on top of the salad, it just came out... I know this guy so well, it just came out. I didn't even mean for it to happen. And I just said, 'Yeah, b****.'" It's a good thing he did, too. Just as El Camino would not have been complete without Walt, fans might've felt like something was missing if we didn't hear Jesse utter his favorite five-letter word one last time in the film.
Keanu Reeves knew just how to make an entrance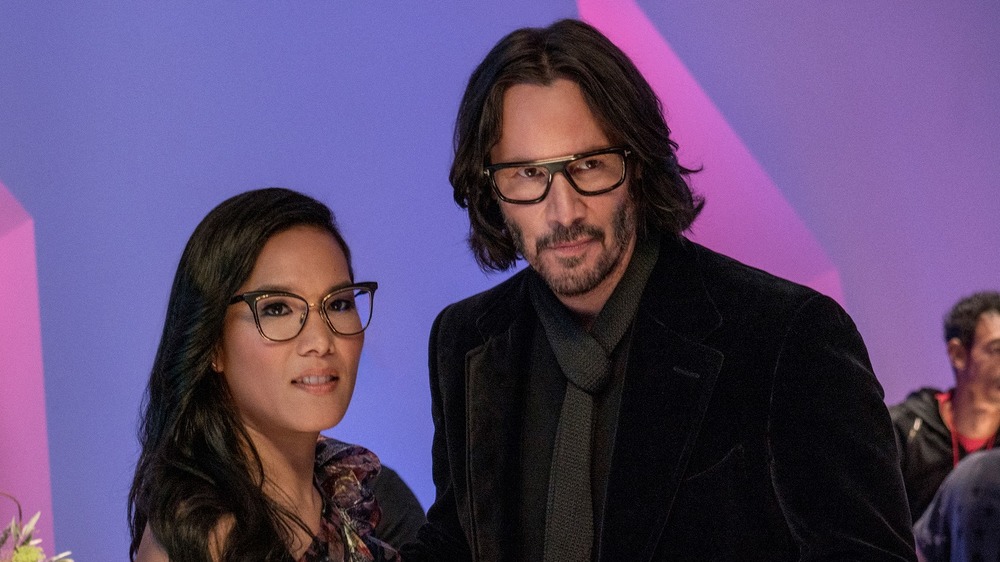 Doane Gregory / Netflix
It's hard to pick a year when Keanu Reeves has not been on top of the world, but that was especially true in 2019 when he became the king of the GIF thanks to his indelible performance as, well, himself in Always Be My Maybe. Reeves was an inspired choice for the role of Sasha's (Ali Wong) new boyfriend who was sure to make Marcus (Randall Park) exceedingly jealous, especially since Reeves brought his own characteristics and charisma to the role.
In an interview with Rolling Stone, Wong revealed some of the details Reeves came up with for the character when he met with her and director Nahnatchka Khan to discuss the project. "He pitched a couple of things that made it in," Wong told the magazine. "Like wearing glasses that had no lens... And the part in the game night scene where he lists all of these Chinese dignitaries, that was all his idea." 
Perhaps the funniest moment that came straight from Reeves' own brain was the fight scene when he randomly starts practicing The Matrix-like karate moves after a fight. Wong pointed to that moment as another of Reeves' brilliant additions to the story, noting, "When he says, 'I don't have a problem, Sasha. What's your problem?' and starts air-fighting. It's hard to describe just how shockingly funny he is."
Noah Centineo earned his status as the internet's boyfriend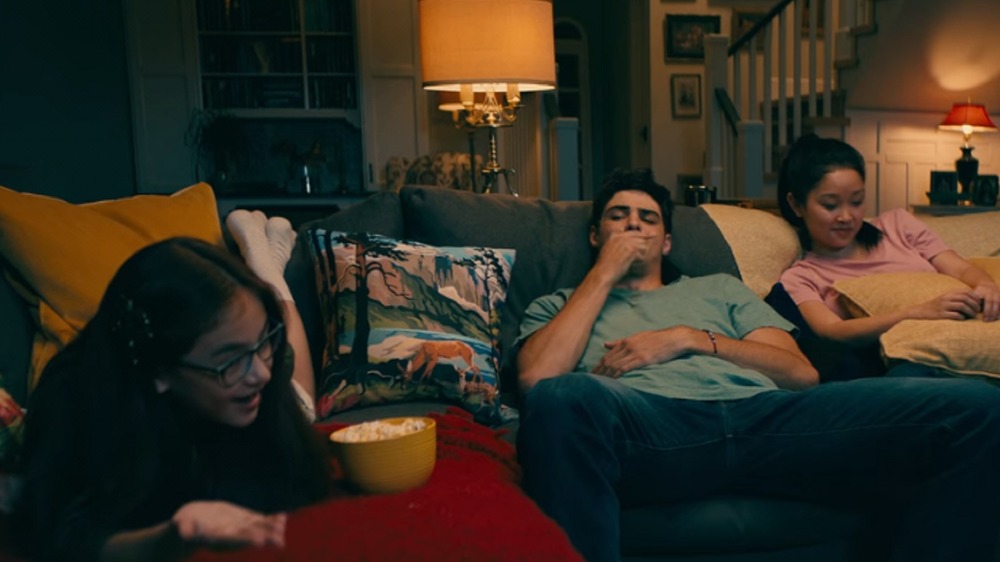 Netflix
It's not just Noah Centineo's winning smile that earned him the title of the internet's boyfriend when To All the Boys I've Loved Before dropped in 2018. Centineo is also personally responsible for some of the most charming Peter Kavinsky moves of the entire film. Director Susan Johnson, who helmed the adaptation of Jenny Han's beloved YA novel, spoke to Entertainment Tonight about the many scenes to which Centineo brought his own touch, and now it's even harder to imagine anyone else in the role.
According to Johnson, it was Centineo who decided to move Kitty's (Anna Cathcart) popcorn bowl out of the way before engaging Lara Jean's (Lana Condor) little sister in a friendly pillow fight. "I didn't ask him to do it. Kitty didn't place it there every time, but she did that time and he was clever enough to figure out how to move it while throwing a pillow and leaning over, and I thought that was brilliant so we kept that take," Johnson explained. 
Even more inspired was Centineo's impromptu move to introduce the pocket spin with Lara Jean during their swoony cafeteria scene. "He did it in the rehearsal and I was like, 'That is beautiful, we're going to change the shot around!' He's a natural flirt so he knew what he was doing." So, as it turns out, the most envy-inducing move Peter ever makes in the movie is all Centineo. No wonder the world is collectively crushing on this guy.
Yalitza Aparicio's heart was breaking right alongside ours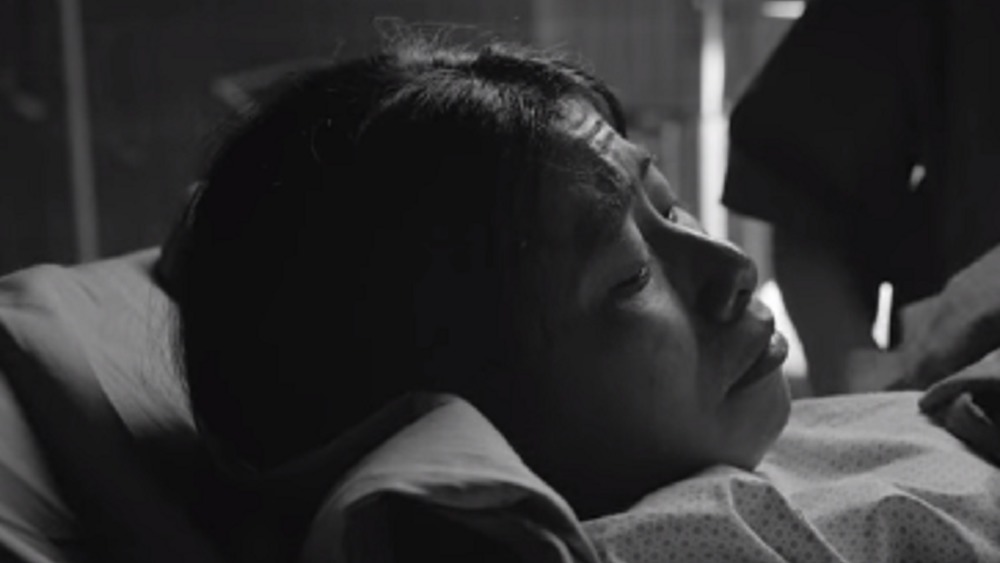 Netflix
Alfonso Cuaron's Roma was one of the most celebrated films of 2018, with the writer-director taking home three Academy Awards for his work on the semi-autobiographical feature. The film's lead actress, Yalitza Aparicio, was also nominated for multiple awards for her haunting portrayal of indigenous housekeeper Cleo, and it was the first-time actress' own raw reaction to a key development in the film that made the movie's most heartrending scene even more impactful.
Cuaron revealed to Indiewire that he used a novel approach to his black-and-white ode to his heritage in Mexico, allowing the script to be molded by the cast's choices and the flow of production as it was filmed in chronological order. Per Variety, for the scene in which Cleo delivers a stillborn baby, Cuaron originally intended for the character to reject the chance to hold her lost infant's body, but since he had not given Aparicio a full script for the scene, what unfolded was instead the actress' own authentic reaction to such a devastating moment. 
Cuaron later described how much Aparicio's choice to briefly hold the baby affected him, telling Indiewire, "It broke my heart to see her crying. And I yelled 'cut' and I went to hold her. We were capturing her real reaction to the moment." Ultimately, it was Aparicio's raw response that made the cut and inarguably helped make the movie as great as it was.
Stephen Graham got the jump on his heroes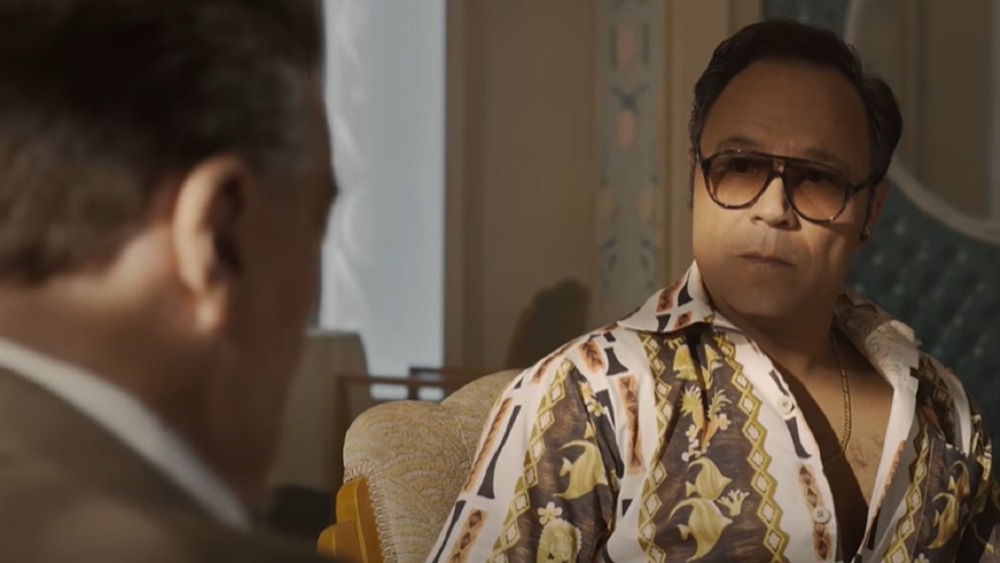 The Irishman is based upon the real life story of how Frank Sheeran (Robert De Niro) fell into and out of favor with the Bufalino crime family over the course of two decades. But even still, there was room for a little improvisation in Martin Scorsese's epic drama. Actor Stephen Graham, who portrayed Anthony "Tony Pro" Provenzano was particularly thrilled to bring some of his unique flair into the film and improvised not one but two of its most memorable scenes.
In a key prison scene with Al Pacino as Jimmy Hoffa, when Tony Pro confronts Hoffa in the cafeteria, he slaps the ice cream out of Hoffa's hands. According to Graham, he was the one who added that cherry on top of the scene. Graham told Esquire that he didn't warn Pacino or Scorsese beforehand, saying, "I didn't tell Al, I didn't tell Marty –- I told the cameraman and the props department, just to make sure we had enough." Apparently, Pacino liked his aggressive move and responded by saying, "Did you see that Marty? That kid frightened me!" 
Graham said he also encouraged De Niro to speak up in a scene that would otherwise have him remain silent, as Tony Pro and Hoffa disagree over how late he is to their meeting. "I just went bosh: just looked round and went, 'What do you think Frank?' And he says the best line in the scene, he goes: '12 and a half.'" Not many actors can say they improved on a Scorsese scene, but it appears that Graham has that rare distinction twice over.
Winston Duke's dog meditation moment was all natural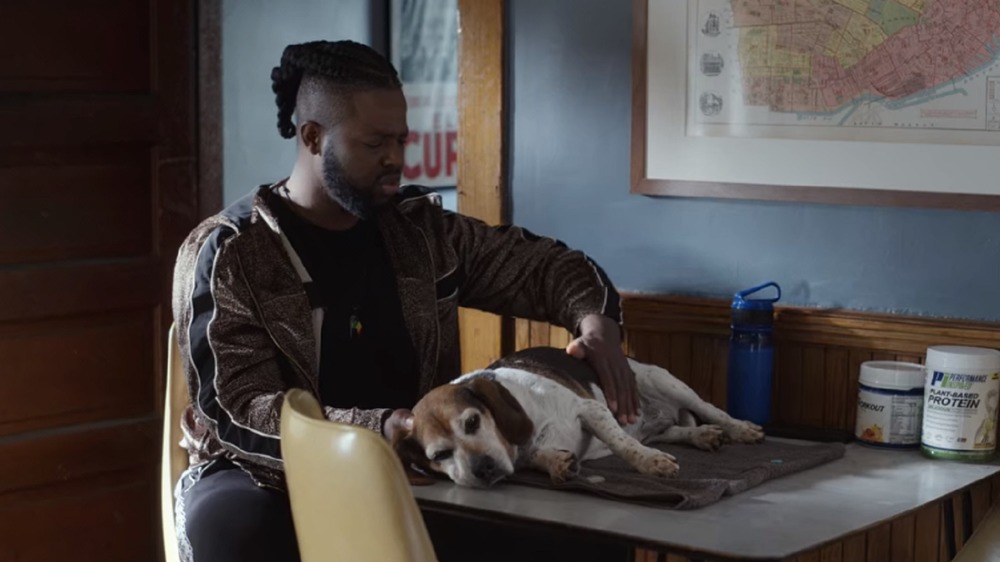 Netflix
Mark Wahlberg and Winston Duke are certainly the ones driving the action in Spenser Confidential, but there are also some majorly effective supporting players that make the movie even more fun. Alan Arkin's Henry is the smart-mouthed mentor who keeps the characters and audiences on their toes; Iliza Shlesinger's Cissy Davis is the unpredictable and fearless former girlfriend with a heart of gold beneath all her tough talk; and, let's face it, the real scene-stealer of the whole thing is Spenser's fur-baby Pearl, who brings her tail-wagging energy to some key moments in the movie.
Pearl is particularly effective at making the already-miffed Spenser feel even more perturbed by what he is coming home to after a stint in the slammer. Spenser comes to stay at Henry's home and discovers that not only does he have a new roommate in Hawk, but Hawk has also become best pals with Spenser's beloved dog Pearl. To show just how much Hawk has bonded with the pup, he even massages Pearl's head and back and begins to meditate with her on the kitchen table, much to Spenser's chagrin. 
Duke told Decider that he came up with the idea himself, saying, "That was all improvised. We just wanted a moment. I was like, 'I'll just do some reiki on the dog!' I looked up you know what to do, watched some videos, and then I practiced on Pearl. And she actually relaxed!" Of course, we can't blame the pooch for enjoying a little pampering on the job. Who wouldn't?
Michael J. Fox crafted his own callback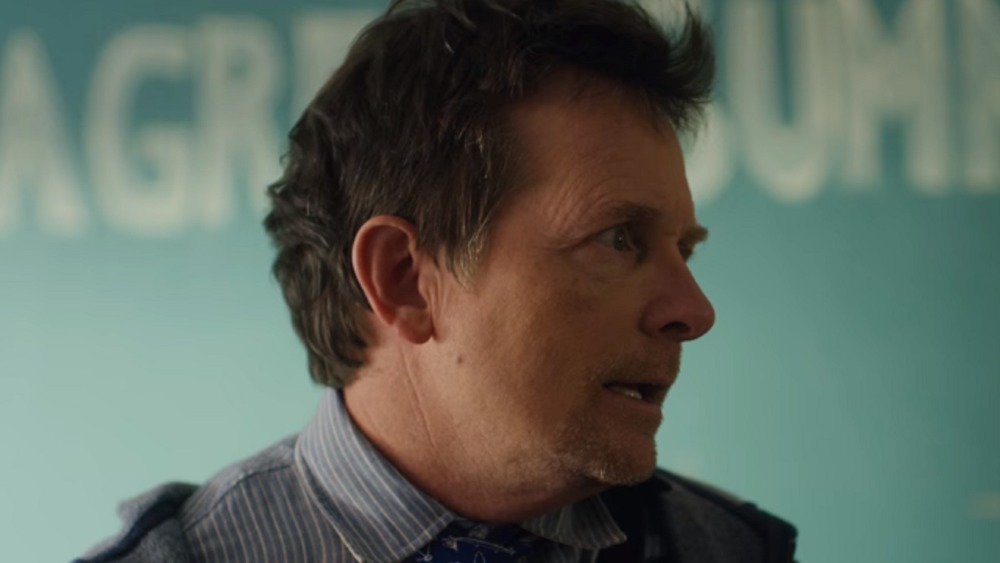 Netflix
Michael J. Fox's very presence in a film about a couple of high school kids experimenting with time travel would be Easter egg enough for any sci-fi movie fan, but the actor managed to make his part in See You Yesterday even more meta with a simple turn of phrase. Fox appears in the film as the high school teacher of young science genius C.J. Walker (Eden Duncan-Smith), who talks to him about her interest in time travel. He discourages her from pursuing that complicated endeavor, but after C.J. leaves with her best friend Sebastian (Dante Crichlow), he mutters in frustration and surprise, "Great Scott." That, of course, is a direct nod to the Back to the Future franchise that made him a household name, and according to director Stefon Bristol, the line wasn't even planned.
Bristol revealed that it was Fox who decided to throw in the classic line from his career-making films. "I did not direct him to say that!" Bristol told ScreenRant. "In the script, it was a completely different line. We wanted to tickle, with a nod. We didn't want to go overboard. So I told him, once we have the take, once we have the scene, you can do whatever you want. As a director, you just let them do whatever they want once you've got the scene. So we do a couple more takes, and once he said 'Great Scott,' the whole set went bananas!" Now we have to wonder if Bristol wishes he could time travel just to relive that moment again and again.
Dominique Fishback proved to be quite the film buff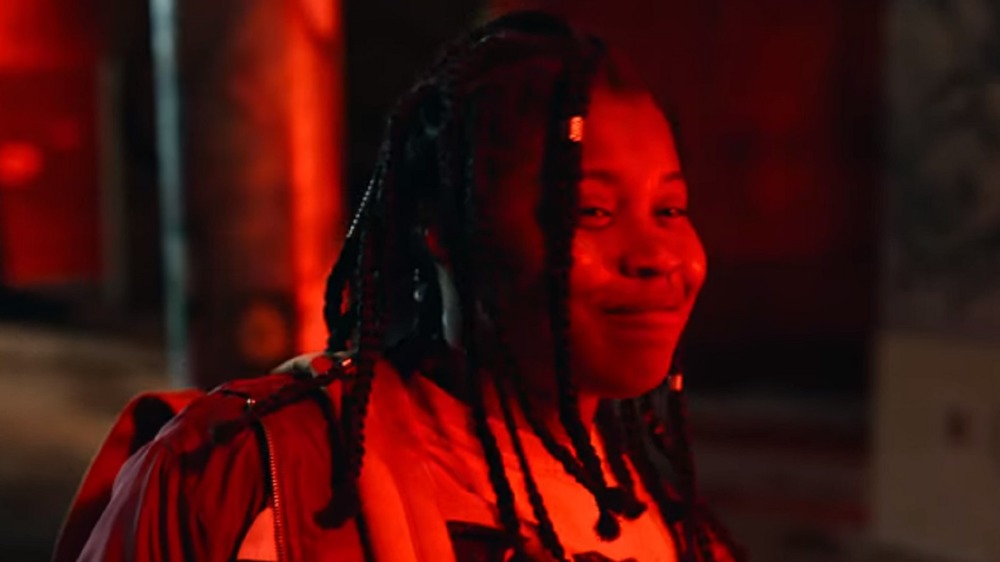 Netflix
It doesn't take Dominique Fishback long at all to make a lasting impression alongside her A-list co-stars in Project Power. In her very first scene in the gritty action film, her character Robin is rescued from would-be thieves by Joseph Gordon-Levitt's New Orleans police officer character Frank Shaver, who rides in on his motorcycle and thwarts a group attack on Robin.
Soon after the threat is vanquished, Robin teases Frank for being as dramatic about the encounter as an old Clint Eastwood character. When he asks what she possibly knows about Eastwood's career, she tells him she's seen The Bridges of Madison County. Per Gordon-Levitt, it was Fishback who came up with that reference. 
Speaking to The Hollywood Reporter, he noted, "That's one of my favorite lines in the movie, and she just totally improvised it." Gordon-Levitt also told Collider that he and Fishback worked together to invent their own version of their characters' backstory ahead of filming the movie, saying, "We decided to just do some improv about how these two met. Because they're an unlikely pair. It's a high school student and a detective... we had this history in place that we had experienced and I think you can feel that."
Nick Swardson gave his own character some liquid courage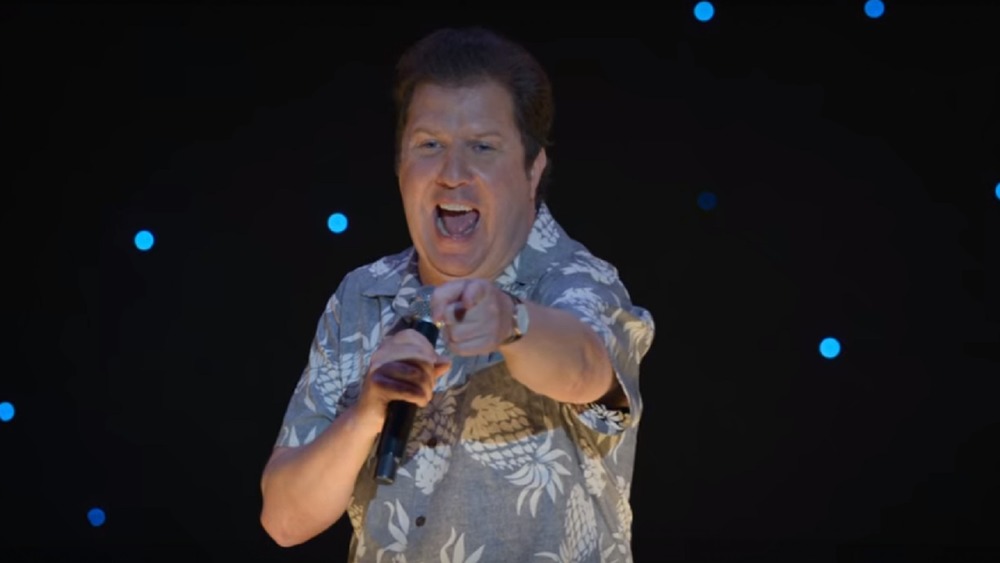 Netflix
For his part as Nate, the best friend of a guy who mixes up Missys in The Wrong Missy, Nick Swardson takes the idea of an open bar a little too far. In the film, as his bestie Tim (David Spade) sorts out his confusing connection to Missy (Lauren Lapkus) at a corporate retreat, Nate has the time of his life on the company-sponsored vacation and emcees his colleagues' talent show from the bottom of a bottle.
According to Swardson, it was his idea to play the hilarious sequence with so much intoxication, because he insisted that is exactly how it would go down in real life. The actor told ComingSoon, "It wasn't in the script to play it hammered, and I was like, 'No, my character is such a f***ing loose cannon he should be drunk.'" Swardson cited his own experience traveling and seeing people on company getaways saddled up to the bars, saying they would absolutely be "annihilated" whenever he saw them in person. After proving his case and getting his way, what audiences are left with is an even messier version of this talent show that was always bound to go off the rails.