The Pam Creation From The Office That You Can Finally Own For Yourself
NBCUniversal
As fans of The Office probably know, Pam's art has been part of storylines on more than one occasion. The heartwarming episode in which Michael Scott was the only Dunder Mifflin employee to attend Pam's show at a local gallery stands out as a moment where Pam's art really took center stage, but her prowess with a pencil made another memorable appearance in the seventh season of the show, when she drew a personalized comic book as a Christmas present for Jim — a comic that fans can now own for themselves.
In the episodes in question — episodes 11 and 12 of season 7 — Pam reveals that she's been working on a comic book called The Adventures of Jimmy Halpert, a story about "Jimmy Halpert, a mild-mannered paper salesman who, while riding his bike through the forest, is bitten by a radioactive bear [and] becomes Bearman [and] wreaks havoc on the office." After overcoming a sudden onset of self-doubt after receiving an expensive bracelet as a gift, Pam finally gives Jim the comic in episode 12. Unsurprisingly, Jim — aside from telling Pam that the comic is "awesome" — is largely left at a loss for words.
Even better, fans who are dying to know what happened to Jimmy Halpert can now check out the full comic for themselves, and just in time for Christmas.
The Adventures of Jimmy Halpert is available to purchase online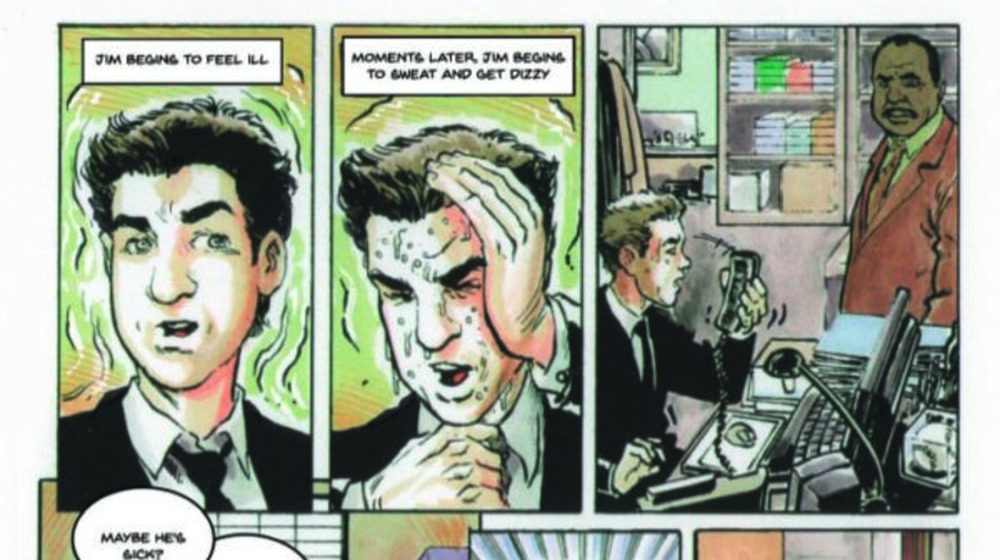 Dundler Mifflin Paper Company/Tone Rodriguez
Fans can visit the mock official Dunder Mifflin website, a fan website for the fictional Dunder Mifflin Paper Company that sells Office-themed collectibles, and pre-order Pam's comic for only $20. A few preview pages available on the product page show the fictional Jimmy Halpert first getting attacked by a radioactive bear and later turning into a bear at the office. According to the @theofficecollectables Instagram page, artist Tone Rodriguez drew The Adventures of Jimmy Halpert comic. 
Though the listing for the comic on the mock Dundler Mifflin website is (as of this writing) only for pre-orders, on December 5, the @theofficecollectables Instagram account replied to a fan who asked when the comic would be released; the account answered, "Next week."
Judging by that response, it appears that copies of The Adventures of Jimmy Halpert may be available to be shipped out and arrive at your door before Christmas Day, which is good news for Office fans who are hoping to have a romantic Jim and Pam moment of their own this year. 
But Pam's comic isn't the only collectible fans of the show might be interested in. The Dundler Mifflin Paper Company merch site is also accepting pre-orders for a graphic novel version of Threat Level Midnight, Michael's infamous screenplay that the Office crew made into a movie in a hilarious season 7 episode. That particular collectible won't be available by Christmas, according to the website, but the fact that it will be available at all is still a dream come true for Office fans.