The Office Just Dropped A Full-Length Film Online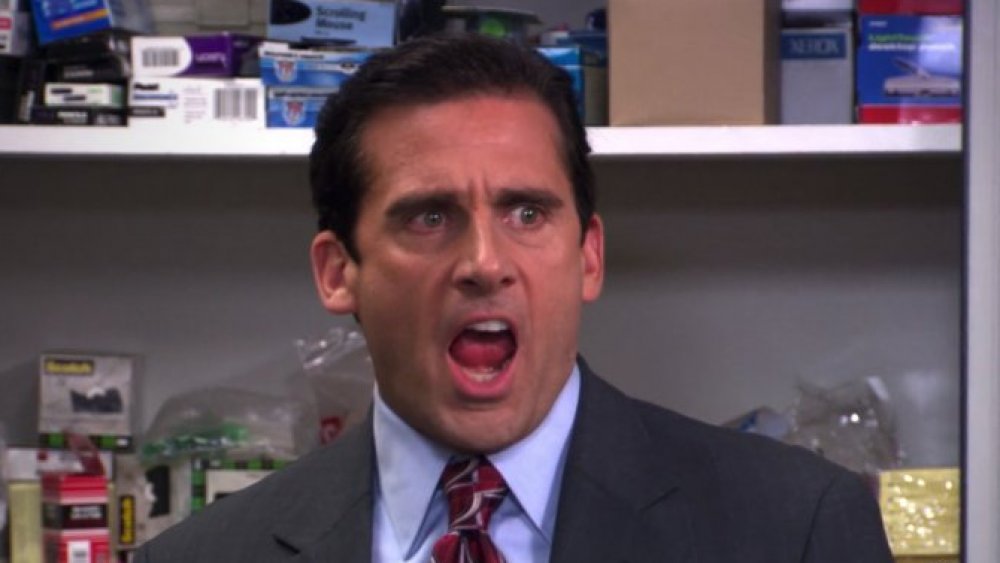 The Office finally has its own spin-off movie — sort of.
Years after the employees of Dunder Mifflin packed up and went their separate ways, NBC has seen fit to release the entire, uncut version of Michael Scott's (Steve Carell) magnum opus, Threat Level Midnight.
Of course, fans of The Office already saw plenty of scenes from Threat Level Midnight back in the show's seventh season, just before Carell (and Scott) left Scranton for good, but this previously unreleased 25-minute version features the entire film. Any Office fan, whether or not they've caught this new version yet, can recall the basics about Threat Level Midnight, which tells the literally unbelievable story of Agent Michael Scarn and his insane yet heroic exploits.
Originally introduced into the NBC lineup as a mid-season replacement in 2005, The Office quickly became one of the most beloved shows of the 21st century, ushering in a whole slew of mockumentary shows and making its stars — including Carell, John Krasinski, and Mindy Kaling, just to name a few — into household names throughout its nine season run. Though it concluded in 2013, it's remained one of the most endlessly rewatchable shows of all time — and even though it will soon leave its longtime home of Netflix for NBCUniversal's new streaming platform Peacock, it will surely remain as popular and quotable as ever.
The real story behind Threat Level Midnight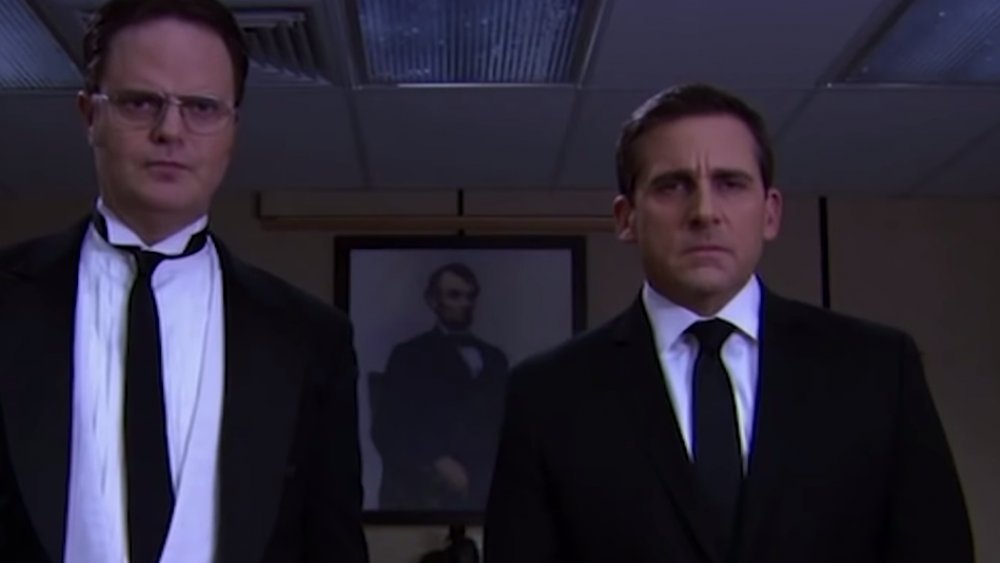 If you're an Office newbie or simply haven't watched the entire series in a while, here's a bit of a refresher on Threat Level Midnight, one of the longest-running gags in the entire show — which also delivers one of The Office's best and most memorable payoffs.
Threat Level Midnight got its humble start when its unproduced script was discovered by the staff of Dunder-Mifflin during the second season episode "The Client." While Michael is out wooing a potential new client, his employees stumble upon his working script for Threat Level Midnight, so naturally, they hold a full table read. However, that goes awry after a hurtful snafu in Michael's script reveals that his hapless, bumbling sidekick was originally named Dwight (after Rainn Wilson's character), but since search-and-replace doesn't cover typos, one lone "Dwigt" tips the office off to the character's real origins.
After that, the project remained one of the show's most enduring references, but Michael's movie didn't actually surface until the seventh season, in an episode titled "Threat Level Midnight," as part of a run of episodes that served as Carell's swan song. The film ultimately finds Agent Michael Scarn hiding out in retirement after the death of his wife, Catherine Zeta-Scarn, when he's called in for one last job at the request of the President (played by Craig Robinson's Darryl). With Jim Halpert (Krasinski) as the villainous Goldenface, the film features everything from ice hockey to a signature dance called "The Scarn," and yes, it's just as ridiculous as it sounds.
Because The Office is such a perennial favorite, there's never a bad time to release more footage, so it feels like a pretty perfect holiday surprise to give the full cut of Threat Level Midnight to the millions of Office fans around the world. If you haven't checked it out yet, settle in, grab your popcorn, and cue up the video for a pretty wild ride alongside your favorite Dunder-Mifflin employees.