First Photos Of Hailee Steinfeld As Kate Bishop Are Seriously Awesome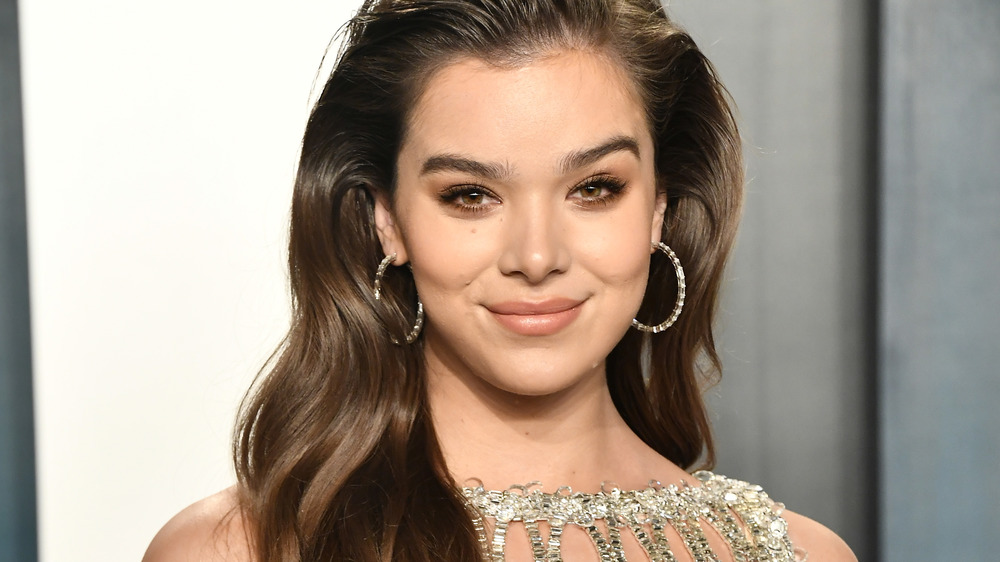 Frazer Harrison/Getty Images
Like WandaVision and The Falcon and the Winter Soldier, the upcoming Disney+ series Hawkeye continues the Marvel Cinematic Universe's small-screen invasion. While no one can truly tell what an MCU show will be about until it actually drops, we do know that Jeremy Renner's Clint "Hawkeye" Barton will be joined by fan-favorite characters like Lucky the Pizza Dog, as well as one of the most important characters in the Hawkeye corner of the Marvel universe: Kate Bishop, Barton's protégé, whose codename is also Hawkeye. 
As the rumor mill predicted, Hailee Steinfield will star as Bishop, marking her second foray in the world of Marvel superheroes after voicing Gwen "Spider-Woman" Stacy in 2018's animated hit Spider-Man: Into the Spider-Verse. With the talented actress in the role, fans are understandably interested to see just how she looks in Bishop's Hawkeye gear. Fortunately, first-look photos of Hailee Steinfeld as Kate Bishop have now emerged — and fans have no need to worry, because they're seriously awesome.
Hailee Stansfield looks the part in her Hawkeye uniform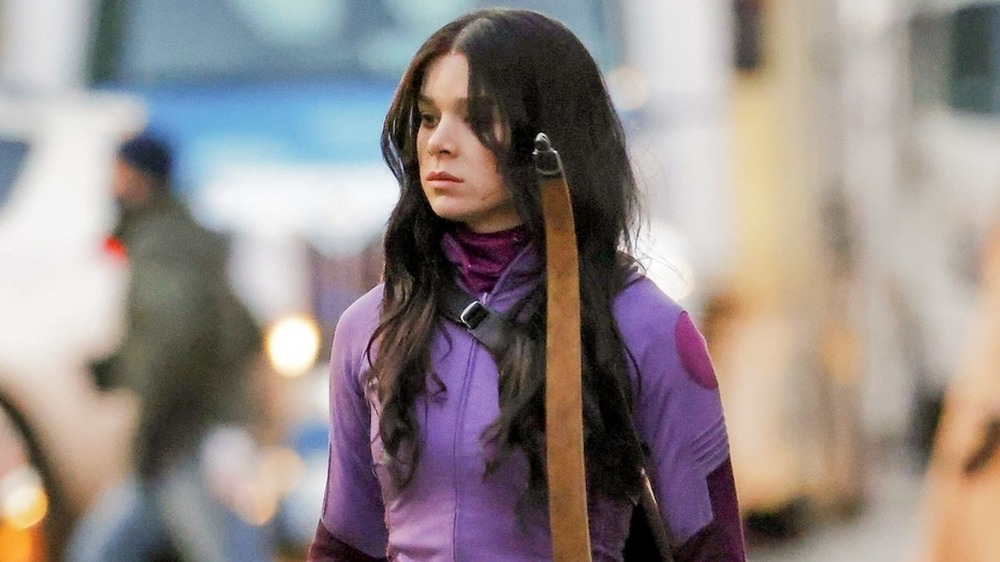 Backgrid
Courtesy of Backgrid, Looper has obtained photos that show Steinfield in her stellar Hawkeye uniform, which appears to be noticeably faithful to the comics version — right down to the cartoonishly purple color of the top and the signature "hole" on the shoulder. The uniform's pants have been changed from purple to a rather more muted black, and the design is somewhat more practical than some versions of Bishop's comic book gear. All in all, it's a very convincing and functional outfit that's rooted in real-world practicality, while still keeping the character instantly recognizable. Get a closer look in the image below.       
According to Backgrid's intel, the images were captured in the Lower East Side in New York, where Renner and Steinfield are shooting Hawkeye. The scene in question reportedly features Steinfield and Renner walking down the street, as Steinfield's character accepts an arrow Renner's character offers. Talk about symbolic "passing of the torch" moments.
Kate Bishop is about to take the MCU by storm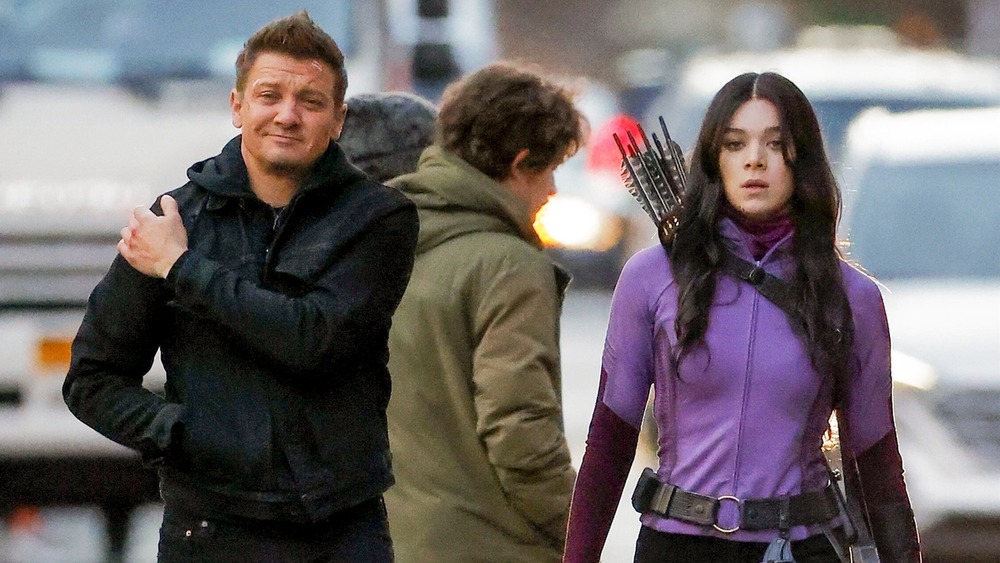 Backgrid
Like Barton, Bishop is an extremely talented archer, but other than that, she's a very different character. While it remains to be seen how Hawkeye will handle her characterization, the comic version of Bishop is a fundamentally optimistic and independently wealthy heiress to Bishop Publishing. The younger Hawkeye's positive outlook and irreverent attitude make her a cooler — yet much less stoic — character than her deadpan Avenger counterpart. This bodes well for the two Hawkeyes' on-screen chemistry, as well as Bishop's future in the MCU. 
In many Marvel avenues, Bishop is very much a rising star. She's been an integral character in some of the best comics Marvel has published in the 2010s, and the Marvel's Avengers video game's expansions actually introduced her before the original Hawkeye. As such, there are already whispers that Barton may pull a Captain America and excuse himself from the MCU after Hawkeye in order to let Bishop carry on his legacy in Phase 4. We won't know if that's true until the show drops on Disney+, but based on these first pictures of her outfit, we can be sure that Bishop is certainly dressed for success.