Rob Paulsen Teases The Return Of Rick And Morty's Snowball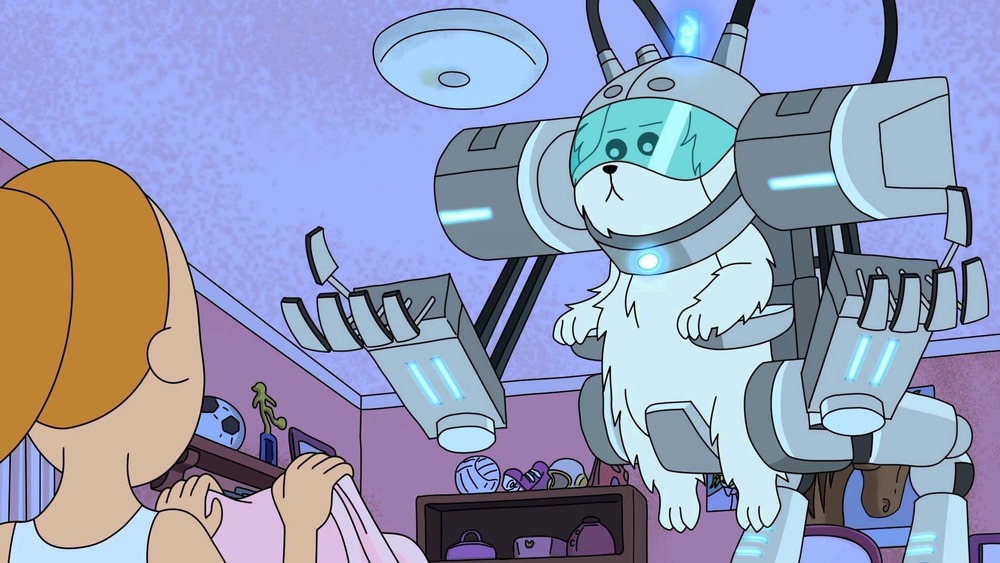 Adult Swim
Rick and Morty remains a go-to destination for anyone seeking their regular fix of heady sci-fi and absurd comedy. The series has come a long way from relatively straightforward episodes involving smuggling alien fruit to far-out intergalactic battles with the space-government, and while the series tries hard to avoid any hard serialization, the creators still manage to throw in fan service every now and then by bringing back popular characters like Mr. Meeseeks (voiced by Justin Roiland), look at me.
The Rick and Morty season 4 finale saw the Smiths take out the lingering threat of Tammy (Cassie Steele). Meanwhile, Rick has captured Phoenixperson (Dan Harmon), apparently with a plan to get him back to normal, while both Beth (Sarah Chalke) and her clone have resolved to live together in a state of cooperative anti-Rick detente. That's pretty buttoned up, as far as Rick and Morty plots go.
A recent first-look at Rick and Morty season 5 revealed the introduction of a new foe by the name of Mister Nimbus. While these new characters are welcomed with open arms, fans are still hoping for the return of a character who hasn't had a speaking role since season 1: Snowball. Chances are the creative team behind the series is just waiting for the perfect moment to bring the pooch back, as both show creator Justin Roiland and voice actor Rob Paulsen have expressed interest in having Snowball return to the series. 

Snowball may be coming back for his human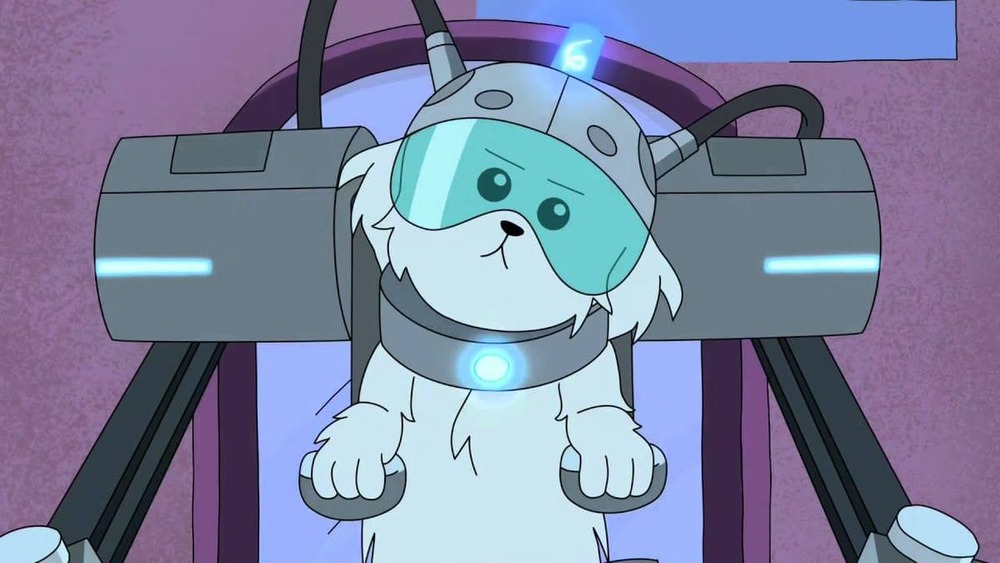 Adult Swim
In an interview Rob Paulsen did with Inverse, the voice actor explained that while he's brought plenty of characters to life over the years in cartoons, he keeps coming back to Snowball the dog from Rick and Morty. "I so hope he comes back," he said. "Justin can call me anytime any day."
In the episode "Lawnmower Dog," Snowball (formerly known as Snuffles) is the Smith family dog who gains hyper-intelligence when Rick designs a helmet that allows the dog to understand human speech. However, the technology soon gets out of hand with Snowball making enhancements, leading to a new race of super-smart dogs bent on world domination. Realizing the error of his ways, Snowball takes his intelligent compatriots to another dimension, leaving the humans to take back control of theirs.
He's still out there somewhere in the multiverse, so a return in a future episode of Rick and Morty wouldn't be out of the question, and the idea to bring the dog back has been ruminated on for a while. Back in 2017, creator Justin Roiland said in an interview with The Daily Beast, "We have a ton of seeds that we've planted that we could come back to. There's a bunch that I would do something with, but the one that I would really love to think about more is Snowball. I feel like that could potentially be really cool." 
As he goes on to say, the writers are careful about getting too invested in fan service: "We would need a really good reason or a really good idea before we would jump into something like that because then you end up doing it for the sake of doing it and it just becomes this empty fan-service kind of thing where it's not being done for the right reasons." 
Snowball made a brief return to the series in the season 4 episode, "Never Ricking Morty," but the pooch didn't have any lines. Still, with such a talented writer's room, the perfect story involving Snowball may just be around the corner in season 5 of Rick and Morty.