Tim Allen Revives Home Improvement Character On Last Man Standing
Tim Allen meets Tim Allen of the 1990s in the upcoming final season of Last Man Standing, which will feature a unique crossover of his two sitcom characters: dads Mike Baxter and Tim Taylor of Home Improvement. Few actors have starred in two long-running sitcoms, so why not take advantage of that achievement for a couple of laughs?
Last Man Standing will cross a threshold that Home Improvement never did: a ninth season. While Allen was offered a lot for a Home Improvement season 9, the series finished after eight. But now, 21 years later, he's returning to the character of Tim "The Tool Man" Taylor, a DIY TV show host who has three sons — not to be confused with Mike Baxter of Last Man Standing, a marketing executive of a sporting goods store with three daughters.
Entertainment Weekly has shared the following description for the episode, titled "Dual Time": "The Baxters see double when Vanessa hires a home improvement repairman who bears an uncannily [sic] resemblance to Mike, who is struggling with an idea for his Outdoor Man 10th Anniversary vlog." Start your bets now on if they'll dress up in the same clothes (possibly Tim Taylor's signature outfit) and confuse everyone in a classic twin gimmick.
This isn't the first time Last Man Standing has nodded to its predecessor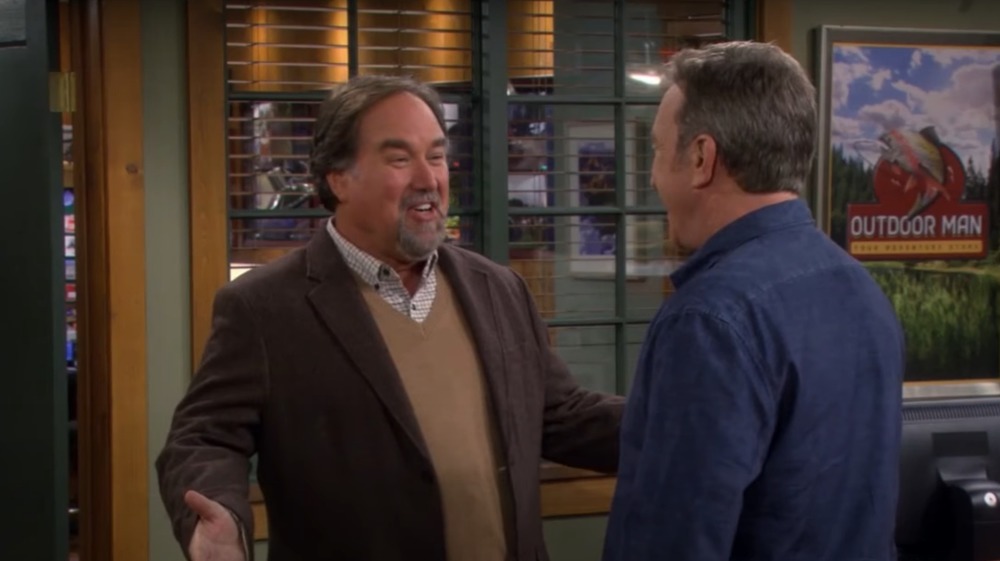 FOX
There have already been some cameos by the cast of Home Improvement on Last Man Standing, making Tim Allen's revival of Tim Taylor feel all the more appropriate. Richard Karn, who played Tool Time co-host Al Borland, appeared in two episodes during the second season, with plenty of winks toward his shared past with Allen. "Say hi to the wife and the three boys," Karn's character says. "It's three girls," Baxter replies. "Really? God, I seem to remember it was three boys."
A few seasons later, Allen's on-screen wife from the '90s, Patricia Richardson, put in two of her own cameos on Last Man Standing as the power-tool wielding neighbor Helen Potts. "You like tools?" she asks. "Not as much as I used to," Baxter answers. 
In the "Dual Time" episode teaser, however, it seems uncertain if the two Allens will get along, as Baxter already thinks the "Tool Man" seems a little annoying. But as the final season of Last Man Standing, it's time to go all out. Of course, it's possible this plot was born out of the pandemic, as it creates one less actor to serve as a contact point.
Last Man Standing returns on January 3rd.