KFC's Colonel Sanders Is Getting His Own Lifetime 'Mini-Movie' Starring Mario Lopez
Admit it, when you hear "steamy" you think "Colonel Sanders." Right? Okay, maybe not Colonel Sanders, but how about Mario Lopez? Great, because the Saved by the Bell reboot star will be playing the KFC founder and beloved fried chicken spokesperson in a raunchy Lifetime original "mini-movie," aptly titled A Recipe for Seduction.
Secrets abound in the trailer for the mini-movie, as Colonel Sanders (referred to as the "cook" and "chicken man") holds the "secret recipe that's gonna change the world." But the secret recipe isn't only thing hidden, as hints of affairs, deception, and murder are shown throughout the preview, hitting all the Lifetime movie tropes in one swing.
It might sound like a joke, but the mini-movie is very real and it's presented by the fried chicken chain, serving as a 15-minute commercial to seduce viewers into the drama and buying some KFC.
"We always want our brand to show up in interesting and unexpected ways in popular culture," KFC said in a statement (via Variety). "The KFC and Lifetime mini-movie event is a perfect way to bring fans a fun opportunity to enjoy the holidays with family, friends, and loved ones."
Mario Lopez is next in the line of celebrity Colonel Sanders impersonators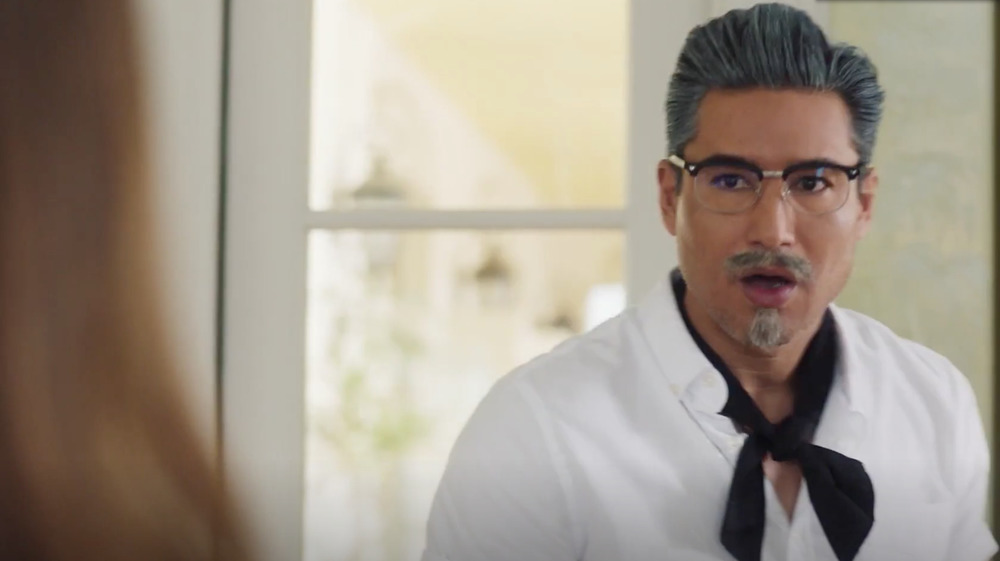 Lifetime
The celebrity casting of Colonel Sanders should come as no surprise to viewers of the fast-food chain's previous commercials over the years. Actors and comedians including Norm Macdonald, Jim Gaffigan, Darrell Hammond, Rob Lowe, George Hamilton, and Reba McEntire have all donned the white coat, black tie, and goatee. Lopez, who has landed several gigs outside of acting since starring in Saved by the Bell, might be the perfect choice to step into the chicken man's shoes, as Lifetime fans have already seen the actor in the network's recent holiday movie, FelizNoviDAD.
Marketing the movie's "fowl" play and "seductive" recipe, the team behind the promotion is fully aware of its tongue-in-cheek nature. "Through a terrific cast, and with a wink to the unique sensibilities celebrated in Lifetime movies, this co-production spotlights each brand's POV and marries them in a fun and authentic way," David DeSocio, executive vice president of ad sales marketing and partnerships at A+E Networks, said.
So, if you're ready for a 15-minute soap opera in which a handsome Colonel Sanders steals away a young heiress from her deceptive mother and an unfit, knife-wielding suitor, A Recipe for Seduction might be your perfect holiday distraction. And who knows? Maybe Screech will play Colonel Sanders next. 
A Recipe for Seduction premieres on Lifetime Sunday, December 13 at 12 PM ET.