Exclusive Clip: Linda Gets An Important Letter In All-New Bob's Burgers Episode
On Bob's Burgers, the Belcher family has been through countless triumphs and tribulations, gone on endless adventures, and dished up many a tasty burger at their restaurant. All the while, Belcher matriarch Linda (voiced by John Roberts) has picked up various hobbies and interests over the years, taking an enthusiastic liking to everything from bed and breakfasts to synchronized swimming to dinner theater. The upcoming episode of Bob's Burgers — the ninth episode of season 11, entitled "Mommy Boy" — will see Linda taking on another fresh avocation: the female business owners group, founded by Janine (voiced by Lennon Parham) from Yours Truly Stationery.
In the lead-up to the episode's premiere on Sunday, December 6, Looper is excited to share an exclusive clip from "Mommy Boy." 
The sneak-peek scene sees Linda joking around, in her signature chipper manner, with the mailman Mike (voiced by guest star Tim Meadows) and discussing details of her and Gene's (Eugene Mirman) weekend spa days. After explaining that she and "Genie weenie get together for a little mother-son pampering" every Saturday before dinner and predicting that the box Mike delivered contains the sheet masks she ordered for her spa sesh, Linda opens a letter from Janine. 
"Oh, it's from Janine over at Yours Truly Stationery. Oh, it's happening! She's starting the group for female business owners that she was talking about. Inspiring local business women, sharing stories of their challenges and successes," says Linda, who hilariously calls herself a "restaurasaur" instead of a "restauranteur." 
This opportunity clearly sparks passion and pride in Linda, but trouble lingers on the horizon. As Linda commits herself to the female business owners group, Gene feels neglected and becomes possessive of his mother's time.
Two little Belchers want to brawl in the upcoming episode of Bob's Burgers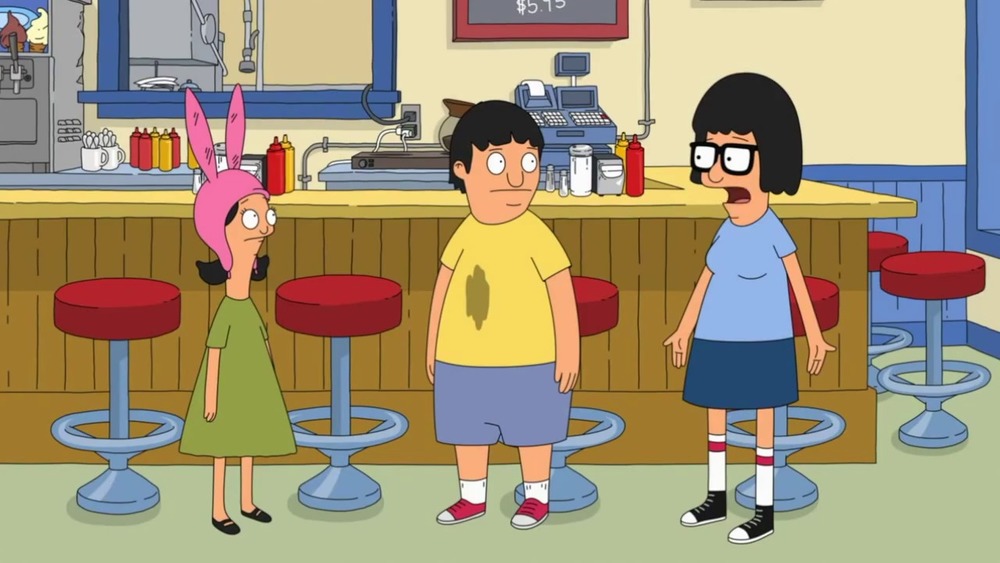 Fox
Gene isn't the only Belcher kid who'll be tangled up in an intriguing storyline in "Mommy Boy." The episode, written by Jon Schroeder, finds Gene's younger sister Louise (voiced by Kristen Schaal) and older sister Tina (Dan Mintz) embarking on what's sure to be a laugh-out-loud journey to learn how to fight. What exactly their lessons in the art of brawling will entail remains a mystery for right now, but considering this is Bob's Burgers we're talking about, fans are definitely in for a good time. 
Tune into the all-new episode of Bob's Burgers this Sunday, December 6, at 9 PM ET on Fox.