How Chris Farley Influenced Tim Meadows' Saturday Night Live Career
Saturday Night Live legend Tim Meadows has another celebrated comedian to thank for helping him build a strong foundation for his on-screen sketch comedy career. 
Meadows recently met up with his old Saturday Night Live pal Kevin Nealon for an episode of Hiking with Kevin, a digital series in which Nealon takes his guests on hikes through the canyons of Los Angeles. Given that Meadows joined the SNL fold in 1991, just over mid-way through Nealon's own run from 1986 to 1995, the pair's conversation naturally shifted to the topic of the NBC series. Meadows got candid with Nealon, admitting that he was initially fearful he'd be let go from SNL. He then shared that it was the late, great comedian Chris Farley who helped inspire in him a confidence he needed early on in his SNL career — one that undoubtedly influenced him from that moment forward.
"The first six shows, I kept thinking I was going to be fired, and that somebody was going to really realize that they hired a guy who used to work at a record store," said Meadows. "[Chris Farley] sorted of validated ideas that I had, because it was hard. Hardest thing for me as a writer was to say, 'Here's an idea I have.' You know, even in the pitch meetings and s*** like on Monday nights. It was the most nervous I would be all week, but Farley was one of the first people to really say, 'I like your idea.'"
That confidence helped carry Meadows through 10 seasons of Saturday Night Live fun. By the time he ended his run on the series, Meadows had writing and acting credits on a total of 184 episodes.
Tim Meadows and Chris Farley go way back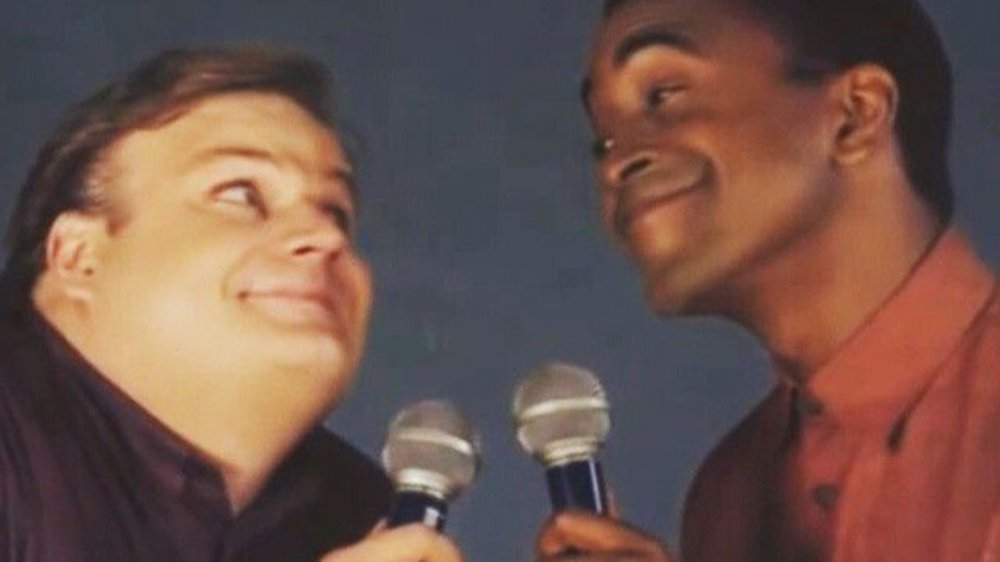 It's not surprising to hear that Farley, who tragically passed away in December 1997 at the age of 33, had a profound impact on Meadows as he was starting out on Saturday Night Live. Farley and Meadows worked together as members of the Second City Theatre, an improvisational comedy troupe in Chicago, Illinois, prior to joining SNL.
During his talk with Nealon, Meadows recalled a standout memory from his time with Second City: the creation of the now-iconic SNL character Matt Foley, the down-on-his-luck and highly abrasive motivational speaker. The character, which Farley debuted in May 1993, was actually the brainchild of another Second City member: Bob Odenkirk, whom TV fans will know from his role as Saul Goodman on Breaking Bad and Better Call Saul. 
As Meadows told Nealon, Odenkirk created the original concept for the motivational speaker character at Second City, and the idea arose from improv sketches in which Farley played "a coach who was trying to get his team motivated and it was us basically being knuckleheads." They "could never nail the sketch," according to Meadows, but Odenkirk went home one evening and wrote the skit "word-for-word as people know it" today.
Of course, Farley and Meadows would get their funny on again on the Saturday Night Live stage. It was only a year after Farley landed his SNL gig in 1990 that Meadows scored the job. The two appeared in tons of sketches together — including the hilarious March 1993 skit "Eager and Jones," in which Farley and Meadows played a pair of singers who definitely don't have the hots for one another.
To hear more of Tim Meadows' conversation with Kevin Nealon, catch the full-length version of the new Hiking with Kevin episode when it drops on YouTube on Thursday, February 6.