The Latest Chilling Adventures Of Sabrina Part 4 Trailer Is Extremely Revealing
Chilling Adventures of Sabrina is very different from the Sabrina the Teenage Witch you knew back in the 1990s. 
Instead of solely using magic to avoid some of the awkwardness of being a teenager, the Netflix series pits the titular witch against foes from Hell. For three seasons, fans have been able to tune into Netflix to watch Sabrina (Kiernan Shipka) become the powerful witch she's meant to be ... and there will be one last adventure for Sabrina and pals to go on. 
Back in July, Netflix announced it was cancelling Chilling Adventures of Sabrina, much to the chagrin of fans. Fortunately, the show will get the chance to wrap up loose plot threads in the eight remaining episodes comprising its final season, or Part 4. While the journey is almost at an end, viewers can at least take solace in the fact it looks like the last season will be one heck of a wild ride, if the final trailer is anything to go by.
The last season shows Sabrina and friends will finish this like they always do — together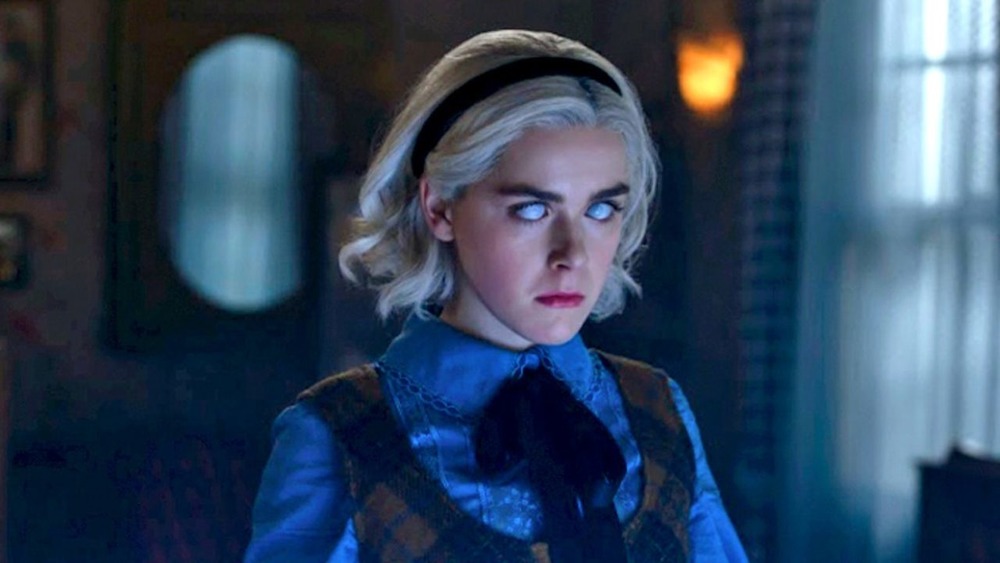 Netflix
Chilling Adventures of Sabrina Part 3 ended with Sabrina entering a temporal paradox where two versions of herself exist within the same timeline. While she's been told she must descend to become ruler of Hell, it turns out she can just send her other version to take care of the dirty work, while she remains on Earth with her aunts, Hilda (Lucy Davis) and Zelda (Miranda Otto), as well as her friends. 
However, as the Part 4 trailer reveals, Sabrina isn't out of the woods yet. For the final season, she and her coven will go up against a collection of beasts known as the Eldritch Terrors. 
The monsters will arrive at Greendale, and it's up to Sabrina to take them out one at a time. She'll go up against The Darkness and The Returned, for starters, but all of these battles are only leading up to a final boss fight with ... The Void, otherwise known as The End of All Things. 
It's a big undertaking, and to save Greendale, it seems that Sabina will have to team up with her other self in Hell. It also looks like the two of them may end up merging at some point. However, as we know with this show, by this point, there will still be plenty of surprises that haven't yet been revealed. 
Chilling Adventures of Sabrina isn't pulling any punches for its last outing, and fans should expect ample demons and teen drama when the final season airs on Netflix on December 31, 2020.