Jeremy Renner Drops A Hawkeye Tease On Instagram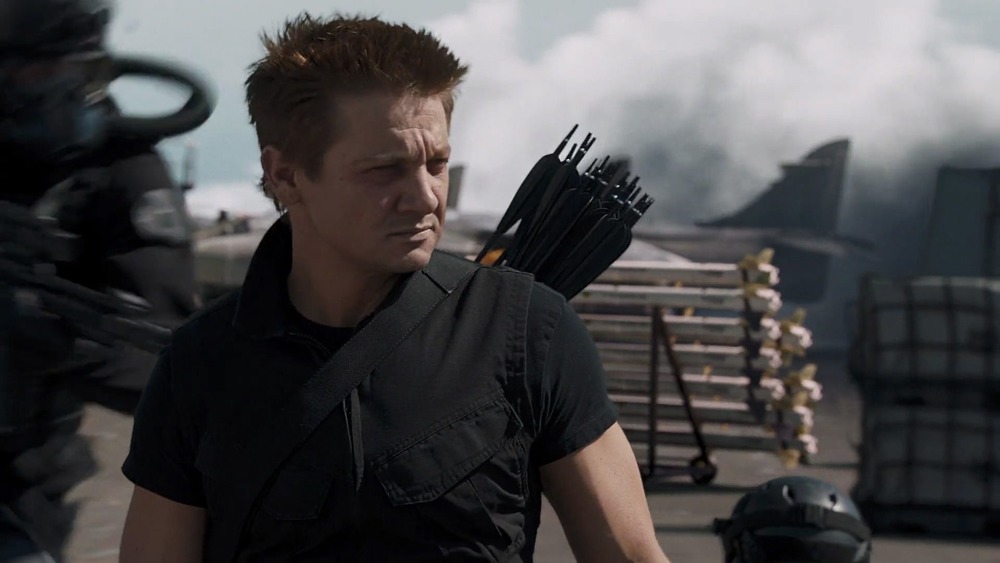 Disney/Marvel Studios
Long overdue for a hit, the world tries to find a nonchalant way to ask the Marvel Cinematic Universe when they think they'll have more supply. Summer turns to autumn, and autumn to winter. For the first time in a decade, the MCU goes a full calendar year without releasing a new movie.
And then, like verdant buds pushing through the slowly thawing tundra, word of progress on Marvel's new slate of Disney+ programming makes its way to the surface. Slowly, new information comes to light: Certified head trip WandaVision has a January 15 release date. Anthony Mackie and Sebastian Stan's The Falcon and the Winter Soldier will see the long-awaited return of Batroc the Leaper. Most remarkably, piece by piece, it's becoming undeniable that Hawkeye is actually happening.
Today's hint comes courtesy of Clint Barton himself, as Jeremy Renner has taken to Instagram to post a winking nod to his upcoming streaming project. Matt Fraction and David Aja fans, get ready to order a celebratory pizza for your favorite dog.
Cry Hawkeye and let slip the dogs of pizza
The photo itself is innocuous enough: a pair of thingamajigs in plastic baggies, one featuring the Marvel logo, the other in the shape of Hawkeye's iconic purple and white target logo, featured prominently in Matt Fraction and David Aja's Eisner Award-winning comic book series. But it's the photo's caption that might be pointing to something bigger, hairier, and more inclined towards deep dish.
"Hey, look what I found... not sure if it's a dog biscuit ... what do you think ? #treats," Renner wrote of his picture, leading fans to believe that one of two possibilities is in play: either Jeremy Renner is feeding his own pup potentially priceless MCU memorabilia, or Lucky the Pizza Dog is coming soon to a streaming service near you.
For the uninitiated, Lucky the Pizza Dog was a pup introduced during the same Fraction/Aja comics mentioned earlier. Originally belonging to a criminal, he was saved by Clint Barton and became part of his regular crew, befriending Kate Bishop, Hawkeye's protégé, set to be played by Hailee Steinfeld in the new series. Also, he loved pizza. 
The bad news is that we'll have to wait for a while to find out – Hawkeye isn't set to debut until late 2021 or early 2022.
The good news, to reiterate, is that when the show does premiere, Pizza Dog might be there.