Why The Mandalorian Director Compared Ahsoka To This Lord Of The Rings Icon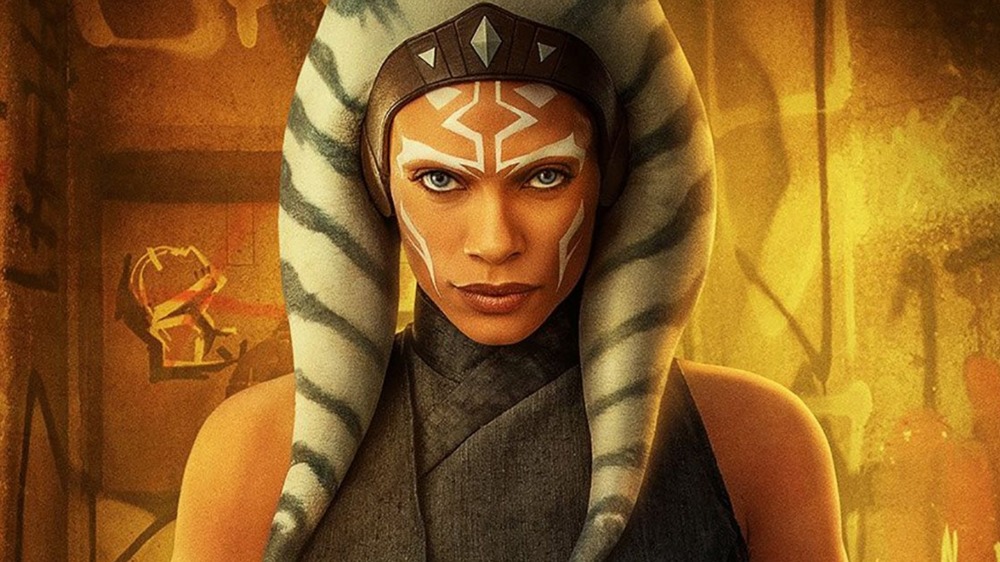 Disney/Lucasfilm
Only a handful of Star Wars characters have grown and changed onscreen as much as Ahsoka Tano. From The Clone Wars to Rebels, fans have seen her develop from a teenage Padawan to a fierce warrior capable of crossing lightsabers with the likes of Asajj Ventress, General Grievous, Maul, and Darth Vader. Along the way, she grows disillusioned with the Jedi Order and sees how its rigidity fails the galaxy it's supposed to protect. She ends up leaving it, but continues to fight against evil and tyranny on her own. 
The length and depth of this journey is part of what makes the character so special to Star Wars creative guru Dave Filoni. He developed the character as a producer and supervising director on those shows and directed her first appearance in live-action during chapter 13 of The Mandalorian, in which she's portrayed by Rosario Dawson, taking over from voice actor Ashley Eckstein. "She is, for lack of a term, a master, because she's largely an independent at this point," Filoni told Vanity Fair. "I play her much more as a knowledgeable knight. A wandering samurai character is what she really is at this point."
Filoni went on to outline a wide variety of cultural influences on the character of Ahsoka, from classic samurai films to a beloved fantasy epic.
Ahsoka the wandering samurai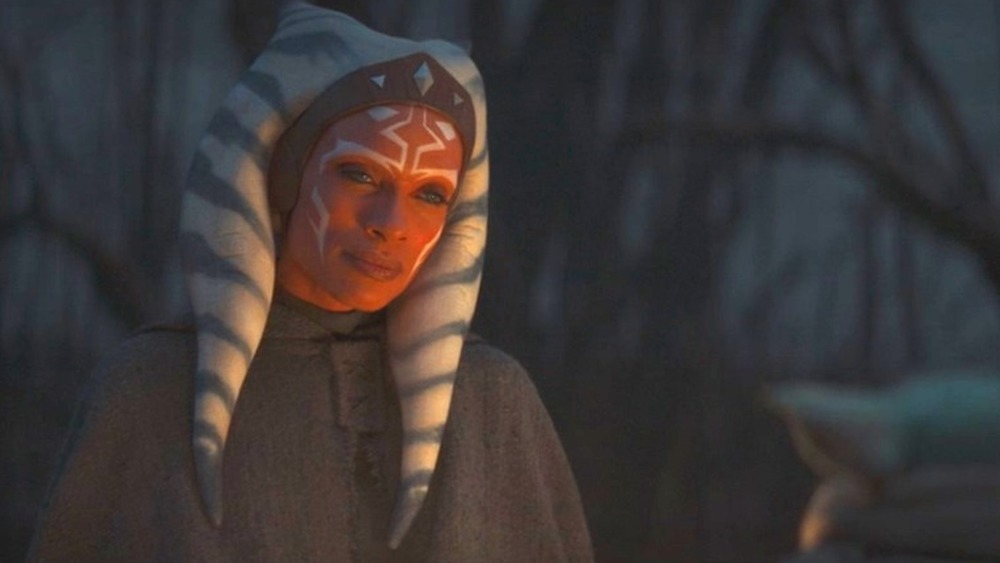 Disney/Lucasfilm
The "Wandering Samurai" stage of Ahsoka's development is driven home by the production design and the music of chapter 13, which lean heavily on cues from old samurai movies, from the design of the fortress city of Calodan to the image of a warlord in her peaceful garden. Even the color scheme of the forest planet of Corvus, the grays and pale greens that linger after the destruction of its environment, calls to mind the black and white of Akira Kurosawa's Yojimbo and Throne of Blood or Masaki Kobayashi's Harakiri.
But though she has embraced the role of the powerful rōnin on Corvus, Filoni doesn't think that's the endpoint of Ahsoka's journey. He sees her using her wisdom and experience to help others as a guide, comparing her to one of the most famous figures in all fiction, the wizard Gandalf from The Lord of the Rings.
"I've always made comparisons to her heading towards the Gandalf stage, where she is the one that has the knowledge of the world and can help others through it," he said. "I think she's reached that point."
How Ahsoka Tano is like Gandalf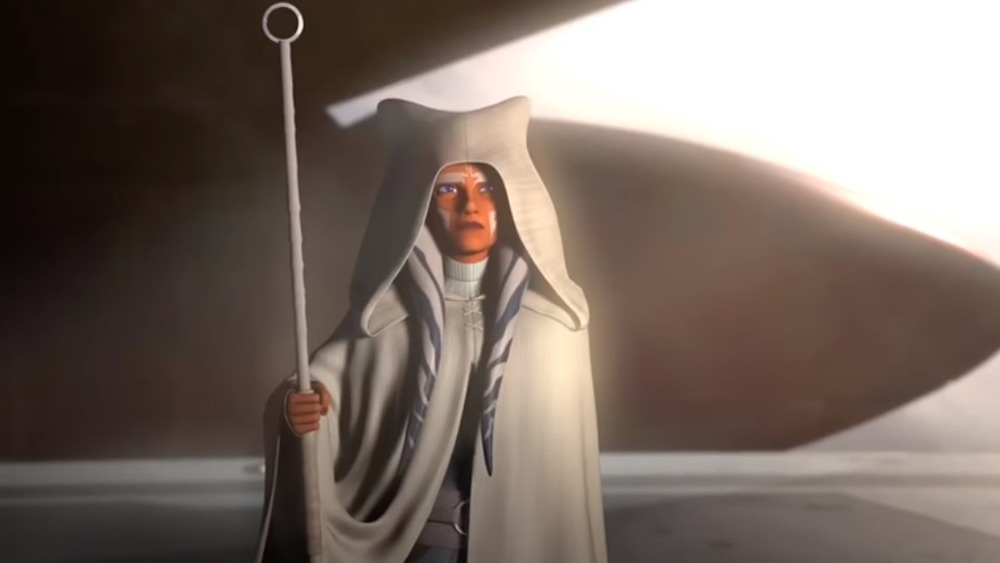 Disney/Lucasfilm
There are hints of this development in her appearance on The Mandalorian. Though her past prevents her from agreeing to train the child Grogu, she provides guidance and new direction for Mando (Pedro Pascal) in his quest. Her presence would ease his endeavor, but she has her own journey to make. Chapter 13 references this as well, when she defeats the Magistrate Morgan Elsbeth (Diana Lee Inosanto) and demands that she tell him of her master, Grand Admiral Thrawn.
The last time audiences saw Thrawn in the timeline, he was being pulled into hyperspace by a pod of purrgil along with the hero of Rebels, Ezra Bridger. The last time audiences saw Ahsoka prior to The Mandalorian, she was waiting during the finale of Rebels to accompany the Mandalorian Sabine Wren on a journey into the Unknown Regions to find Bridger. The Gandalf comparison is obvious in this scene, where Ahsoka wears a hooded white robe over her headtails and carries not a lightsaber but a staff, just like Gandalf the White in his return after his battle with the Balrog. 
If Ahsoka and Sabine set out prior to The Mandalorian — the timing is a little fuzzy, but that's what's believed — then her presence on Corvus would seem to indicate their search was not as straightforward as they had hoped. But, just as Gandalf the White can take up a sword again, Ahsoka can reach for her white lightsabers if the moment calls for it. Her journey isn't over yet.