Tim Heidecker Reveals How Dr. Brule Would Handle The Pandemic - Exclusive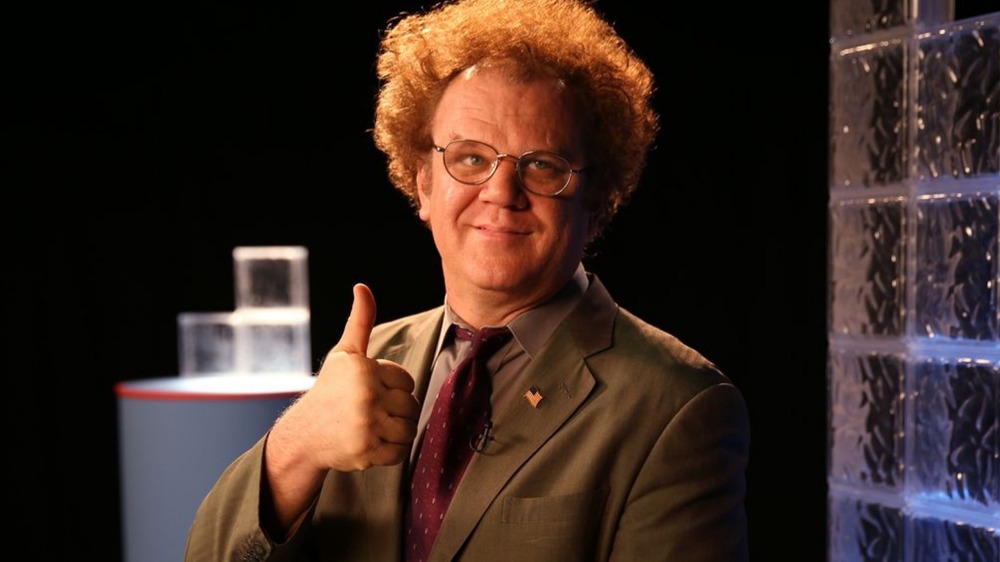 Adult Swim
Tim Heidecker can currently be seen alongside John C. Reilly and Fred Armisen in Moonbase 8, the Showtime comedy about a trio of astronauts living together in a NASA space simulator, hoping for the chance to actually make the trek to new digs on the moon.
This isn't the first time Heidecker and Reilly have joined forces. In one memorable collaboration, Reilly developed the character of Dr. Steve Brule on Heidecker and Eric Wareheim's Adult Swim series, Tim and Eric Awesome Show, Great Job! in a recurring segment called "Brule's Rules." It went on to become a spinoff series called Check It Out! With Dr. Steve Brule. In the style of a barebones local access talk show, the awkward and unusual Brule pursued human interest stories, interviewing guests and peppering conversations with appalling details about his own life. His haughty demeanor and bizarre speech patterns manage to be both hilariously mesmerizing and horribly cringe-inducing. The show gathered a cult of devoted fans who still wonder what Brule might do in certain situations. As he told Looper during our exclusive interview, Heidecker is one of them.
He says that he and Reilly can't help but discuss how Brule would handle the COVID-19 pandemic. "We've been talking about it a lot," he admits. "He would, of course, pronounce it 'The Crovid' and instruct people to do things like, 'Wash your hands, you dummy.' It would definitely be handled poorly. That's usually the funny thing about Brule — the arrogance. He's so dumb, but then there's this arrogance. He'd say, 'I know, I know what disease is.' And of course, he'd get [COVID] and be fully arrogant about it. He'd get it badly and have terrible coughing fits."
Why Tim Heidecker is happy when John C. Reilly gets weird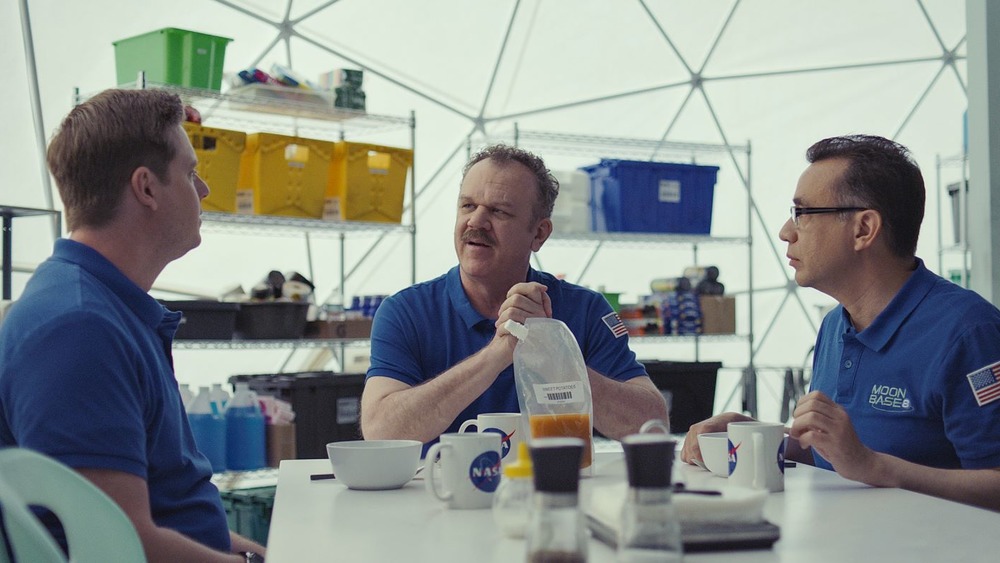 A24/Showtime
Heidecker and Wareheim were the producers of the Brule show for its four-season run, and Heidecker can't say enough good things about what it's like to work with Reilly. "It's great. He is a really good friend," he says. "He is very supportive of me and encouraging. He's done it all, really. He's done the great big movies, the small movies, and he's so goddamn famous. We forget that sometimes. He's also so recognizable and so beloved by people that I am just grateful that he likes to do this weird stuff with us with Brule and this show."
There's a noticeable chemistry between the characters on Moonbase 8 — a careful, subtle humor that depends on trust between the performers. Heidecker credits Reilly with making that vibe strong: "This show really comes a lot from him and his soul. He's got a beautiful Irish soul and a lot of the heart in the show is coming from him."
Moonbase 8's entire first season is now streaming on Showtime.