What Amber Heard Would Look Like As The Fantastic Four's Sue Storm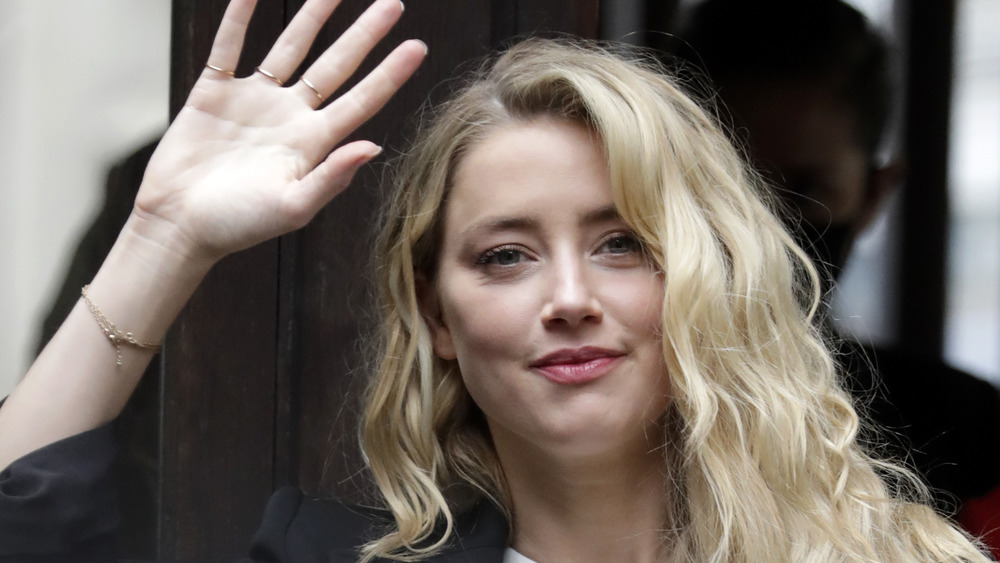 John Phillips/Getty Images
There are a handful of reasons that The Fantastic Four are called "Marvel's First Family." They were the first superhero team whose stories were published under the Marvel Comics banner, holding the door behind them for the X-Men, Avengers, and — most importantly — Power Pack. They were the first co-creation of Jack Kirby and Stan Lee. They are, to put it bluntly, comic book royalty. So where have they been the last few years, cinematically speaking? "Licensed to 20th Century Fox" is the short answer. For the long answer, feel free to try and watch 2015's Fant4stic.
With Disney's acquisition of Fox's entertainment division in 2019, the Fantastic Four were brought back into the Marvel fold, leaving fans wondering what the next onscreen iteration of the cosmically irradiated quarter might look like. Rumors have persisted for a while that John Krasinski will be headlining the super group's MCU debut as Reed Richards, a.k.a. the hyper-elastic Mister Fantastic. The MCU fan wiki lists Andrew Garfield and Zac Efron as possible Human Torch contenders, with potential Ben Grimm casting choices ranging from John Cena to Terry Crews to Dwayne "The Literal Rock" Johnson.
But what about the Invisible Woman, the role most sought-after by performers who would really prefer not to be on set too often? Evangelists for a John Krasinski Reed Richards often cite the actor's IRL spouse, Emily Blunt, as a natural fit for the part, but in a nod to another classic Marvel property, let's ask "what if?" More specifically: What if Amber Heard landed the role of Sue Storm? Thanks to the work of digital artist ApexForm, we now have an idea of what that would look like — or, rather, what it wouldn't look like.
It's not hard to see Amber Heard as Sue Storm
"Take with a grain of [salt emoji]," ApexForm wrote in the caption of their Instagram post, which shows a semi-transparent Amber Heard in her Future Foundation getup. "There are rumors suggesting the @aquamanmovie star is being eyed for the invisible woman in the @marvelstudios @fantasticfour reboot. What do you think about this?"
Like that, in came dozens and dozens of comments, voicing basically every opinion that you're already imagining. Heard's place in the cultural landscape has become more complicated in recent years, following a series of contentious and drawn-out legal battles with her ex-husband, Johnny Depp. Further dividing fans is the revelation that Heard was arrested for domestic violence in 2009 after allegedly grabbing and striking her girlfriend at the Seattle-Tacoma International Airport. The recent revelation that she'd been brought onboard to shoot extra scenes as Mera for Zack Snyder's Justice League precipitated the online outrage. 
While the artwork was deemed unquestionably awesome, ApexForm's followers were, for the most part, eager to voice their opinion that Sue Storm is better neither seen, nor Heard.